Studying business English will help you in the workplace. It will make communication with international clients and suppliers easier, it will keep communication open and professional with colleagues and management, and look great on your CV for any future opportunities you apply for. 
The importance of English Language Proficiency
Being proficient in any language is a considerable advantage when working in the world of business. In fact it will help you in any industry you work in, some more than others e.g. tourism. For many in the business world English is considered the "language of business" as it is the main lingua franca used when people from all over the world are trying to communicate. 
Even if you don't use English for work, using another language in your life is also a great accomplishment. Think about when you are on holiday. You may not speak the language of that country but through using hand gestures and some English vocabulary you could probably communicate what you need or are trying to do. 
Language learning shows an interest in other cultures, a perseverance with learning, and a hunger for knowledge. It has many benefits and sometimes you don't realise them until you actually use it. 
GlobalExam have a new Business English Course that can help fill those skills gaps in using English in your daily work life. 
Purchasing sector: improve your English skills with GlobalExam
Let's take a look inside a course!
When you open an account and login, you will be taken to your dashboard. Here you can see the course you are working through, your certifications, and also change your level and topic if you want to.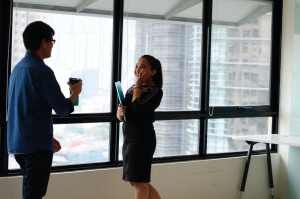 Under "I boost my career" you can select the "Purchasing Department". 
At the beginner level, of the purchasing course, there are 7 courses to work through and 6 to 10 parts in each. Each part is about 15 minutes long. They work through different situations with you. You play the videos and listen. The transcripts are also on the screen to help you. Key vocabulary is explained so learning isn't hindered. After watching the video or listening to the audio you are given a task. This could be putting words in the correct order, listening and answering multiple choice questions, gap fills, choosing the correct picture etc. The tasks vary to keep you interested and focused. The correct answer is also given and explained to help you understand better. 
Topics at this level include: 
Understanding cultural difference
Managing a simple telephone conversation
Managing complex situations on the phone
Contributing efficiently to a projects
Mastering the art of negotiation
Managing delicate situations on the phone
Leading and managing a project
There is so much content in these courses it is unbelievable. However, they have been designed into small, manageable chunks of learning. This is the best method really. It doesn't overwhelm the learner and focuses on getting the most out of the learning experience. Knowing how to negotiate in English is also a key element for the Purchasing sector.
You can exit a section whenever you want and start from where you left off next time! A fantastic self-study course that gives you flexibility in a busy world.
English Courses and Business English Courses
Where can I find good quality ones?
Finding courses to study English that suit your needs, learning style, and gives you flexibility can be a challenge. Well look no further! GlobalExam is here to help you with your language learning. Our platform has everything you need to achieve your language learning goals. It has been designed by specialists to be user friendly and easy to access, we are also web based so you can access your course materials whenever and wherever you want. Our materials have been created by professional educators and subject specialists and are aligned to language frameworks such as the CEFR. 
We now have a Business English Course platform. Our high standards are still the same just the content is a little different. The focus here is developing professional skills in English, with a focus on English in the workplace and using English as the language of business. There are different pathways to work through – competencies, career, industrial, depending on your need. It is a self-paced course and corrections for tasks are instantly available. Though not official, certification is given for each course completed and definitely worth adding to your CV. The materials are based on real-life work situations and contextualising your learning really helps you immerse in the task, and learn more from the experience. 
English for Purchasing is one of 7 Business English online courses dedicated to job skills, here is the list of the others you can find:
Take a look through our website to find out more.