People are often using English more and more in a professional environment: international trade fairs, foreign suppliers or customers… All this brings the question of interculturality in a company. This leads to two questions:
What is interculturality? and secondly,
How can you manage interculturality in a company?
This post seeks to bring some ideas to begin answering these questions. You will then see how we at GlobalExam can help you be more effective and at ease in an intercultural team.
Let's get going with the first of those questions.
What is interculturality in a company?
In today's business world, more and more people are working across borders, whether that be on a regional, continental or an intercontinental level, with colleagues or with suppliers or customers.
Interculturality in a company is any aspect of the interaction of different cultures in the workplace.
Therefore, people often come to meetings, workshops, trade fairs etc. with the habits, ideas and customs from their country of origin. Even in the same office, you can be working with someone on an internship abroad or with a colleague on a 6-month secondment or transfer from an office in another country.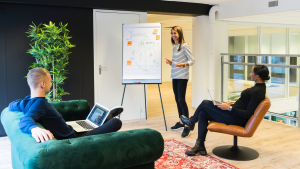 Another potential trap could be on a marketing strategy level: a slogan or advertising campaign that works well in one country will not necessarily have the same impact in another! As a result, supervisors and managers need to take such cultural differences into account when managing their teams, which is no mean feat in a large team.
What's more, English is more often than not the language used when people of different cultures and native languages meet to do business. Doing business in a foreign language brings its own problems…
So, in practice, how do you manage interculturality in the workplace?
Managing interculturality in practice
National stereotypes and cultural differences exist. As with all stereotypes, some are true, some are not… The supervisor can help the team see these differences and use them to the team's advantage, each person bringing his or her own qualities, experience, vision etc.
In an interculturally rich team, it is all the more important for team members to understand the key elements of colleagues' cultures, especially where this will affect or impact the team dynamic and way of working. Each person brings his own culture and skill set to the table which, in turn, makes the team stronger.
There is also the question of language. Many in the team, or even the company, may well have English as a foreign language and their level may not, for the moment, be high enough to work effectively in the team. Native speakers should remember this and try to express their ideas clearly enough so as not to be misunderstood. Non-native speakers should feel able to ask the speaker to repeat when needed.
These points, and others besides, should lead to greater harmony and team spirit within the team. Such aspects may take time to learn, especially as it may well be learnt on the job, while trying to do the job…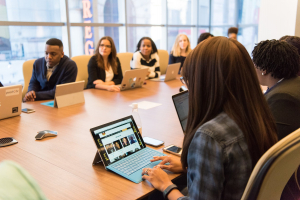 As far as working in English is concerned, GlobalExam has the answers you need.
How can GlobalExam help?
Many find the idea on an intercultural workplace attractive: people of different origins and backgrounds working together for the common good… oftentimes in English. But what if you feel your English could be better still to help you in such a team?
For years now, GlobalExam has been helping learners prepare language tests. As well as this, we have now launched a new Business English programme.
So, what is it all about?
GlobalExam Business English is an online platform where you can learn business English that is relevant and adapted to you and your needs. Whether you work in sales or HR, in banking or in tourism, you will learn what is right for you.
The platform contains over 500 different situations, each one lasting just 15 minutes making it easy for you to fit in to your busy schedule to maximise return on investment and progress.
General Skills
You can choose to practise Business English on a specific topic, not related to any job in particular:
Job Skills
You can also choose a specific job to learn the vocabulary that will be mostly used:
Other features
Video coaching with our team of teachers is also available so you can benefit from their explanations and expertise.
Detailed correction and explanations are provided so you can not only see where you went wrong but also learn from the mistake to avoid making them again.
25 scripted training paths will allow you to be well and truly immersed in the subject, and in English!
Coaching is also for perfecting the English version of your CV to help you be more marketable internationally.
What about the level?
Right at the very beginning of your course, we propose a level test so you can start your learning path on the best possible footing on the level that is most appropriate for you.