English can key when planning, and then going on, a business trip; especially when it is abroad.
This post will enable you to have the key vocabulary and expressions you need for a business trip:
Planning
Travelling, and
Once you have arrived there.
We will then see how GlobalExam can help you, not just with business trips in English, but also to help you improve your language skills to get that promotion or to move abroad for work.
Ready? So, let's begin…
A business trip – specific vocabulary
Let's kick off with some key business trip vocabulary in English:
Ahead of schedule = early.
Behind schedule = late.
On schedule = on time.
To board (a train / a plane / a bus) = to enter / get on the train, the plane etc.
To take off = when a plane leaves the ground and goes up into the air.
To land = the opposite of to take off.
To arrive.
To leave.
To book = to reserve (a booking = a reservation). These are synonyms and can be used for booking a plane ticket, a hotel room, a table in a restaurant etc.
To travel, a trip.

Let's not forget that travel is a verb and a noun; trip is the noun of travel.
Air travel, for example, refers to the general concept of travelling by plane.
A trip is the flight from Paris to the destination, for example, the time there, and the return to Paris; it's specific.
A business trip – specific, useful expressions
Booking / reserving
I'd like to book / reserve:

a single / return (USA: one-way / round-trip) ticket to Birmingham, please.
a single room for three nights from the 2nd June, please.
The plane / train
Where do I check in for my flight to Paris?
I'd prefer a window / middle / aisle seat.
The flight / train has been cancelled.
What time is boarding?
What gate does the plane leave from?

The equivalent for a train is What platform (USA: track) does the train leave from?

First class, business class, premium economy, economy class.

On a train, the choice is between first class and standard class.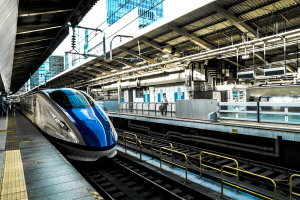 At passport control
Here is my passport / identity card.
I'm here for two days of meetings / for a trade show at the international exhibition centre.
I'll be attending a seminar / a conference.
At the car hire desk
I'd like to pick up the keys to the car I've reserved online. Here is my reference number.
I don't need any other extras, thank you.
Can you confirm unlimited mileage is included? (Concerning mileage, don't forget a mile is 1.6km!)
Where do I drop off the keys if the desk is closed?
Hotel
To check in to / out of a hotel
What time is checkout / breakfast?
Could you arrange for a taxi to take me back to the airport?
My key card doesn't seem to be working.
Can you recommend any good restaurants around the hotel?
General
Can I have the receipt please?
I should be able to claim expenses for it.
Did you have a good trip?

Yes, very good thanks.
The flight was a little late / bumpy but fine apart from that.
What is GlobalExam?
Whether English is important for you when travelling or for other reasons, GlobalExam is an online platform that can help you improve your language skills. GlobalExam can also help you:
to prepare a language exam,
to learn a language to get a promotion, or
to move abroad to work.
With GlobalExam, you can now learn English online, or more specifically Business English online.
Before starting your GlobalExam Business English programme, a level test will place you at one of three levels – beginner, intermediate or expert.
Each level enables you to learn English for specific sectors, specific skills, and specific careers. There are 500 situations to choose from! Consequently, your programme is adapted to you and your needs. It is relevant to your daily, professional life.
General Skills
You can choose to practise Business English on a specific topic, not related to any job in particular:
Job Skills
You can also choose a specific job to learn the vocabulary that will be mostly used:
Business English platform
Because the programme is in bite-sized chucks – each situation lasts 15 minutes – you can learn English online with GlobalExam whenever and wherever you like. You just need an internet connection!
There are of course additional benefits:
Detailed correction and explanations do that you can understand exactly where you went wrong to avoid making the same mistake again.
Coaches who will be with you (online, of course!) throughout your course.
Real-time updates about your progress.
Help writing your CV in English so you can maximise your professional potential.
End-of-course certification – an extra string to the bow of your CV!
So GlobalExam has solutions that can be adapted to your needs and to your job to give you the tools you need to perform on the international stage.