The TCF Test is a test for students of the French language and is organised by the Centre international d'études pédagogiques (CIEP) for the education ministry in France. It can help show language ability and can be used for job applications, to enter some education institutions and for immigration purposes. It is also suitable for individuals who want to gauge their level.
The test is made up of mandatory and optional sections. The reading, listening and language structures sections are mandatory while the writing and speaking sections are optional. Find out more about the TCF test different sections of the TCF and instructions.
What are the mandatory sections of the TCF test?
The first part of the TCF test is divided into three mandatory tests which includes a listening section, a use of English section and a reading section. 
The listening part consists of 30 questions and lasts for 25 minutes. Students need to listen to a recording spoken in French depicting everyday conversations, dialogues, discussions or phone calls.  The recordings could also be from public announcements, radio or television programmes and be related to the news, work or education.
The Use of English part consists of 20 questions taking 20 minutes to complete. This part tests the ability to master the structure of the language, from basic to more complex communicative situations, by identifying lexical or language register errors, choosing the equivalent of an expression or a grammatical term and selecting the correct formulations in accordance with a communicative situation.
The other mandatory section is the reading part which contains of 30 questions and takes 45 minutes to complete. The questions test the ability to identify familiar names, words and basic sentences used in social situations, in messages and informal letters and in everyday materials like advertisements, menus and timetables. Students need to understand information about people, facts or events written in texts related to everyday life or work.  They must understand articles, letters and reports. Some of the texts could be taken from books, academic articles and or other types of literature.
What about the optional sections?
The optional sections are the speaking and writing parts.  The optional spoken section takes around 15 minutes and is an interview with an examiner.  There is also an optional 60 minute writing section composed of three tasks that get progressively more difficult.
How is TCF scored?
TCF scores are ranked on 6 levels, ranging from A1 to C2 of the Common European Framework of Reference for Languages. The score rankings are 100-199 (A1), 200-299 (A2), 300-399 (B1), 400-499 (B2), 500-599 (C1), 600-699 (C2).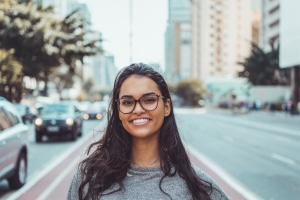 Fees can vary according to the centre so it's best to contact the one where you intend to take the test. The cost is usually somewhere in the region of 200€ for the mandatory optional Speaking and Writing tests. There are discounts for students and the unemployed.
The TCF Test results are valid for 2 years. Candidates wishing to repeat the TCF or TCF-DAP must wait 60 days from the date of their earlier sitting.
Candidates get their results around 2 weeks after the exam. They are sent to the test centre where the exam was taken. Each skill is given a score level on the CEFR and there is also an average score for the exam as a whole. A preliminary score is provided after the exam and then an official one is sent at a later stage.
How should I get ready and study for the TCF Test?
It's a good idea to get to know the format of the TCF test and to do practise tests to make sure there you feel confident about what to expect.  Preparation courses at a language school or online are a sensible course of action. It's also a good idea to do some mock tests to help identify any weak areas are and work to make improvements.  
Can GlobalExam help me get ready for the TCF test?
Yes, GlobalExam is an online platform dedicated to test preparation in real exam conditions. Language experts regularly add new content to deliver effective training and provide fresh practice opportunities. The site is very interactive with practise exercises that provide immediate feedback. There are also full mock exams that can be done under timed conditions – just like in the real TCF test.  You can review your results in the statistics tab to check your progress. You can then improve any weak areas with the help of vocabulary and grammar study sheets. 
GlobalExam offer free materials that give you a sense of how we work and the quality of our content. Try out the free materials and first and then sign up for one of the premium plans. Premium packages include study plans, grammar study sheets, sample exercises, practice tests and progress tracking with statistics.
Premium plan prices are as listed below:
29.90€ weekly plan

59.90€ monthly plan
99.90€ quarterly plan
199.90€ yearly plan
Get started with your TCF exam training with GlobalExam without delay so that you can improve your TCF score!