The DELE exam or the Diplomas de Español como Lengua Extranjera is a globally recognized title of Spanish language proficiency. Students can take part in the exam in more than 100 countries. Thousands of exams are conducted every year in hundreds of different exam centres. The DELE exam is open to anyone who wants to test their level of Spanish. If you're one of those people seeking to take the DELE, GlobalExam can help you!
What's the basic format of the DELE test?
The DELE test has four main parts which are reading, writing, listening and speaking. Candidates can take the test at six different levels of Spanish proficiency. When taking the DELE exam, students need to decide on a specific level and take all four test areas together. In return for passing the test they get a diploma that indicates mastery of the Spanish language and is valid for a lifetime. 
What is the purpose of gaining a DELE qualification?
Taking the DELE exam is a requirement for some university courses but there are other reasons to take the test. The DELE exam is suitable for people who have been studying Spanish for some time and want to have a certificate to prove their skills. It would also suit students who are planning a gap year in a Spanish speaking country and want to assess whether they would be able to communicate to a sufficient level.  A DELE qualification can also be a good addition to your CV if you want to work in a Spanish speaking country. DELE is highly regarded by employers and universities alike.
How long does the DELE test last?
Depending on the level, DELE exams last from two hours and up to four and half hours for the higher level tests. Each test has a section for reading, listening and writing, as well as a speaking component. Candidates are assigned a specific time for their oral exam that includes time to prepare what they are going to say after being given a topic to talk about.
What kind of questions are there?
An example of a question on the DELE listening test might be similar to the following:
Lurdes explica a su madre lo que hace este fin de semana.
Complete el texto con la información que falta. Escuchará la audición tres veces.
The question might be to complete this sentence after listening to the information in the audio: 
El ____________ su madre va a arreglar el jardín
Answer the question and move onto the next one as you have limited time.
How are the exam scores graded?
The exam results are either pass or fail according to the candidate's score. The maximum possible score is 100 and a minimum score of 30 is necessary in order to receive an overall pass grade.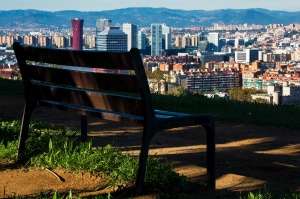 The cost of the DELE exam will depend on the level taken and the individual centre but as a rough guide A1 level start at around 110 Euro's and higher levels are around 165 Euro's.  It's always worth checking whether discounts are available if you are a student or on benefits.
DELE test results are communicated by The Instituto Cervantes to examinees approximately three months after the exam date.  Diplomas are posted out using the address provided at the time of application for all those who received a pass grade.
Any advice on how to do well in the DELE test?
As with all tests it's advisable to get plenty of sleep before the test so that you are alert and ready.  In the months before the test spend at least part of each day listening to and reading things in Spanish. You can even do both at the same time by listening to audio books and following along by reading the text. Make a note of any new vocabulary and phrases.  You can also try some online Spanish language reading and listening exercises too.
In the months prior to the DELE exam, a general Spanish course covering grammar, vocabulary, listening and reading skills would also be useful.  If you are able to have tailored 1 to 1 classes with a personal tutor, this would have obvious benefits as you will be able to get useful feedback and advice. You can also consult the best resources for your DELE training and to be well prepared.
What can GlobalExam do to prepare me for the DELE test?
GlobalExam can help you prepare for the DELE Test by offering free materials that show you how useful the materials are and give you an idea of the quality of the content. Once you have tried out the free materials you can sign up for one of our premium plans to get access to many more practice exercises that are really similar to the actual DELE exam. This will have the added benefit of helping you choose which level of the DELE exam you should take.
We regularly add new content to give plenty of fresh practice opportunities. On the site you will be able to do reading and listening exercises for the DELE exam and get feedback straight away. You will be able to check your progress in the statistics section.  Once you know your weak areas you can improve on them with the help of some vocabulary and grammar study sheets.  
The prices for our premium plans are as follows:
29.90€ weekly plan

59.90€ monthly plan
99.90€ quarterly plan
199.90€ yearly plan
Sign up for the free trial version without delay so you'll have more time to prepare for the DELE exam!