This series of blogs aims to sum up the main information you need regarding the different sections of the DELF exam and gives you tips to pass it. Here, we focus on the listening part of the test and guide you through:
A brief overview of the DELF and a zoom on the DELF listening exam's structure
Some exercises to help you figure out what you could be asked
Best ways to practice and be successful
If you wish to take the test, to practice DELF with GlobalExam is the best solution for you!
Let's take the first step to your success!
What is DELF?
The DELF exam or Diplôme d'Etudes en Langue Française is an official qualification awarded by the French Ministry of Education to certify that, as a non-French native speaker, you have acquired a given level of French (written and spoken).
The DELF is meant for everyone since the exam is specifically adjusted to either primary school students, secondary school students or adults (common or business level). It consists of four independent diplomas that regroup the first four levels of the Common European Framework of Reference for Languages (from level A1 to level B2).
To sum up the DELF with few numbers: It represents 400 000 new registrations per year in 1186 certified centres and today 174 countries worldwide use it to account for one's French level.
So we hope to convince you DELF is a relevant exam to pass especially if you want to apply to French jobs.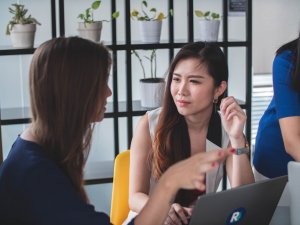 What is the structure of the DELF exam?
As you may know, the structure of the DELF exam  is composed of four sections listed as follow:
A listening test
A reading test
A written skill assessment
A speaking assessment
The listening section is the first of the three sat exams taking place back to back. Its purpose is to ensure your level of French understanding. Accordingly, you will be presented with a series of recordings and asked to fill out some comprehension questions regarding the selection played.
At levels A1 to B1, each selection is played twice and lasts for 3 to 6 min. B2 candidates are presented with two recordings; one of which will be played twice and the other only once. The total length of the recordings shall not exceed 10 min.
What about the DELF listening section?
The structure of the DELF listening assignment is explained in the following table:
| Level | Assignment | Length (min) | Maximum duration of the recordings (min) |
| --- | --- | --- | --- |
| A1 | Comprehension questionnaires regarding 3 to 4 relatively short recordings usually from everyday life | 20 | 3 |
| A2 | Comprehension questionnaires regarding 3 to 4 short recordings usually from everyday life | 25 | 5 |
| B1 | Comprehension questionnaires regarding 3 recordings from any topic | 25 | 6 |
| B2 | Comprehension questionnaires regarding 3 recordings from an interview (played once) and a documentary or television programme (played twice) | 30 | 8 |
Please note that the difficulty of the questions you will have to answer increases with each level. Keeping in mind that an acceptable scoring should be around 50 and 100 points with a homogeneous marking between all assessments (or otherwise it is a fail) we strongly recommend you to carefully target the level that reflects your abilities to understand French. If you hesitate between two opt for the lowest level to secure a pass!
Representative exercises
Let's have a look at some exercises you may get when taking the DELF listening exam.
Level A1 – Targets candidates who just comprehend French, can introduce themselves, formulate basic sentences and only know a bit of French grammar
Let's translate the kind of audio you may get: "Hello, and welcome to the Trois Batons Theatre. We are open Tuesdays to Fridays from 4pm to 11pm, and Saturdays and Sundays from 2pm to 11.30pm. If you want to hear this week's program please press 1, or to buy tickets please press 2. You can also book your tickets online on our website: www.théâtredestroisbâtons.fr. Thank you and see you soon!"
Then the associated questions could be: What place is it talking about? What time do they open on Sundays? How can I buy ticket(s)?

Level A2 – Targets candidates who comprehend simple sentences or familiar phrases and can communicate to describe simple things 
Again, if we translate an audio you could get: "Welcome to the Olympia box office! If you want to buy one or more tickets for our following shows, listen to the following list and press the number associated with the number of tickets you want to buy. Thank you for trusting us and see you soon".
Then the associated questions could be: What is the name of the theatre? How many tickets can you buy? How do you proceed to buy ticket(s)?

Level B1 – Targets candidates who can interact and discuss about general subjects without too much difficulties, express an opinion and use a clear verbose
The audio might be a discussion between two persons. For instance:
"Hi Antoine! Did you enjoy your vacations?
Hi Clara! Not really!
What happened?
Well the hotel we booked didn't match the website description. It was really far away from the beach so we had to walk a few miles to go there. Also, many people were there just to party so it was really noisy although it was meant to be very quiet … That was one of the reasons I chose it by the way!  And here was no vegan option (…)".
Then the associated questions could be: Why did Antoine book this hotel in the first instance? What about vegan dishes?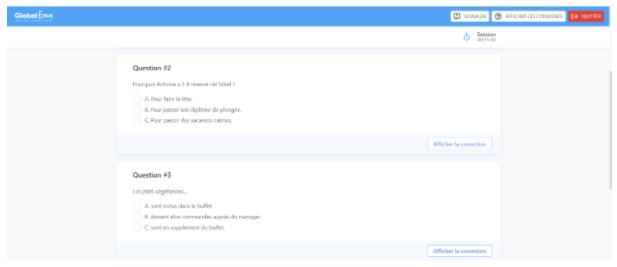 Level B2 – Targets candidates at ease to communicate in French, understand long speeches and can deliver an opinion. 
The audio may be an extract from a TV documentary: "Good morning! Like every Tuesday let's start our show Grand Format. Today our columnist will address the subject of organic food's consumers.
It's true that for the last few years, organic food has become more and more attractive to French consumers. Many thought it would be a short-lived, trendy phenomenon but now we can really consider it a societal one (…). According to the Bio Agency, in 2018, almost 90% of the French population have bought organic once while 75% of them buy them regularly. (…)"
Then the associated questions could be: Why do people choose to eat organic food? What does organic label guarantee?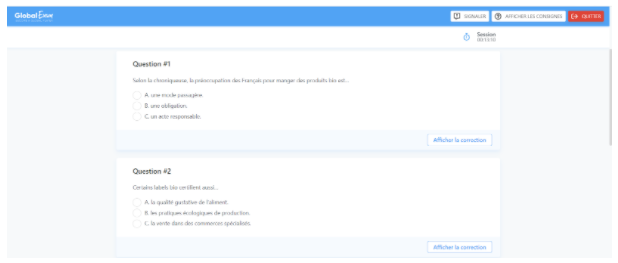 Practice tips for the DELF listening test
The exam is an MCQ so:
Take your time to read the question first, the answer is in the question itself or in another one
There are no negative scores so do not leave blank, if you are unsure take a guess!
Take notes
From the audio try to id the "where, who, what"
Do dictation and listen to different accents
Stay focus
Practice, practice and practice!
Let's practice with GlobalExam
With GlobalExam, the online training platform dedicated to providing the best training practices to certified languages exams, get unlimited access to thousands of exercises, practicals and exams. Whatever your level, GlobalExam enables you to practice in real conditions for any chosen exam, including the DELF, or for any specific section. Follow your scores, monitor your progress and improve your statistics through an efficient working program. Work through the road to your success and join us on GlobalExam now!