Whether you are thinking of taking the DELF test or just looking for some hints on the topic, this blog sums up the key information you need to know regarding the DELF speaking test. It includes:
Some insights into the DELF with an emphasises on the DELF speaking exam's structure
Some representative examples to help you get the big picture
Some tips to become a successful candidate
If you wish to take the test, to practice DELF with GlobalExam is the best solution for you!
Let's speak in French!
Key facts about the DELF and why it is worth getting one
DEFL stands for Diplôme d'Etudes en Langue Française. It is an official qualification awarded by the French Ministry of Education to certify that, as a foreign candidate, you have achieved a certain level of French language.
It is divided into four independent diplomas that encompass the first four levels of the Common European Framework of Reference for Languages (from level A1 to level B2). Importantly, the assessment targets all kinds of audiences. It is specifically adapted to either primary school students, secondary school students or adults (common or business level).
Note that this diploma is acknowledged in 174 countries that use it to assess one's French level. Today it accounts for more than 400 000 new registrations per year in more than 1 186 certified centres.
Essentially, the DEFL does meet everyone's needs and is rather useful to have if you want to apply to French jobs or a university degree!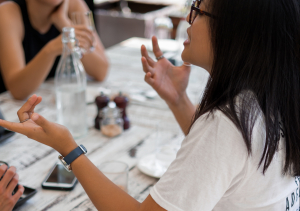 What about the DELF exam?
Briefly, the structure of the DELF exam is composed of four sections including three sat exams taking place back-to back:
        A written skill assessment;
        And a fourth one of interest for us today: a speaking assessment
 Zoom on the DELF speaking test
The structure of the DELF speaking test for each level is summarized in the following table:
| Level | Assignment | Length (min) | Preparation (min) |
| --- | --- | --- | --- |
| A1 | A short guided conversation around a topic | 5-7 | 10 |
| A2 | A guided conversation around a topic | 6-8 | 10 |
| B1 | A conversation AND a discussion around a theme | 15 | 10 |
| B2 | Defend an opinion concerning a topic | 20 | 30 |
Importantly, the level of requirements and the complexity of the tasks are proportional to the DELF level you are aiming to get. An acceptable scoring shall be around 50 and 100 points with a homogeneous marking between all assessments. If minimum scoring is not reached you fail.
So, the take home message here is to make sure you choose the level that matches and reflects your actual French abilities to speak. If you hesitate between two levels, we strongly recommend you to opt for the lowest one.
Representative questions and topics
Let's have a look at some questions you may get when taking the DELF speaking exam.
Level A1 – Answer the examiner's simple questions
"Can you describe a typical day of yours? What time do you wake up? Where do you live? "
Level A2 – Answer the examiner's questions and start a short discussion
You may be asked to introduce yourself, to describe your hobbies… "Can you talk about yourself? When did you start learning French? What do you do during the weekends?"
Level B1 – Answer the examiner's questions, interact with him/her and discuss yours thoughts about a subject
After answering similar questions as in level A2, a subject to interact could be: "You want to organise a party between neighbours, how do you convince them?" (The examiner plays one neighbour). Finally, a subject you may be asked to discuss could be: "Does carpooling mean the end of driving alone?"
Level B2 – You choose one subject between two you draw, you present it and defend your opinion.
For instance this philosophical question: "Do we have to be happy no matter what?"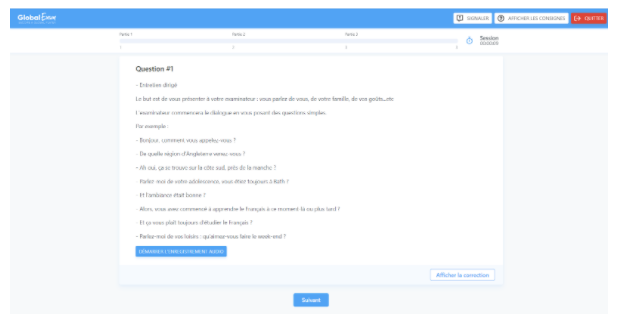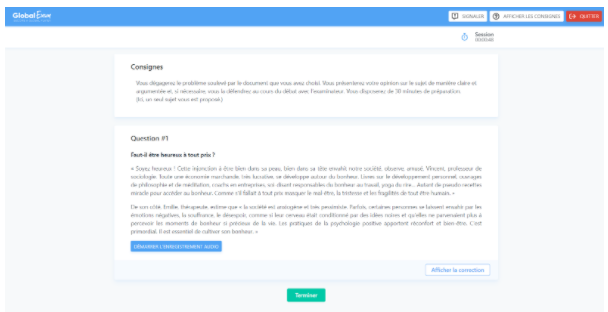 Tips to deal with the DELF speaking test
Although there is not one straightforward method to pass an oral examination, here are few things you want to consider:
Be spontaneous! What you are saying should reflect your way of speaking.
Do mock! Taking mock exams, in real conditions will help you apprehend the environment, tame your stress and be familiar with the structure and the examiner's expectations.
Do not fear speaking French! Whenever you can and if possible with a native speaker.
Practice, practice, practice! At GlobalExam we are here to get you on track.
Practice with GlobalExam
GlobalExam is an online training platform dedicated to provide the best training practices to certified languages exams including the DELF. It offers an unlimited access to thousands of representative assignments, practical and mock exams that let you train in real conditions for any chosen exam, whatever your level. Each training program enables you to practice for a specific section, gives you scores and statistics to monitor your progress and plan with you with a dynamic working program.
Do not wait any further and maximise your chances to pass the test, join us on GlobalExam now!