If you're learning basic German, you probably want to learn to read German — and you've come to the right place! In this guide, we will cover lots of helpful tips and suggestions for improving your German reading skills, including:
How to determine your objective in reading German;
How to learn to read German well;
The best German books and audiobooks for beginners;
The best German books and audiobooks for intermediate learners;
The best German books and audiobooks for advanced learners;
How to improve your German with Global General.
If you'd like to find out how to improve your German by reading in German, then just keep on reading!
Let's dive right in.
Top 3 Reasons to Start Learning How to Read in German
Learning to read German can be extremely useful in many different ways. However, before learning to read you should make sure that you learn the German alphabet and its pronunciation accurately so that you will not encounter any troubles. Your progress on the other hand will be most effective if you can accurately define what exactly your goal is in learning to read German. Here are some main reasons why people want to learn to read German:
Increasing your German vocabulary
Words, words, words — that's what books are made of! So it makes total sense that many German learners head straight to the bookstore when they decide they want to expand their German vocabulary. It's very easy to learn new words related to a particular topic you're interested in as well: all you have to do is find a book on that topic in German! Or if you'd like to enhance your knowledge of the language in general, pick up a fiction bestseller — those books are usually available in several languages, so you can even find it in your native language and read them side by side.
Learning grammar structures
Unless you're reading a dictionary, German words will not be used in isolation. That's where grammar comes in! If you pay attention to the way the sentences are structured, you can learn a lot about German grammar structures by reading in German. You can even learn everything about the German vowels and their pronunciation. Remember that different authors have different writing styles, so you may see a different range of language based on what kind of book you pick up. If you'd like to stick to the kind of grammar you see in German textbooks, you can try reading a nonfiction book about a topic you're passionate about — they're usually written with more technical language without too much style affecting the sentence structures.
Improving your pronunciation
If you enjoy listening more than reading, pick up a German audiobook and listen to it to practice your German pronunciation. You can improve your listening comprehension and passive understanding of German accents and intonation just by listening to the book. Or, you can take the more active approach and try repeating after the narrator in order to try to copy his accent. If you're an advanced learner or have a skilled German tutor to help you, you can also use paper books to improve your accent: just read them out loud! If you're a beginner, make sure you do this with a language tutor who can correct you, otherwise you might be just repeating pronunciation mistakes.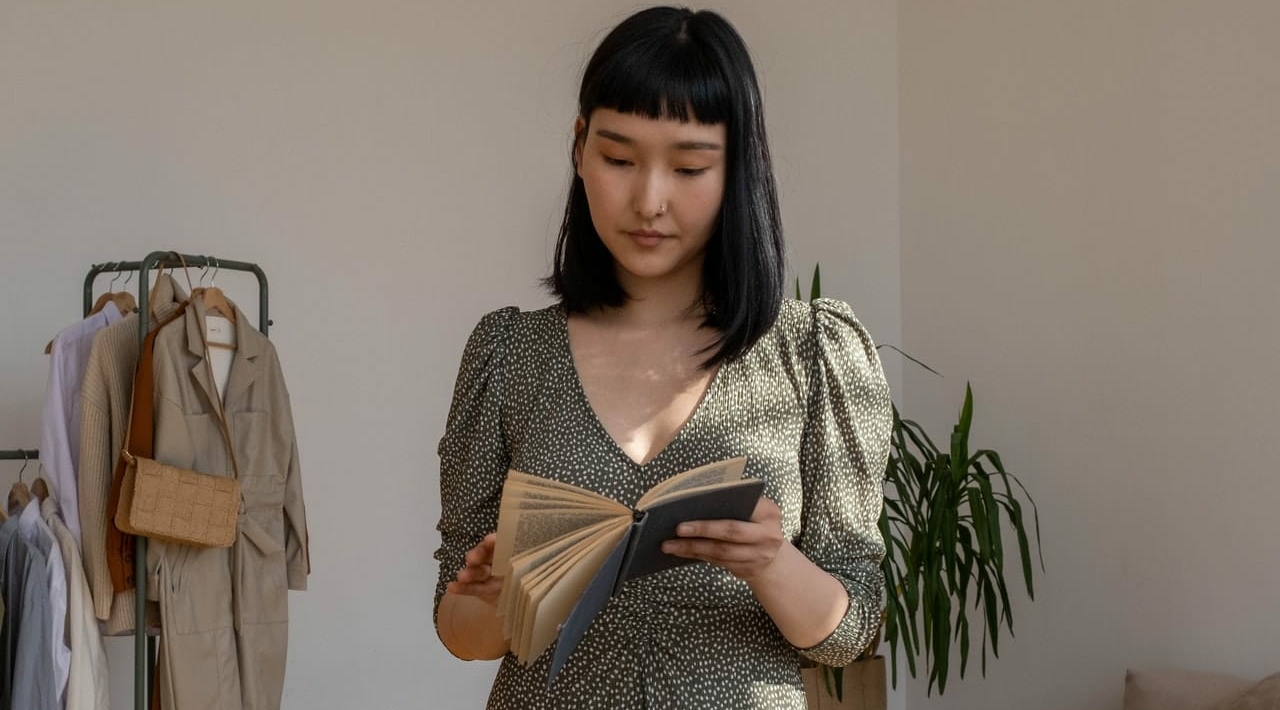 How to Learn to Read German Well: 4 Helpful Starting Tips
After you've defined your goal in reading German, the next step is… starting to read German, of course! If you're a beginner learner, or even if you're more advanced, this can feel a little difficult at first. Written language is always a little more complex than spoken language, so it takes a lot of effort to read in any foreign language. Here are four simple tips to make reading in German a little easier and more pleasant.
Read slowly
Reading in German is not a race, so take your time! Make sure you spend enough time on each word to pronounce it correctly. Try to focus on using the correct German accent and intonation. For beginner learners, it's best if you read with an expert language tutor who can correct you. Reading slowly is an excellent technique to remind you of the rules for a perfect German accent.
Look up words you don't know
Especially if you're reading in order to expand your vocabulary, you should keep track of the new words you find in the German book you're reading. Otherwise, you're learning new words only to forget them as soon as you turn the next page! You can use a paper notebook for this and write down the word, the sentence for context, and the page number where you found it, in case you want to go back and check it again later. Or, you can use a free online flashcard application, such as Quizlet.
Reread several times
Rereading the same German book several times is a great way to check on your progress in the language. If you're improving in your German and learning the new words, you should find each time you reread the book a little easier. Plus, now that you know the story, you can focus fully on the language and how it is used to tell the story. Depending on your reading style, you can reread each chapter before moving on to the next one, or read the entire book first and then reread it again. If you'd like to be very effective, you can even study the new vocabulary you wrote down before you reread each next chapter. See if you can understand all the language in the chapter without using the dictionary!
Listen to the audio book with the book in front of you
To make the absolute most out of reading in German, find a book that exists both in paper form and in audiobook form. That way you can both see and hear the language! Listen to the audiobook while following along in your book. This is an excellent way to practice all key aspects of the German language: pronunciation, vocabulary, and grammar. When you reread the book, try reading along with the narrator and listen carefully if your pronunciation matches theirs!
The Best German Books and Audiobooks for Each Level
Starting to read in German can be tricky — especially if you don't know where to start! We've put together some great reading suggestions specific to each level of learner.
The Best German Books and Audiobooks for Beginners
Short stories in German for beginners by Olly Richards
This book has 8 short stories for low-level beginners from a range of genres: mystery, sci-fi, drama, etc. They include vocabulary exercises and word lists, as well as quizzes to test your knowledge after each story. The vocabulary is very common and the stories are quite predictable, so these tales are a great introduction to German reading for beginners.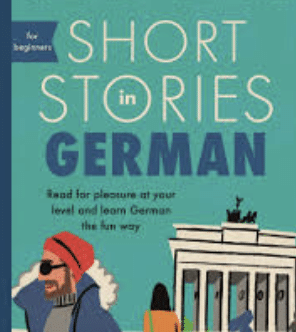 Fairy Tales in simplified German with audio
If you're too eager to start reading German to wait to go to the bookstore, you can get started online with 12 free fairy tales in simplified German at learnoutlive.com. These classic short stories are made for beginners and include favorites such as Rapunzel, Hansel and Gretel, Rumpelstiltskin, Little Red Riding Hood, and many more. Each story includes an audio recording so you can listen to the correct pronunciation of what you are reading.
Dino Lernt Deutsch
If you're an upper beginner (around A2), you can give Dino Lernt Deutsch a try. This series of four books includes 50 short stories and loads of realistic, practical conversations that are sure to fill up your vocabulary notebook in no time. The best thing is, you'll be able to put it all to use very easily because the language used in this book series is extremely useful! Use it in conjunction with a vocabulary or flashcard app to help you review the new words thoroughly and get the most of this series.
The Best German Books and Audiobooks for Intermediate Learners
LingoMastery: German short stories
This book says "for beginners", but the language is more suited to a B1-B2 learner, with increasingly complex conjugations and grammar. The book has 20 short stories that are easy to follow and also include practical language that you can immediately put to use in real life.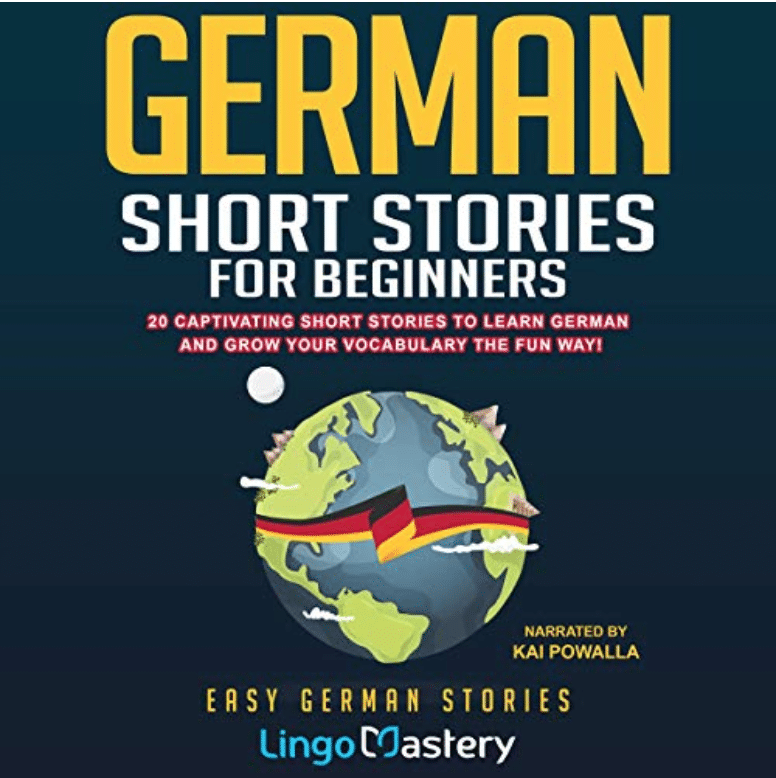 Short stories in German for intermediate learners by Olly Richards
If you enjoyed Olly Richards's short stories for beginners, then this is an excellent follow-up when you're ready to step it up to the next level. These captivating short stories are made for approximately the B1-B2 level and don't feature any higher-level grammar or language, so you can learn without being overwhelmed. Each story includes a German-English glossary to explain new vocabulary, a summary in German, and comprehension questions and answers to check your understanding.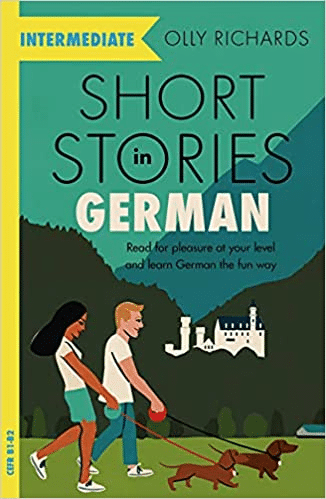 The Best German Books and Audiobooks for Advanced Learners
The Goethe Institute eLibrary
If you're ready to move on to more native-level content, make a free account at the Goethe Institute eLibrary to get access to a huge German literature collection. It includes both fiction and non-fiction in the form of magazines, novels, and audiobooks. If you're a lower-intermediate German speaker, it's best to start with popular magazines, as they are mostly written at a B1/B2 level. You can also check out the Institute's free German learning resources.

Audiobooks on Spotify
If you've got a Spotify subscription, you already have access to hundreds of German audiobooks. Just type "hörbücher" in the search bar and you will find every possible genre and topic. If you don't know where to start, check out this German kids story playlist by Julian or another German kids story playlist by Anna. Or, go for a classic and give The Little Prince a try in German.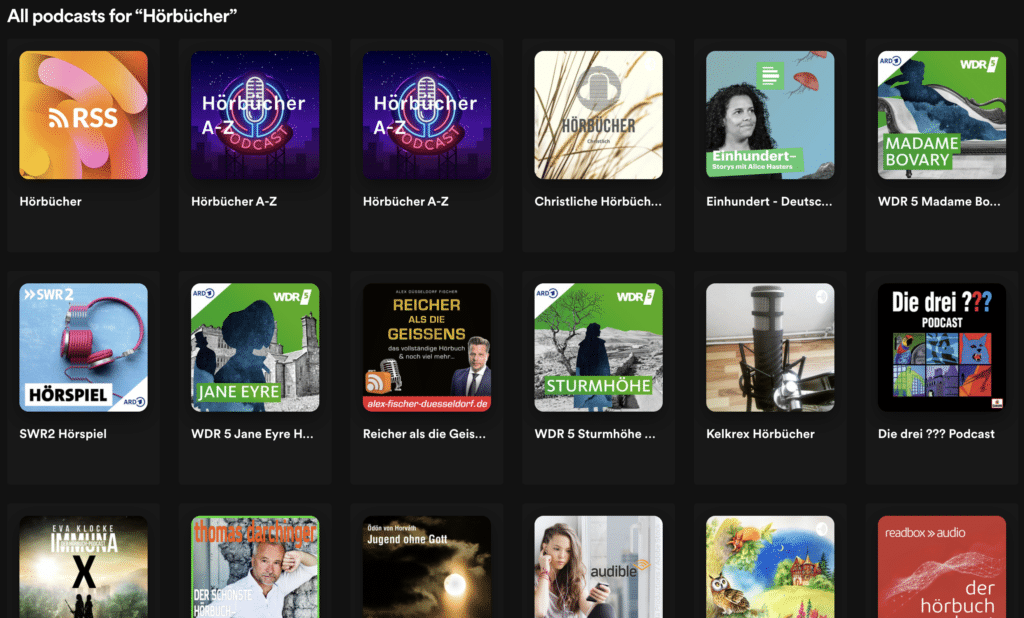 The bookstore!
If you're an avid reader and you're reaching the advanced level, just head to the bookstore! Starting to read authentic fiction (not adjusted to a lower language level) can be a big step, so start with a book you've already read in English. Since you're already familiar with the plot, you'll have an easier time following along and you can focus on acquiring new vocabulary and noticing the grammatical structures used. If you'd like to try out something new, you can give a shot at Das Rosie-Projekt by Graeme Simsion, or Die Analfabetin, die rechnen konnte by Jonas Jonasson. Both these books are also available as German audiobooks as well.
Reach the Level of German You Dream Of With Global General
Reading is an excellent way to complement your German studies, but it's no replacement. You still need a structured course that can take you step by step through all the important elements of the language, and help you practice listening, speaking, and writing as well — like Global General. This e-learning method, developed by GlobalExam, helps beginners and intermediate students learn German as well as four other languages: Spanish, Italian, English, and French.
The languages are divided into levels according to the CEFR standards and take a minimum of 12 study hours to complete (except for English, which takes 25).
Learn to communicate effectively in German with Global General! Here is what we can offer you:
Dozens of flashcards to help you acquire new German vocabulary easily;
Simulations for you to practice German in real context, using all four language competencies: reading, listening, speaking, and writing;
A fun "did you know" section with tips and cool facts about the German language and culture;
5000 detailed corrections;
Personalised feedback from our expert language coaches;
Validation of your acquired competencies after every 5 simulations;
150 hours of unique content;
500 audio tracks.
Reasons Why Global General is the best way to learn German
There are lots of platforms available nowadays, but few of them give such a well-balanced learning experience like Global General by GlobalExam. On our platform, your German studies will not have any gaps as we will cover everything you need in order to communicate in the real world, from grammar and vocabulary to intonation and cultural knowledge. Global General allows you to study from the comfort of anywhere you like, at your own pace and schedule. But don't worry, you won't be alone in your language learning journey! Our team of qualified German language coaches will support you the whole way, giving personalised feedback and making sure you're on the right track.
Give it a try for yourself — sign up now and start learning German today with GlobalExam!