Whether you want to live in the US to study, work, or move permanently, you'll need a visa, and the process of getting one hinges especially on your English proficiency.
This blog post will guide you through the various types of visas available to come to the US and how getting a top score on your TOEFL fits into this process.
First, let's take a closer look at the TOEFL and how it measures your English skills.
A brief introduction to the TOEFL test
TOEFL stands for "Test of English as a Foreign Language," and as its name suggests, it is designed to measure the linguistic abilities of those who speak languages other than English. It is used in the admission process to universities all over the world, including in the USA, company recruiting departments, as well as the US Bureau of Consular Affairs to issue work or stay visas to the USA.
Your TOEFL score is your certification of English abilities in the four main language skills: Listening, Reading, Writing, and Speaking. The entire TOEFL iBT test lasts four hours.
Scores are given on a scale of 0 to 120. The score you need depends on the requirements of the body requesting it, but once you know your goal score, you'll have a clear picture of how you should prepare for the TOEFL well in advance.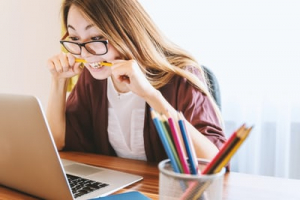 Types of US visas
Before you even start packing your bags, you must have a visa that allows you to study, work, and/or live in the USA. Visas are granted by US consulates all over the world.
There are three different types of visas available for citizens of most foreign countries:
F1 Student Visa
J1 Exchange Visitor Visa
M1 Vocational/Non-Academic Visa
How can you get an F1 Student Visa?
Universities offering undergraduate and graduate programs require you to have an F1 Student visa. In turn, before you can apply for your US student visa, you'll need to have a letter of acceptance from an accredited American university in hand, which will require you to prove your English proficiency with a test such as the TOEFL. The TOEFL step is not required for those who are US citizens or permanent residents (holders of a Green Card).
TOEFL Requirements in US universities
Let's look at how two US universities set their TOEFL requirements:
Stanford University, Stanford, CA
This private university ranks among one of the top universities in the world. It accepts a TOEFL score as proof of English abilities for foreign students. Both the graduate Economics program and the Business School require a TOEFL iBT score of 100. If you do not reach this threshold of 100 points, admission still may be granted, but you will need to enroll in English language courses.
Massachusetts Institute of Technology, Cambridge, MA
MIT is a private research university and again, is one of the world's most prestigious universities. It accepts thousands of foreign students into its undergraduate, graduate, and post-graduate programs, the basis for which depends on their TOEFL results. They set a minimum score of 90, but recommend that you earn 100, for admission into the graduate Mechanical Engineering, Economics, and EECS programs.
Of course, the minimum TOEFL score varies from school to school, so be sure to inform yourself about your future school's TOEFL requirement before you register for the test. That way, you'll know what your objective will be and how you can prepare for the TOEFL to get your best score.
Once you apply for your F1 Student visa, you must travel to your nearest US Embassy or consulate for a face-to-face interview. Then, you need to prove that you can support yourself financially throughout your studies in the US. Finally, you'll need to demonstrate that you have sufficient reason to return to your home country once you complete your planned course of study. Remember, the F1 Student visa does not allow you to work or permanently reside in the US!
The TOEFL for the J1 Exchange Visitor Visa
The J1 Exchange Visitor visa is similar to the F1 Student visa but is meant for students, guest scholars, or lecturers to pursue a short course of study with a substantial portion of the funding coming from the host institution. J1 Exchange Visitors need to have sufficient English language skills to take part in the program and to get by on a day-to-day basis in the US.
The language requirement is set by the US Immigration department and is used in the application process for the J1 visa. The good news is that the TOEFL is one of the tests accepted by US immigration authorities when evaluating your visa application! You'll need to have at least a 79 on the TOEFL iBT.
The TOEFL and the M1 Vocational/Non-Academic Student visa
Finally, we have the M1 Vocational/Non-Academic Student visa. The main difference with this type of visa is that it is for students enrolled in non-academic programs (other than language training) or "vocational study" programs generally known as mechanical studies, technical studies, which include but are not limited to the following courses: dance, cooking, music, photography, art, design, flight courses or cosmetology courses, for example.
Once again, after being accepted to a program, you'll need to apply to get a visa and certify your English language proficiency by submitting your score you get on a test such as the TOEFL.
Get a top score on the TOEFL by preparing with GlobalExam
As we have seen, while the steps to getting a US visa can be daunting, in all cases you'll have to prove your English-language skills via an authorized language test such as the TOEFL. To get the best score possible, train online with GlobalExam. 
You'll get access to GlobalExam's platform with exercises specific to the TOEFL tasks, personalized statistics to track your progress, and up to 5 free mock TOEFL exams so you know what to expect and get the best score possible. Your US student adventure starts with comprehensive preparation!
Read more about the TOEFL IBT: