If you want to learn the English language, you will inevitably have to learn about its grammar and its rules. Although grammar can be a lot of people's nemesis, English grammar is in fact quite simple to master. In this new post, GlobalExam will help you learn about the English language and how you can improve your grammar skills:
→ Our top 10 of the best books to learn English grammar.
→ Why is it important to learn English?
→ How to improve your English grammar with General English, GlobalExam's new program.
Now without further ado, let's get into it!
Best Books To Learn English Grammar: Our top 10 List
In this section you will find 10 amazing books that will help you learn English grammar depending on what you need and your level.
The grammar in Use series, by Raymond Murphy
This series of grammar books has three different levels: Essential Grammar in Use is for beginners and elementary students of English, English Grammar in Use for intermediate users and finally, Advanced Grammar in Use for advanced level students. This is a great self-study book that will give you a detailed lesson about a specific point of the English language and then provide you with exercises to check if you've understood and mastered the lesson. It's definitely a must have.
The blue book of Grammar and punctuation, by J. Straus, L. Kaufman and T. Stern
This is an incredible learning resource for beginners. This workbook will teach you how rules work and how you can use them. There are a lot of quizzes, examples and exercises to help you improve and master any rule in no time. It's suitable for any level of English.
The only grammar book you will ever need by S. Thurman and L. Shea
This book is focused on the written English language and will teach you how to write proper English. It dives into academic writing, technical or persuasive writing skills. A perfect book to improve your punctuation, vocabulary as well as the way to transform your thoughts into well written sentences.
Perfect English grammar, by G. Barrett
Step by step, this book will help you improve your English skills. It will polish your communication, whether through writing or speaking skills. It's more of a language guide than a list of grammar rules and will help you grasp the meaning of the English language as a whole.
English for everyone: an English grammar guide, by DK
This is another great self study book that you can use on your own or with a study group. This manual is very visual and provides a great alternative for learners that have a very visual memory. It makes this book also highly pleasant to use and very easy to understand. It's suitable for any learning goal as well as any level student.
Oxford modern english grammar, by B. Aarts
This is a more standard English grammar book and features both British and American English language. It's also suitable for any level as it's very well explained and very easy to understand. A must have if you want to improve your grammar skills efficiently.
Understanding and using English grammar, by Betty S. Azar and Stacy A. Hagen
This book is great for progressive learning. In each chapter, there's an overview of what you've already learned and it makes a great learning book. It is suitable for any level and will give you a great insight into the differences between spoken and written English.
English grammar 100 tragically common mistakes and how to correct them, by S. Williams
This is a great starter book if you don't want to dive right in the complicated Grammar rules. This book gives you a deeper understanding of the most common mistakes learners make in English and how to understand and correct them. It also gives you tips on how to improve your writing skills. A great book for beginners or if you get back into the language after a long time.
English grammar for dummies, by G. Woods
As the title suggests, this book is supposed to help even the lowest level students. It takes you through basic concepts to more complicated grammar rules so you can progress safely and master the English language in no time without losing interest. There's also a US edition if you want to learn about the American English language!
English grammar for ESL learners, by E. Swick
Just like English Grammar in use, this book is available in different editions that cover every level: English grammar for ESL learners, Intermediate English grammar for ESL learners or Advanced English grammar for ESL learners. As the title suggests, this book is targeted to ESL students (English as a Second language). This makes the book a very clear and easy guide on the English language.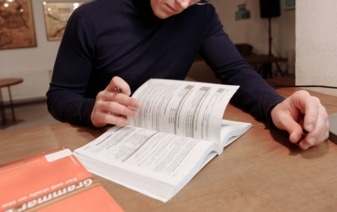 Some Important Tips For Improving Your English Grammar
If you want to learn more about the English language and its key rules and grammar points, here are a few pieces of advice you have to keep in mind:
#Tip 1 Find out your level
The very first thing to know is your level. Are you completely new to English? Do you have some basic knowledge?
The sooner you determine your level of English, the quicker you will be able to find good resources adapted to your level. Remember that this is a very important point to take into account: if the ressources you learn with are too difficult for you, it will surely discourage you from learning anything. On the contrary, if they're too easy, you won't learn anything and progress at a very slow pace that can also bore you out very quickly. So take time to test and assess your level!
#Tip 2 Find the best activities that suit you
Now that you've found out your level, you can find the best activities and resources to help you. Whether it be vocabulary or grammar, there are a lot of books and online resources designed to help you learn efficiently. In fact, there are so many different resources available that you can select what you like to do!
For example, if you like to listen to podcasts, pick a podcast about grammar. If you like videos, hop on youtube. If you like games, find a game about that grammar point you're struggling with. There are so many more options available. Possibilities are endless!
#Tip 3 Don't focus on only one aspect
Improve your writing, reading and listening skills. Oral and written English are not the same. This is why you should not only focus on "written" grammar and only work on your writing skills, oral skills are very important too. You can easily train these through the various resources available.
#Tip 4 Learn english grammar tricks
Pay close attention and learn the tricky aspects of English grammar, such as irregular verbs. Doing so will improve your understanding of grammar and help you learn quicker.
#Tip 5 Don't forget to learn and improve your pronunciation too
This is very important: learn and master English grammar all you want, if you have a very bad pronunciation it can still lead to confusions and misunderstandings. Don't leave pronunciation behind.
#Tip 6 Pratice, practice, practice
When it comes to learning grammar, practice makes perfect. Do exercises, read books, do quizzes, mini games, read articles… If you just read a grammar book it will take you way longer to assimilate and understand things. Remember that you have to train and actually practice rules and exceptions to memorize them for good.
#Tip 7 Focus on learning as much as vocabuary as possible
Focus on learning a lot of adjectives, along with their comparative and superlative forms. These forms are easy to learn but will greatly boost your vocabulary, and make your grammar learning journey easier.
#Tip 8 Allow yourself to make mistakes
Finally, don't be afraid to make mistakes, don't be afraid to ask for help. Grammar can be difficult sometimes but there's also something to help you get it.
Whether it be books, a friend, or online resources you can always find help. Do not be afraid to make mistakes too, especially if you're learning in a study group or with a native speaker, a teacher, etc. Mistakes are how you learn, otherwise you would not have to learn anything, right? So remember that mistakes are part of the process and a sign of progress and healthy learning. You've got this!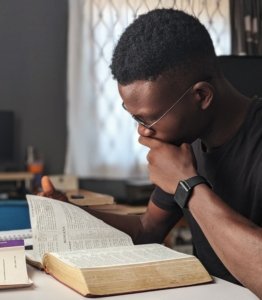 Why Is It Important To Learn English And Improve Your Level?
With millions of speakers around the world, learning the English language has become a very important skill to master. Every single individual will come across this language at least once in its lifetime; through culture (the majority of movies and TV series, documentaries, newspapers, blogs etc. are in English), through work (a lot of fields such as pharmacy, healthcare, IT, fashion, travelling, banking, human resources and many more need English) or through studies (there are a lot of linguistic exchanges, student exchanges or penpals around the globe, most of the time in English). Whether you're a student or working in a specific field, knowing how to speak English will definitely be a huge plus for you. If you want to travel the world (either in English or non-english speaking countries!), it will be a great advantage too. In addition to this, the English language is so interesting and very easy to learn, it will help you get an insight on the English culture as well. So, you really don't have any excuse to not start learning English right now!
Learn English With GlobalExam's General English Course
If you're not sure where to start, or if you're looking for an English learning tool that is easily accessible then GlobalExam got you covered. We provide a wide range of English lessons and grammar courses that are all designed to help you master the English language quickly and efficiently. Our General English program is tailored to your needs and is made for beginner or intermediate levels.  On our General English program, you will find:
Ludic courses that are as fun as they are engaging, so you can look forward to your next lesson.
In depth corrections of your exercises so you can make sure you leave nothing behind.
Revision sheets accessible at any time.
This course is designed to help you gain confidence in your learning of English and help you master the English language in no time! What are you waiting for? Let's learn English together!