Global-Exam collaborates with Hutong School!
Learn more about Hutong School, Global-Exam's partner!
Global-Exam recently started collaborating with Hutong School, a Mandarin school specialised in teaching Mandarin to international students from all around the world. Hutong School students will receive a 10% discount on HSK Exam preparation tools by Global Exam.
Hutong School was the first international language school under foreign management officially licensed by the Chinese Ministry of Education. Founded in 2005, the school has since welcomed over 3,000 students from all around the world!
Language schools in China are located in Beijing and Shanghai, where they provide personalised Chinese lessons by experienced bi-lingual Chinese teachers.
Hutong School is not only represented in China, but also in London (UK), Milan (Italy), Paris (France), Brussels (Belgium), and Sydney (Australia). All the schools are located in the heart of each metropolis and their aim is to teach Mandarin to locals who want to learn and/ or improve their Chinese language skills.
The school in China is the first choice of many renowned foreign universities and various embassies and chambers of commerce.
Why China?
China has become a major player in the world economy as the demand for experienced professionals with Chinese language skills has increased dramatically. For people taking their first steps into the job market, it is important to differentiate themselves from the crowd. Learning Chinese will provide you with an excellent chance to get a step ahead and draw the attention of future employers.
Intensive language program in Beijing & Shanghai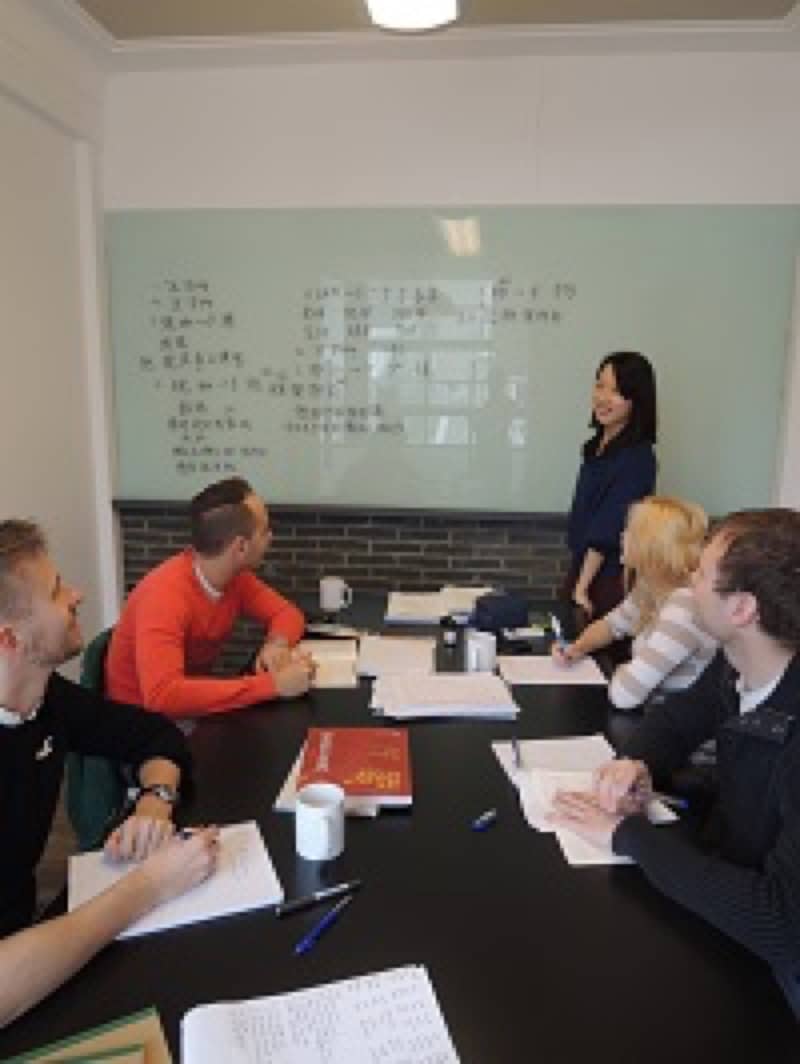 At Hutong School, every student has a one-on-one level assessment and study plan. The teachers are not only distinguished by their academic achievements, but also by their interpersonal skills and devotion to teaching Mandarin Chinese. Hutong School makes sure that every Chinese teacher is also an advanced English speaker.
– Small classes for the study of Mandarin Chinese: an average of 4 or 5 students per class.
– 20 hours of intensive language course per week, with 4 hours of lesson per day
– The innovative teaching method separates spoken Mandarin and character recognition, and has been proven to advance the pace of your language learning
– HSK preparation- the teachers have great experience with helping students to prepare for their HSK exam.
Hutong School is very flexible in order to fulfil all the needs and wishes of their students:
– Choose your length of stay: from two weeks to 1 year or longer
– All levels: from absolute beginners to advanced and specialised courses
– All year round applications: programs start on the first Monday of every month
– All ages: Hutong School accepts students of 16 years and above
The two schools are located in the centre of the two biggest cities in China: Beijing and Shanghai. Both are full of history and endearing in their own way.
– Hutong School in Beijing is located in the heart of Sanlitun, close to the Central Business District. The school is conveniently located for the many expatriates who work and live in Beijing as well as for students learning Chinese or doing an internship.
– Hutong School, Shanghai, is ideally located in the Former French Concession at the border of Jing'an. Originally a renovated factory building, the school boasts cozy comfortable classrooms, a spacious lounge to relax and socialize in between classes, and a huge rooftop terrace, overlooking the Former French Concession. 
What's included in your Intensive Chinese language program?
To make your time in China as comfortable as possible, Hutong School offers you many services to enrich your experiences abroad:
– Accommodation in modern shared apartments a short subway ride away from the school (including private bedroom, shared living room, kitchen and bathroom; all utilities included plus Wi-Fi)
– Airport pick-up, Hutong School will pick you up from the airport and escort you to your accommodation, show you around the neighborhood of your apartment and help you register
– 24/7 practical assistance (including assistance with ticket bookings, visa extensions, name cards, and a 24/7 emergency number)
– Welcome pack, including a city map, transportation card and a Hutong School bag
– E-learning, is one benefit you will get as a Hutong School student. You will receive discounts on different Chinese learning apps.
– Hutong School Student Card on your arrival, you will receive a Student Card that gives you further discount on different services around the school, such as for restaurants, cafés, bars, the hairdresser, and even the bookstore.
– 2-3 business and cultural activities per week, e.g. business lectures and networking nights, cooking workshops and kungfu lessons. There are also day-trips and weekend-trips in and around the city, plus many social events such as our welcome parties and KTV nights.
– Additional services such as assistance with Chinese visa application, registration in China, travel inquiries, ticket bookings, etc.
Other Services: Internship Program
Hutong School does not only teach Mandarin, but also offers highly qualified internship programs in international companies, including 4 hours of Chinese language classes at Hutong School per week. After your application at the school, you will go through a professional matching process, to find the ideal internship placement that suits your needs and wishes.
You will be informed of your internship company before your arrival in China!
Join Hutong School and gain professional work experiences in one of the most exciting countries in the world!
Do you want more information or have any questions? Have a look on their website: http://www.hutong-school.com/
Client of Global-Exam? Contact us to get a special discount!