Books are always a good place to begin preparation for a language exam. Checking out a book from your local library is free. When you select a book for a language exam, you need to be sure, that the contents are actually based on the exam and up-to-date. Also, check for an answer key and explanations. You need to know why your answer was wrong if you want to improve.
Unfortunately, there aren't a lot of trustworthy books for the TOEIC Bridge. There is an abundance of books for the standard TOEIC exam, so be careful if you are ordering a book online. Make sure that it is for TOEIC Bridge and not the regular TOEIC. Despite the fact that there aren't a great number of TOEIC Bridge books, there are some that are very useful and contain official materials.
TOEIC Bridge® Examinee Handbook –

this text will enable you to become familiar with test directions and format. Also, there are numerous sample questions and explanations.

Barron's TOEIC Bridge Test with Audio CDs

:

Test of English for International Communication –

a revised and updated text that has current exam format and questions. Additionally, the text comes with a CD for the listening questions. Being able to listen to actual test questions is extremely useful for preparation.

TOEIC BRIDGE® TEST: Listening & Reading (Second Edition

) – containing explanations, sample questions and format examples, this text also has online audio materials that allow you to better practice for the listening questions.
You can train for the TOEIC Bridge and all of its sections on GlobalExam's platform!
Tips to train online
Below is a short list of things that you should look for when you are deciding on a website to use.
Navigation – a website should be easy to navigate and have clear menus. Too many websites have been designed by an amateur who wasn't familiar with the basic tenets of website design.
Scalability – this refers to how a website appears on different devices. Check out how a website appears on your laptop and phone if you plan on using both devices to study.
Updated – some websites were designed and uploaded many years ago and then whoever worked on it, stopped and moved on. The materials may still be fine, but it's better to use a website that is regularly maintained as language exams tend to change every few years.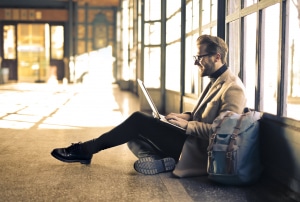 A bunch of downloads – there is an abundance of teaching and learning materials online, but much of it consists of a bunch of downloads. This might be useful for a teacher, but it doesn't provide much support for a person preparing for an exam.
Support – having someone that you can contact with questions is good. Having someone that will offer personalized support and explanations is even better.
Multi-media – it's the 21st century. Any decent website should be making use of multi-media. This will allow you to experience the full benefit of studying online.
Train with GlobalExam
It can be a challenge to find good materials for the TOEIC Bridge exam. Sure, there's a whole lot of stuff for TOEIC, but that's not going to be very helpful with TOEIC Bridge. Fortunately for you, at GlobalExam, we have TOEIC Bridge covered. It's a language exam and language exams are our specialty, so we have great materials for the TOEIC Bridge.
Our TOEIC Bridge materials are current and authentic; when you use our study sheets, you can rest assured that what you are doing is relevant and effective preparation for the TOEIC Bridge. We have practice tests, works sheets designed to prepare you for common TOEIC Bridge topics and the needed vocabulary. To add to that, we have tracking metrics that are personalized, so you know how you have been doing and what you will need to work on to improve. We have support staff, who will send you encouraging messages and plan a course of study for you that will lead to success on your test day. You'll never be alone. Our TOEIC Bridge premium plans all come with the following:
60 sample exercises and access to 15 training hours with 1500 answered questions.
3 practice tests with timing so as to simulate exam day conditions. 
Study plan that is designed and organized for you, getting you ready for your test date.
Current grammar and vocabulary study materials, giving you the skills you need to develop to do well on the exam.

Laptop, tablet or smartphone – use the device that you prefer with our multi-device training, enabling you to study at any place and any time.
Free Samples
Some people prefer to sample the materials before they commit to a paid plan, and we understand that, so we provide two sample exercises, some vocabulary and grammar study materials free of charge for the TOEIC Bridge exam. It lets you experience our website and the quality of our test prep materials.