TOEIC Bridge test results show English-language levels for listening and reading. The new version also will show a test taker's level for speaking and writing. Scores on the exam are determined by the number of correct answers; the correct answers are converted to a scaled score. The score report provides listening, reading and total scaled scores. The total score range is derived from adding the two scaled scores together. Test scores are valid for a two year period only.
Your TOEIC Bridge results match the following levels of the CEFR (Common European Framework of Reference for Languages).
Score range: 10-90 – CEFR levels: A1 to B1
The lower end of the score matches CEFR level A1, while the upper range of the tests score matches CEFR level B1.
Score range: 10-90 – CEFR levels: A1 to B1
The lower end of the score matches CEFR level A1, while the upper range of the tests score matches CEFR level B1.
Score range 20-180 (the two test scores added together- CEFR levels: A1 to B1)
The lower end of the score matches CEFR level A1, while the upper range of the test score matches CEFR level B1.
These scores are for reading and listening only as there isn't currently any reliable data from ETS (Educational Testing Service) on the new version of TOEIC Bridge, which includes speaking/writing. Tests scores for the new version of TOEIC Bridge are not reported in detail as of yet on the ETS website; however, this information is given: score scale for each individual test is 15 to 50. No corresponding CEFR levels are provided, but it can be reasonably assumed that a score close to 15 would be an A1 CEFR level, while a score close to 50 would be a B1 CEFR level.
GlobalExam is here to help you reach the best TOEIC Bridge score!
How many points to get which level?
The table below is a rough guide, and ETS may alter the score ranges as changes are made to the TOEIC Bridge. Always, check for current, official data as language proficiency exams have a habit of making changes.
| | A1 | A2 | B1 |
| --- | --- | --- | --- |
| Listening | 46 or lower | 64 | 84 or higher |
| Reading | 46 or lower | 70 | 86 or higher |
For the A2 level scores, it is assumed that the A2 level would cover a range of scores either side of scores 64/70.
Tips to get a good score
There is a lot of advice on how to succeed on a language exam with 'tips and tricks.' Below is a list of some solid advice that has been shown to work through research.
Practice, practice, practice
It seem obvious that you need to practice, but so many people think a week full of cramming will suffice. Language is a skill; it's closer to learning the piano, and you cannot become a good musician with a few days practice. It takes a lot of time; therefore, ensure that you give yourself sufficient time to learn and improve.
Distractions and more distractions
The modern world is full of stuff that will distract you and waste valuable time. Don't study with your phone beside you and social media apps open. Let your friends and family know that you are busy studying and ask them to leave you alone while you study. If you do go online to study, avoid email, YouTube or the news as they will eat up a lot of time. Go to the websites that have the information that you want and don't visit other sites.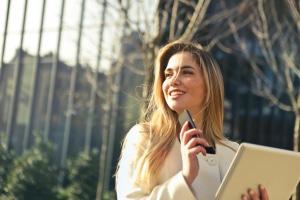 Write down a schedule for your study times; words and vague promises to yourself are insufficient to guarantee regular study sessions Many students study furiously for a week, and then gets busy, not studying for weeks The next thing you know, it's your exam date. Regular study sessions that match other aspects of your life are key to success. If you find yourself too busy, then ask for cooperation from friends, family or your spouse; let them know what you plan and ask them to help you stick to the plan.
Hiring a tutor for some one-to-one test practice is invaluable, but you need to be ready to practice and don't expect the tutor to miraculously solve all of your problems. Be sure to hire a tutor who has experience with TOEIC Bridge and knows what skills need to be developed. 
Training with the GlobalExam Team
GlobalExam is a language exam preparation website. We have an experienced team that is knowledgeable on a wide variety of language exams—TOEIC Bridge is in our repertoire. We keep our website and its materials current and full of authentic practice materials as it is important to prepare for your exam with questions that assess the relevant skills.
Sure, you can buy a book online or go to your local library, and we encourage that, but studying on your own can be a challenge. Where do you begin? How are you are doing? What can you do to improve? These are questions that you will face when you study alone. Also, if you sign up for a class at a school, you may be in a room with 30 other people and receive little personal feedback. At GlobalExam, you won't be alone. We design a personalized study plan with your exam date in mind. We have individualized progress metrics that track your progress and motivational messages to encourage you. 
At GlobalExam, you will have access to the following with our premium plans: 
Each TOEIC Bridge premium plan has 60 sample exercises with access to a total of 15 training hours and 1500 questions with answers. 
We have three practice tests that are timed to foster a sense of real-life test conditions. 
A study plan designed for you that fits your exam date.
Study sheets and grammar and vocabulary study materials that are targeted to give you the chance to review exam topics and remove the guessing of what to study.

At any time or place! With our multi-device solution, you study with us on your device of choice: a laptop, a tablet or a smartphone. Practice at home, school or on the subway.
What are the plans?
First of all, you can try our free materials to sample what it is we do. We offer two sample exercises and vocabulary and grammar study materials. 
For our paid premium plans we offer the following.
Every week: 29,90€

Every month: 59,90€
Every quarter: 99,90€
Every year: 199,90€
You study with GlobalExam for as long as you like, so you never spend more money or time than is needed; flexibility is a central aspect of our service.