For the reading/listening standard TOEIC Bridge exam, there is a total of 180 points. Each component has a score of 90 points, and the total score is the two scores added together. The minimum score for each component is 10 points. Each section (reading/writing) will have a score between 10-90 points. Your total test score will be between 20-180 points. Learn how to get the best score on the TOEIC Bridge exam!
Important Note
These scores are for the reading and listening components; there appears to be a new version of the TOEIC Bridge that offers speaking and writing. Details of the scoring for the speaking/writing components are limited, but the ETS website references a score scale for each individual component as 15 to 50. This would be different from the scale that is used for reading/listening. As this is a newly designed version of TOEIC Bridge, it would be wise to check the scores for the two components prior to registering and preparing for an exam with your test center.
What's the minimum to pass?
Language exams don't have a pass/fail dichotomy. They are an assessment of your current level of language proficiency in a particular set of skills: listening, reading, speaking, writing, etc. A higher score indicates a greater proficiency with the tested English skill.
That being said, your employer or the educational institution that you are applying to, will have a minimum score that they require. Always check with the employer or educational institute for your required score; never rely on hearsay or old information.
Tips to get a good score
There isn't any magical solution or three-day wonder method when it comes to preparing for a language exam.
Time + Effort = Success
There are a couple of tips that will allow you to use your time and efforts effectively.
Make a plan
You need to manage your time and plan your studying so that you practice regularly. Frenzied cramming the week before your language exam is not an effective method to prepare. Sit down and make a schedule: on paper, on your phone, with some app-it doesn't matter how, but it does matter that you do it. Success on a language exam is about being a diligent student, not possession of some special language ability. Good students study often, regularly and then repeat the process over and over.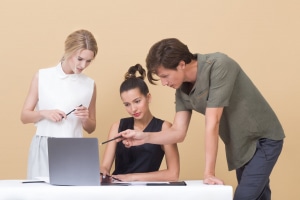 Study effectively-minimize distractions
Many a student will say, "Wow! I was at the library all day yesterday." Did they study all day or did they spend much of the time online or chatting to friends over coffee?
The world is chock full of distractions that will waste valuable time. Don't keep you phone next to you with social media apps open. Unplug while you study and work on your self-discipline i.e. if you plan to sit quietly and study for two hours, then sit quietly and study for two hours-don't make excuses.
Good study materials
Use books and websites that are current (hint, hint-GlobalExam). Practicing with outdated materials, even if they are free, isn't very helpful. Language exams change regularly, so you need to know that what materials you use are up-to-date.
Test Day Tips
Check your ID and the time
Make sure that you bring official ID with you to the test. Check with your test center what is acceptable. Don't try to negotiate the use of alternative ID at the entrance to the exam. Also, double-check the start times and location. You don't want to arrive an hour late.
Everyone gets nervous, but if you breathe slowly, you will calm down. Fear and nervousness can be overwhelming, so try to reduce them by calming yourself. 
Focus on what you know and do it. Don't worry about what you don't know as you can't do anything about it during the exam.
Training with GlobalExam
If you want up-to-date information, targeted materials and an effective study platform, then try GlobalExam. We are language test preparation specialists. If you find yourself unsure that you want to sign up for any of our paid services, rest easy and try our free stuff: two sample exercises and vocabulary and grammar study materials. We are confident that you will want more.
With us, you will be able to practice the skills needed to do well on the TOEIC Bridge. Good and current materials are part of the process, but more importantly we help you to plan and organize your studies. We will design a study plan that is tailored to you, and it comes with tracking metrics to assess your progress. Our materials are clearly organized and remove the worry of what to do study and when. All you need to do is follow the plan and put in the time and effort, and you will attain your goal.
What do our TOEIC Bridge plans contain?
60 sample exercises and access to 15 training hours along with 1500 questions with answers. 
3 practice tests, timed to duplicate real-life test conditions and corrected to assess your progress.
A study plan that fits your schedule, level and test date.

Regular encouraging, personalized messages to maintain your motivation.

Grammar and vocabulary study materials that give you the opportunity to review key exam topics, removing the need for you to figure out what is best to study

A laptop, a tablet or a smartphone- with our multi-device training, you will have the flexibility to study at any time of day and any place you wish.