In this article, we talk about the TOEFL and registering for the exam in Geneva.
Here you can find information on:
What the TOEFL is and how to register
Where to take the TOEFL Geneva
Reasons to take the TOEFL
If you're not sure if the TOEFL is the right exam for you, this is the article for you!
If you wish wish instead to pass the exam, practicing TOEFL with GlobalExam is the best choice you can make!
What is the TOEFL?
The TOEFL iBT, otherwise known as "Test of English as a Foreign Language", tests your proficiency in the English language across speaking, reading, listening, and writing.
The TOEFL features four sections, one for each of the main communication skills, although individual tasks can combine more than one skill. The test takes approximately three hours, broken down into the following structure:
Reading (54-72 minutes): reading passages and answering comprehension questions
Listening (41-57 minutes): listening to recordings and answering comprehension questions
Break (10 minutes)
Speaking (17 minutes): talking about a familiar topic, as well as the material included in the first two sections
Writing (50 minutes): writing a response to a written passage and a recording
The TOEFL test is delivered on computer, which means that there is even greater flexibility regarding when and where you sit the exam.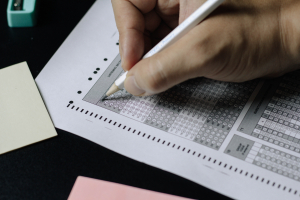 How does the TOEFL at Home test work?
The TOEFL at Home test features the same content and takes the same amount of time as the standard test. You can expect an identical score delivery time to regular test takers, and there is no difference in the validity of your certificate.
To take the TOEFL at Home, all you need is your computer. You can take the test at your convenience, and you will be monitored online by a human proctor.
How to register
You can register for the TOEFL Geneva online on the ETS TOEFL website. To get things started, you'll need to do the following:
Select your TOEFL Geneva examination center
Select your test session
Create an account
It's quick and easy to create an account on the ETS website, and then you're ready to finalize your registration. To do so, you'll need to input your personal information and pay the registration fee.
If registering online isn't possible for you, then it's also possible to register by phone or mail.
Where to take the TOEFL Geneva
If you're looking specifically for a TOEFL Geneva examination center, the ETS TOEFL website is a good place to start. It's always best to check their website for the most up-to-date information, but we've included the key information for the TOEFL Geneva below.
| TOEFL Geneva examination center | Address |
| --- | --- |
| ITTS Geneva | c/o Satom, Quai Du Seujet 10, Geneva, 1201 Switzerland |
If the TOEFL Geneva examination center is the most convenient location for your exam, all that's left to do is to consult their upcoming exam sessions before proceeding to registering your place. Luckily, most TOEFL examination centers offer weekly test sessions, so there's a good chance you can sit the test at a time that's convenient for you.
How much does it cost?
If you decide to take the TOEFL, you will have to pay a one-off registration fee. This fee can differ slightly from country to country, but in Switzerland it currently stands at $295 (USD), or approximately €250.
The TOEFL Geneva comes in a little higher at $320, or approximately €270.
This is, however, the only cost involved in taking the TOEFL. It's only if you register late for your test session, choose to reschedule your exam, or request a score review, that you may incur further costs.
If you wish to take the exam in other cities such as Zurich or Lausanne, the price may vary. In fact in Switzerland there are more centers to take the TOEFL exam.
What are the advantages of taking the TOEFL?
As one of the best known international English tests on the market, the TOEFL is undoubtedly a great way of certifying your level in English. There are, however, a few key advantages to bear in mind that set the TOEFL apart from other exams:
Widely accepted by universities as proof of English proficiency
Required for visa and immigration applications in English-speaking countries
A convenient and universally accessible exam
The TOEFL test score is accepted by more than 11,000 universities worldwide, so if you're a non-native English speaker looking to join an English program of study, a good TOEFL score could be a huge benefit to your application.
A TOEFL test score is a requirement for visa applications in several English-speaking countries, such as Australia. If you're considering immigrating abroad, a TOEFL score may be necessary in order to study, work, or live in the country of your choice.
The TOEFL is easily accessible. With regular testing sessions and the possibility to take the test from the comfort of your own home, you can fit the exam around your schedule.
Preparing with GlobalExam
The TOEFL is a long and rigorous exam, so being well prepared is essential to ensuring a pass. Luckily for you, we've designed a sophisticated e-learning platform that helps you to do just that.
Our e-learning platform offers learners three central learning tools:
Study sheets and revision
Training mode
Exam mode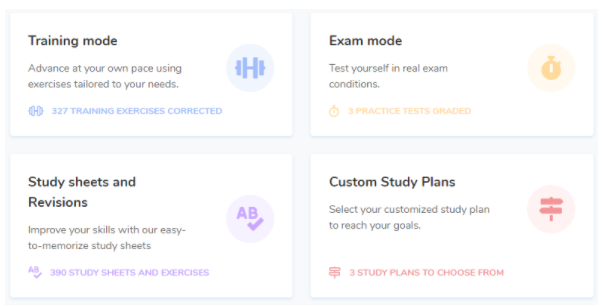 On GlobalExam, we have learning resources specifically designed to prepare you for the TOEFL exam. Our exercises and mock exams mirror the format, style, and content of the official test so that there are no surprises on the big day.
You can access a selection of our learning materials with a free account, but a Premium subscription gives you full access to all our revision materials, training exercises and mock exams.
To take your revision plan to the next level, we advise using our handy Study Plan feature. With this tool, you can set your own learning objective and we'll organize your study plan into manageable chunks to help you get there.
If the TOEFL is the test for you, there's no time to waste: it's time to register and get studying!