The TOEFL test
The Test of English as a Foreign Language (TOEFL) is a reliable and valid standardized English language test. It is recognized around the world. TOEFL was developed and is administered by Educational Testing Service (ETS). ETS verifies test standards at each and every one of its authorized test centres; therefore no matter where you sit for the test, it will be the same experience.
If you wish to pass the exam, practicing TOEFL with GlobalExam is the best choice you can make!
What does TOEFL assess?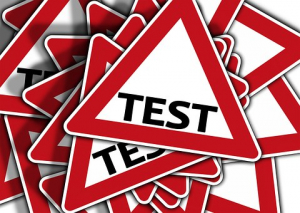 TOEFL will assess your English language proficiency. Questions and topics are targeted for this purpose only. TOEFL is an excellent assessment tool for the Common European Framework of Reference for Language B1 – C1 levels. TOEFL is gladly accepted by educational institutions and firms in dozens of countries as a reliable and valid official language certificate.
What is on TOEFL?
Two versions of TOEFL are currently in use: the internet based test (iBT) and the paper-based version. They are one and the same except that the paper-based version does not provide speaking assessment.
The internet-based version of the test (TOEFL iBT) covers the four language skills: speaking, reading, writing and listening. Test centres administer the whole test on the same day. An outline of the test components is below:
Reading component: There are three to five reading passages with 12-14 questions each. It is 60-100 minutes.
Listening component: There are six to nine listening passages with 5-6 questions each. It is 60-90 minutes.
Speaking component: There are six tasks to complete. It is 20 minutes.
Writing component: There are two writing tasks (summary style task and an essay). It is 50 minutes.
How to register for TOEFL in Switzerland
ETS controls the registration process worldwide through their website. Click on the link for more details.
http://www.ets.org/toefl/ibt/register/
Application deadlines end eight days prior to the dates that are offered on the website. It is common for exams to be fully booked a few weeks in advance. Consequently, ETS strongly suggests that test candidates register early.
You are able to register any day, any time, all year round. The name which you use for registration must be an exact match of the identification that you intend on bringing to the test centre on the actual test day. Always check the the ETS website for current details regarding identification. A test candidate pays online during the registration process with a major credit card, debit card or PayPal.
Taking TOEFL in Switzerland
Taking TOEFL in Switzerland, whether in Zurich, Lausanne, or Geneva, is possible throughout the year. For details in English regarding test centres and test dates in Switzerland, go directly to the ETS website:
http://www.ets.org/bin/getprogram.cgi?test=toefl
Just select your country on the drop down list. Next, select the location where you would like to sit for TOEFL. Currently available test formats (TOEFL iBT/paper-based), testing cities, test dates and fees will be listed.
Flying Teachers
Universitatstrasse 86, 3rd Floor, Tram# 9 And 10 Stop "winkelriedstrasse",
Zurich, 8006 Switzerland
Teaching Training Testing GmbH
Vadianstrasse 7, 9000, St. Gallen,
St. Gallen, 9000 Switzerland
University of St. Gallen
Gatterstrasse 3, Dufourstrasse 50,
St. Gallen, 9000 Switzerland
ITTS Zurich (c/o ESW)
Badenerstrasse 816, 2nd Floor,
Zurich, 8048 Switzerland
Wall Street Institute – Switzerland
Place De La Gare 11, Lausanne
1003 Switzerland
We also have written some articles to help you find test centers in Canada, in Germany, in the US, in China, in Manila, in Brazil, in Belgium, in Ireland, in UK and in Netherlands.
What's a good way to prepare for TOEFL?
Time, consistent effort, practice and preparation will get you the score that you need. There aren't any magic tricks or shortcuts.
You will find a wide range of materials and tips online for free or via online courses. Also, numerous language schools, colleges and universities will offer TOEFL courses. It is a very good idea to enroll in a TOEFL preparation course as the course will expose you to other test takers, materials that you might not be aware of and expert guidance on test taking.
Use your local resources as well; drop by your neighborhood library and request a TOEFL preparation guide. Be sure that the book is current as older books may contain outdated questions and information.
A final point, plan and manage your study time since it is very easy to become distracted and stop preparing, and then the test date is upon you.
On the GlobalExam platform, you can access online 15 trainings for the TOEFL IBT along with vocabulary and grammar study sheets. You will find a lot of information on the blog such as the test format, recommandations, best resources for your preparation, testimonials, etc.