What is TOEFL ?
The TOEFL Test is a standardised test of English language proficiency recognised internationally. It is used by many English-speaking universities — in the US, UK, Canada, etc. — as well as various grandes écoles (prestigious French universities) with English-speaking programmes for the admission of international students.
More than 8,500 universities, agencies and other institutions in over 130 countries accept the TOEFL Test. More than 27 million people have taken the TOEFL Test since its creation in 1967, including 1 million in 2011. Still, a lot of students need to have a better understanding of what is the TOEFL.
The test measures your ability to understand, write and speak English.
Click here to prepare for the TOEFL.
TOEFL – Presentation
The Test Of English as a Foreign Language (TOEFL Test) was elaborated in order to assess non-native English speakers' linguistic skills. The test has evolved over time. Today, its most common form is the TOEFL iBT Test (Internet Based Test), administered via the Internet. The test consists of 4 sections: reading, listening, speaking and writing, which are always taken in the same order.
Discover TOEFL practice test guide, sample tests online with answers on GlobalExam.
What is the TOEFL iBT Test ?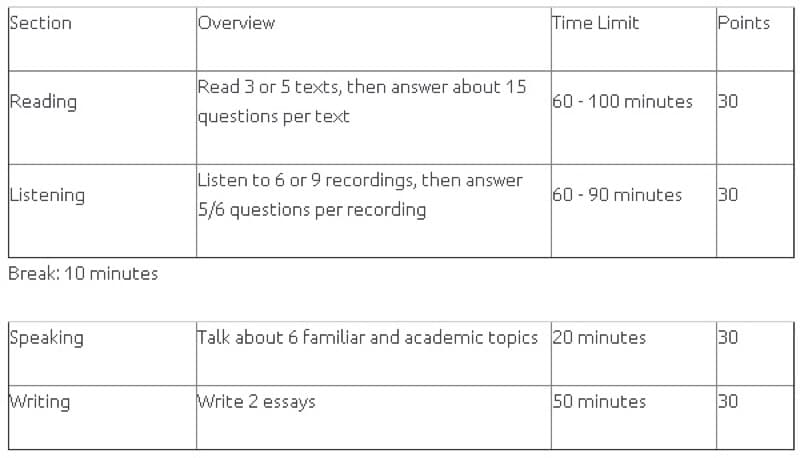 Timing
The 'TOEFL reading' section lasts between 60 and 100 minutes. It consists of 3 or 5 exercises. The 1st exercise lasts 20 minutes. The 2nd and 3rd exercises, as well as the 4th and 5th exercises are combined and last 40 minutes. (see more TOEFL reading)
Note: ETS, TOEFL test's parent company, reserves the right to offer you 3 or 5 exercises. In any case, you will only be marked on 3 exercises. If you are asked to do 5 exercises, you will not know which of them will actually be marked. ETS is thereby testing new exercises.
The 'TOEFL listening' section lasts between 60 and 90 minutes. It usually consists of 6 exercises but you may be asked to do 9 exercises on the test day. Each exercise lasts around 10 minutes. The whole section will therefore last one hour (with 6 exercises) or one hour and a half (with 9 exercises). (see more TOEFL listening)
Tip 1: Even though you perfectly know that you will only be marked on 3 exercises for the 'reading' section and 6 exercises for the 'listening' section, you really must stay focused throughout the test if you are asked to perform more exercises. As already mentioned, you cannot know beforehand which exercises will actually be marked.
Tip 2: You can see that before your break, the first part of the test ('reading' and 'listening' sections) can last 3 hours — remember to go to the bathroom beforehand! The exam requires constant focus. It is therefore crucial to practise under real conditions, without any break, for a long time. Indeed, we noted that many students were eventually disappointed by their scores at the 'reading' and 'listening' sections while these are usually the sections where students feel most confident. The main reason for this is the lack of focus over time and the careless mistakes that can happen.
10-minute break outside the exam room.
You will go on with the 'speaking' section, which is greatly dreaded but in fact not so dreadful. This section lasts about 20 minutes. It consists of 6 exercises for which you will have to speak for 30 seconds to 1 minute. (more on TOEFL speaking)
Finally, you will finish the test with the 'writing' section that lasts 50 minutes. It is composed of 2 writing exercises lasting respectively 20 minutes and 30 minutes. (see more TOEFL writing)
TOEFL Score
Each of the 4 sections is marked out of 30, or one fourth of the overall mark: 120.
Tip 1: Universities often demand minimum scores  in certain sections, often the speaking section. For instance, to apply for prestigious universities in the UK, you need a minimum score of 22 in the speaking section. These requirements are rare but it is important to check with the universities you wish to apply for before preparing for the TOEFL test.
Tip 2: If you are not required to get a minimum mark, you can set yourself very different targets for each section. If you need to reach 100 marks, you can get 25 in each section, but also 27 in reading and listening and 23 in speaking and writing. Set yourself a target in terms of marks and develop a training strategy for each section to reach your overall target.
More generally, it is crucial to define a good preparation method in order to crack the TOEFL. GlobalExam's teaching team gives you their 3 winning strategies for a good TOEFL preparation.
Lastly, read our article on what a good TOEFL score is.
Training for the TOEFL IBT
Many resources are available for your training, and GlobalExam is one of them. The platform will provide you with full mock exams, specific exercises, recommandations, tips and advices and corrections. You can track your progress, and work on your gaps thanks to grammar and vocabulary study sheets.
Where to take the TOEFL ?
Many exam centres are accredited to host TOEFL exam sessions. You will find useful links below which will allow you to find out where to take the TOEFL. Here are two essential tips to take into account when preparing for the TOEFL:
1. Register for the exam as soon as possible!
Once you have decided on an exam date, book your place immediately. Depending on where you live and when you want to sit the test, there may be limited availability. Make sure to register ahead of time, e.g. at least 3 months before the exam date.
2. Check where your exam will take place and arrive ahead of time on the exam day
It is important to check where you will sit the test before the exam day in order to plan your journey there. Remember that you will have to arrive 30 minutes before the beginning of the test. Late candidates may be refused entry.
Remember to bring your invitation letter as well as a valid ID (with your picture and signature). You will not need to bring pens or draft paper as these will be provided.
Note that you can take take the test in any test centre. We have written some articles to help you find test centers in Canada, in Germany, in Belgium, in Switzerland, in Ireland, in UK , in the US, in China, in Manila, in Brazil,and in Netherlands.