In this post, we explain how TOEFL practice tests can help with your exam preparations.
This is your one-stop shop for:
Why TOEFL practice tests are important
Building a TOEFL study plan
TOEFL sample tests with answers
If you're not sure if the TOEFL is the right exam for you and why does it matter, this is the article for you!
How can TOEFL practice tests help?
Taking the TOEFL is different to the English tests you might remember from school. The TOEFL iBT has been designed to put your English to the test across the four key communication skills, in the context of academic-style subjects. For this reason, it's essential for your preparations that you familiarize yourself with the style of the TOEFL test before sitting for the real thing.
TOEFL practice tests are a great way of doing just that. There are many resources online that enable you to apply your English skills to TOEFL materials and TOEFL sample tests, including the GlobalExam platform.
By testing yourself with TOEFL practice tests with answers, you can review your progress and learn how to approach TOEFL materials so that there are no nasty surprises on the day.
In case you need a little reminder, we'll run through each section of the TOEFL exam and the types of questions you could encounter below.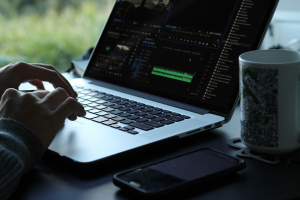 How To Build A Good Study Plan
In the run up to any test, it's a very good idea to have a comprehensive study plan in place in order to structure your learning, target a goal such as studying abroad in the USA, and make the best use of your time. Whether you've got a year, a month, or even a couple of weeks to prepare, your preparations will benefit from studying according to a structured plan.
Here are our top tips for building a good study plan as you approach your TOEFL test:
Take an evaluation test to assess your level in English across reading, writing, listening and speaking
Identify your target TOEFL result
Prioritize the skills and areas you need to work on most to achieve your target
Use TOEFL sample tests to prepare, progressing from easy to difficult questions as necessary
Towards the end of your preparations, take a TOEFL practice test under timed conditions
The best study plan will be adapted to fit your own methods and style of learning. If you learn best using vocabulary sheets and grammar exercises, that's a good place to start – but remember to apply that knowledge to TOEFL sample tests in order to feel prepared for the exam.
Reading: TOEFL Practice Test With Answers
The Reading section is the first of four parts of the TOEFL iBT exam. In this part of the test, you will be faced with three or four passages in English.
Each passage is approximately 700 words long, followed by ten questions to test your comprehension. Depending on the number of passages, the Reading section has 30-40 questions and lasts between 52 and 72 minutes.
The Reading passages are typically taken from academic textbooks and deal with a variety of different topics. The idea of the Reading section is to test your comprehension of written academic English, not to test specific knowledge.
TOEFL sample test questions with answers
Let's put this into context by looking at a TOEFL sample test question and a couple of example questions.
Below is an example TOEFL Reading passage: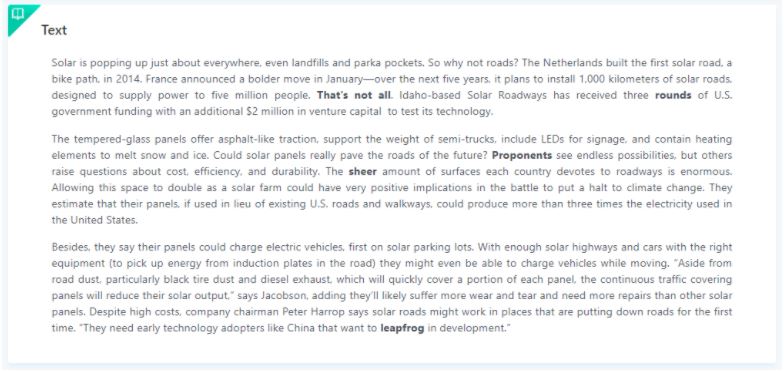 Take a few minutes to read the above passage to understand the general message, taking note of the expressions highlighted in bold. 
Now let's take a look at some example questions based on this passage: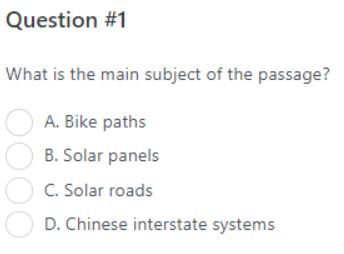 The correct answer for question 1 is C.
We arrive at this answer using the following sentence from the passage: "Solar is popping up just about everywhere, even landfills and parka pockets. So why not roads?" We can eliminate the other possible answers in the following way: A is mentioned but it is not the main subject; B is too general to describe this passage; and D is not mentioned at all.
Let's look at another question: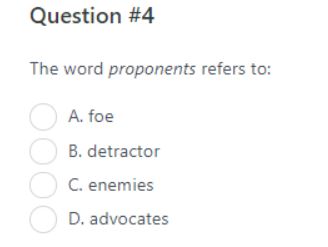 This question tests your English vocabulary and your ability to understand the best meaning of a word based on the context.
Answer: The correct answer for question 4 is D as advocates and proponents are both in favour of something. A, B, and C are all opposites.
Listening: TOEFL Sample Test With Answers
The Listening section of the TOEFL tests our ability to understand English from monologues and conversations. There are two sections, and each section is comprised of one conversation and two lectures. After each recording, you will be required to answer questions about the main ideas in the extract, as well as supporting details.
Altogether, the Listening section takes between 41 and 57 minutes, with 3-5 minutes per recording. 
TOEFL sample test questions with answers
The best way to understand what the Listening test entails is to study some real TOEFL sample test questions with answers. Below is a transcript of a TOEFL Listening extract from a monologue exercise: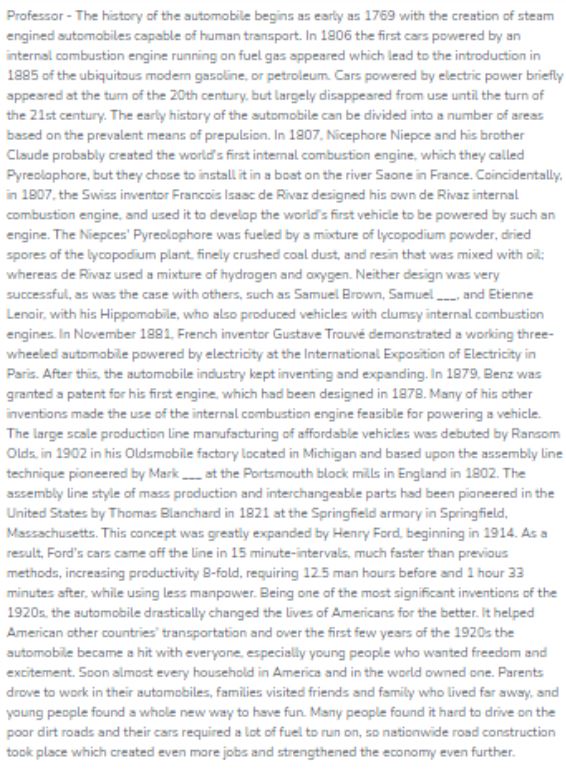 Of course, in the real test you won't have the written transcript, you will have to rely solely on the recording. Once you've read the passage, take a look at question 1: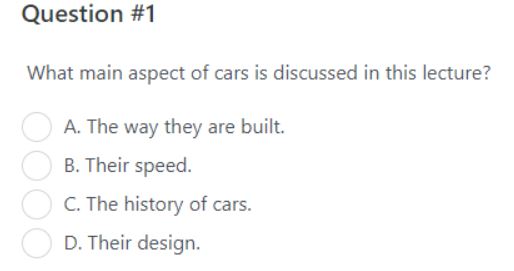 Answer: The lecture provides information on the evolution of cars up until the 1920s, so we can say the main aspect of cars discussed in this lecture is their history.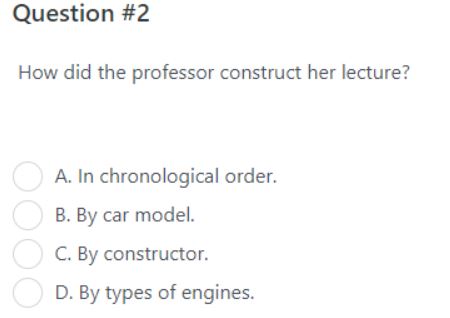 Answer: The professor begins her lecture by describing automobiles in 1769 and ends with the success of the automobile in the 1920s, therefore the lecture is in chronological order.
Writing: Example TOEFL Practice Test
The Writing section of the TOEFL is where your ability to write in English in response to academic topics is tested. The section is divided into two sections as follows:
Task 1: read a passage, listen to a lecture, and write an essay response of 150-250 words to a question
Task 2: write an essay response of 300 words to a question using your own knowledge and experience
The Writing section takes 50 minutes: 20 minutes for Task 1; 30 minutes for Task 2.
TOEFL sample test question with answers
Whereas the first task is integrated, requiring you to respond to and engage with other materials, the second task poses a more general question and requires an independent response.
The following is an example Writing Task 2 question from a TOEFL sample test:

When it comes to the Writing section, there is no one correct answer. A successful response to this type of question will defend an opinion with the support of three main ideas, each supported with a detailed example. Your grade for the exercise is determined by how well you address all aspects of the question and your use of examples to support your ideas.
It is also essential that your answer be structured using paragraphs and transitions, with appropriate vocabulary choices and good grammar.
Speaking: Example TOEFL Sample Test
For the Speaking section of the TOEFL, you must demonstrate your ability to speak fluidly in English on a variety of subjects. There are four exercises to complete, and the section takes approximately 17 minutes in total:
Exercise 1: Defend an opinion
Exercise 2: University life summary
Exercise 3: Academic summary
Exercise 4: Lecture summary
TOEFL sample test questions with answers
The following is an example Speaking Exercise 1 question from a TOEFL practice test:

Much like the Writing part of the test, there are many possible correct answers. A good response to this type of question will defend one point of view, using supporting ideas and examples to add detail.
Practice Your English With GlobalExam
The TOEFL is a challenging exam, so being well prepared is essential to ensuring a good score. Good preparation for any exam is two-pronged:
Practice your English using vocabulary and grammar training
Target your preparations using TOEFL sample tests
You can complete both parts of your preparation for the TOEFL on our sophisticated e-learning platform. On GlobalExam, we offer language learners three central tools:
Study sheets and revision materials
Training exercises
Once you've brushed up on the stickier points of English grammar using our wide range of revision materials and targeted exercises, it's time to focus on your TOEFL-specific preparations.
To prepare for the TOEFL, begin by heading to Training Mode, where you'll find a huge number of TOEFL practice test questions grouped according to the test section and exercise.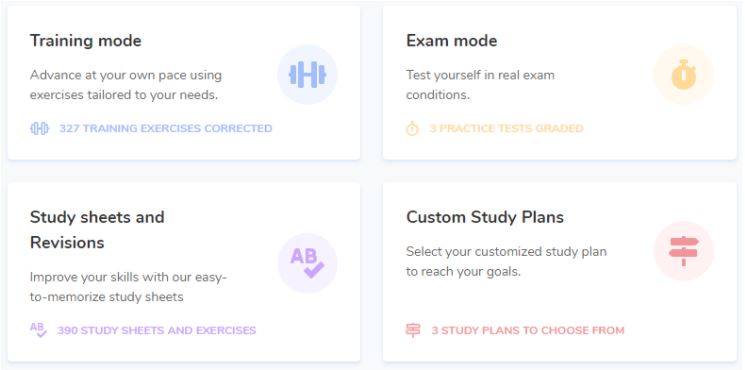 On GlobalExam, the TOEFL exercises range from easy, to medium, to difficult, meaning that language users of all abilities can find study materials to ensure progression from one level to the next.
To polish off your preparations, test your progression in Exam Mode, where you can sit a practice TOEFL test under exam conditions. 
If the TOEFL exam is in your sights, it's time to begin your preparations today before proceeding to TOEFL registration!
We also have written an article on the location of TOEFL test centers in the USA and all around the world