This article will address the TOEFL iBT Exam and how to understand the test scoring system.
Read on for more information on:
The TOEFL score range;
Understanding your score report;
What makes a good TOEFL score;
The validity of the TOEFL score;
How GlobalExam can help you prepare for the TOEFL iBT Exam.
So, let's get into it.
What Is the TOEFL Exam and Why Should You Take It?
Have you been wondering what exactly is the TOEFL Test? We're going to explain it to you in fine details.
The TOEFL, literally called the Test of English as a Foreign Language is known all over the world as one of the most rigorous and reliable tests for certifying a person's proficiency in English. It's an English language proficiency measurement. It is also a highly accessible exam, given the fact that there are TOEFL test centers worldwide with 60 test dates per year.
There are many reasons as to why you should pass the TOEFL. We will be going over each one of them and explain what makes this exam so popular.
Maybe you're a student looking to study abroad in an English-speaking cursus? Maybe you're a professional looking to clinch a promotion or even secure a job in an international company? Or, maybe you simply want to translate your English level into an official score for your own personal development.
As you probably know, it's not the only test on the market. There are plenty of other popular exams out there, for instance you could take a look at the differences between TOEFL vs IELTS and you'll see that both tests are extremely popular. However, what exactly sets the TOEFL apart from the other exams out there?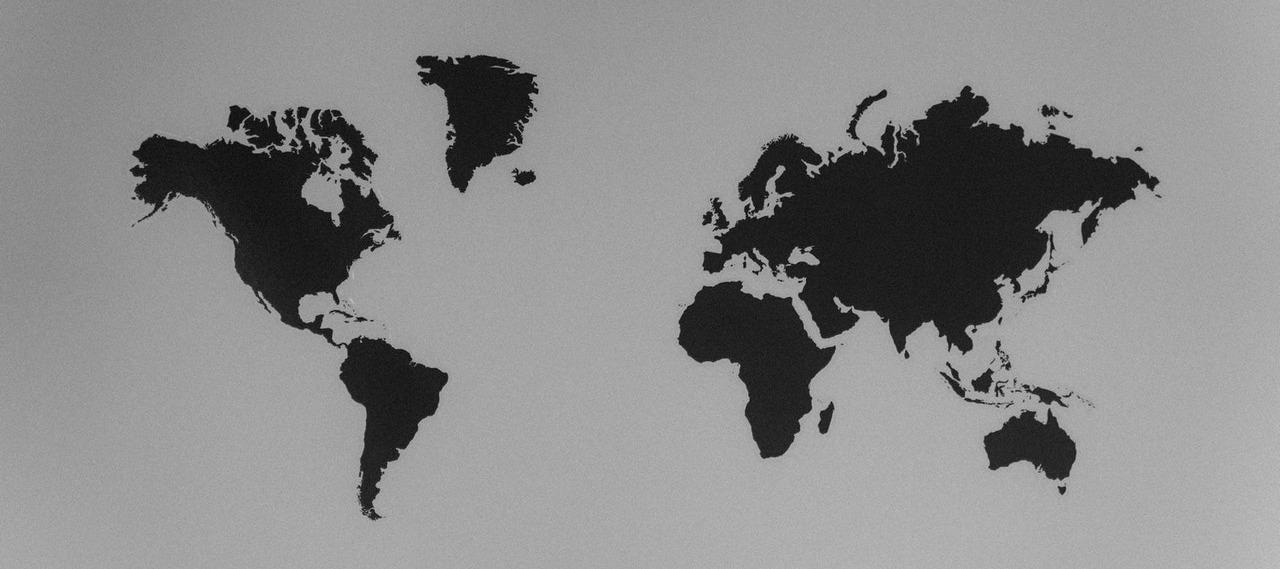 1. The TOEFL can help you apply to foreign universities
Firstly, the TOEFL can be an essential part of university applications abroad. If you're considering applying to an English-speaking university with a scholarship or program of study abroad, it's highly likely that you will be required to submit proof of your level in English as part of your application.
More than 11,000 universities and educational institutions across the world accept the TOEFL as proof of an applicant's proficiency in English for academic purposes. A high score in a rigorous test like the TOEFL could make all the difference to your application.
2. The TOEFL can help you get a job abroad
Secondly, many organizations ask for a TOEFL score when hiring new employees for whom English is a second language.
Even though the TOEFL is primarily a measure of a person's proficiency in academic English, it is also considered a very useful measure for understanding your abilities in English for professional purposes.
3. The TOEFL can help you move abroad
Thirdly, you can submit the TOEFL score as part of a visa or immigration application in English-speaking countries.
4. The TOEFL can be a powerful tool for your personal development
If you've learned English as a second language, you'll know that mastery of a language is a hard-earned skill. Whether you have specific goals in mind or not, acquiring official recognition of your skills is never a wasted effort.
By taking the TOEFL test, you can gauge your level of English across the four key skill areas and identify your strengths and weaknesses. This is useful not only for evaluating your skills but also for identifying areas where you could improve to move forward both professionally and personally.
If these reasons have convinced you to take the exam, you can take a close look at our article on the TOEFL registration process and learn how to register step-by-step.
TOEFL Score: How Does It Range for Each Skill Section?
We will be talking about the TOEFL score range for each skill section. If you choose to take the internet-based test, otherwise known as the TOEFL iBT, your test will be scored centrally by a combination of computer and human raters.
For the TOEFL iBT, there is a maximum total score of 120, divided across the four sections as follows:
| Skill section | Score range |
| --- | --- |
| Reading | 0-30 |
| Listening | 0-30 |
| Writing | 0-30 |
| Speaking | 0-30 |
Please note that although each section is worth the same number of marks, there are a different number of questions in each section according to the difficulty of the skill being tested.
What Are the TOEFL Raw Scores and How Are They Calculated?
Even though your score for each section is out of 30, you may have noticed that the sections do not contain only 30 questions. In fact, the number of questions you answer correctly in each section determines your "raw" score. In other words, if there are 40 questions in one section and you get them all right, then your raw score would be 40.
However, the score you will see on your TOEFL score report will not be your raw score but rather your scaled score between 0 and 30. So, your raw score will be converted to a scaled score that you will see in your results.
Unfortunately, there is no exact chart to calculate your score and convert it to a scaled score because ETS uses different calculations each time depending on the difficulty of each exam. If many candidates get a high score in the Reading section, for example, it would mean that the task is easy. So, even if you get a raw score of 40 in the Reading section, your scaled score will be lower than what it could have been in case of a difficult task.
TOEFL Score: Understanding the Proficiency Levels for Each Section
We will be answering your TOEFL Questions related to the scoring system. Fortunately, the TOEFL test is not about passing or failing at your exam. The TOEFL iBT is composed of the four key skill sections – Reading, Listening, Writing, and Speaking – each representing 25% of your final score.
Each skill section has a score range of 0-30 which adds up to a total of 0-120 points.
The even weighting across the four sections means that it is possible to get a good overall score by compensating for your weaker skills with a higher score in your stronger skills. Your final score will be a combination of your individual scores, though your score report will include the detail of your score breakdown. This is important to bear in mind if you intend on using your score for professional or academic purposes.
You can use the table below to see how the scores for each skill section in the TOEFL iBT fall into different score ranges, corresponding to different proficiency levels: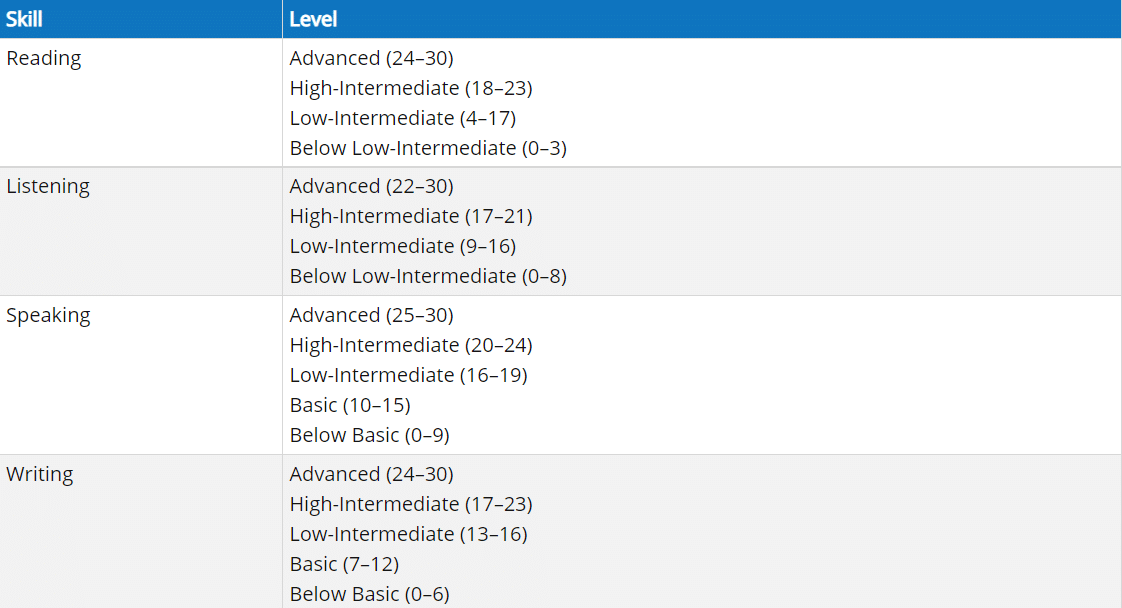 Source: Understanding Your TOEFL iBT Scores (For Test Takers)
Understanding How the Paper-Based TOEFL Exam Is Scored
The TOEFL paper-based test (PBT) is structured very differently to the TOEFL iBT and the scoring system works differently too.
Scores are awarded on a scale from 310 to 677 for the first three sections of the test. The Writing section is scored separately, on a scale from 0 to 6, and does not make up part of your final score.
| Section | Total Limit | Number of Questions | Score Range |
| --- | --- | --- | --- |
| Listening Comprehension | 30-40 minutes | 50 | 31-68 |
| Structure and written Expression | 25 minutes | 40 | 31-68 |
| Reading Comprehension | 55 minutes | 50 | 31-67 |
| Total | 110-120 minutes | 140 | 310-677 |
| TWE | 30 minutes | 1 Topic | 0-6 |
To calculate your final TOEFL PBT score, you must do the following:
Add your scores across the three sections together
Multiply the sum by ten
Divide this sum by three
For a test taker with scores of 48 for Listening, 50 for Structure and 53 for Reading, for example, the final score would be 503 out of a total maximum score of 677.
What Is a Good TOEFL Score? Learn How to Interpret It
The first thing to remember is that a good TOEFL score is the score that you set out to achieve, or the score that you need to fulfil your goals. There is no TOEFL passing score so you cannot fail the exam.
If you are taking the TOEFL with a specific goal in mind, such as applying to university or completing a visa application, it is likely that the required score will be specified.
| TOEFL Score Range | Score Level |
| --- | --- |
| 110-120 | Excellent |
| 100-110 | Very good |
| 90-100 | Good |
| 80-90 | Moderate |
| <80 | Poor |
We have plenty of TOEFL tips for improving your score available for you to take a look at. Do not forget that the TOEFL score is usually converted into CEFR levels in Europe.
When and How Exactly Will You Receive Your TOEFL Score?
Your score for the TOEFL iBT will be available approximately six days after your test date and you will be sent an email when the results are ready.
You can access your score online through your online ETS account or through the TOEFL app and you can print a PDF score report. If you prefer to receive a paper copy of your score report, you will receive your score by mail around 11 days after the test.
If you take the paper-based TOEFL, you will only receive your score by mail.
The following table summarizes how and when you will receive the score report for both types of test:
Type of test

Type of score report

Results' availability time

Paper-based

Paper score report

3-6 weeks

Computer-based

Paper score report

11 days

Online Score Report

6 days
How Much Time Are Your TOEFL Exam Results Valid For?
Your TOEFL score will remain valid for up to two years before expiring. It's important to take this into consideration when selecting a test date.
You can request up to four score reports from your TOEFL test that will serve as official proof of your score throughout those two years.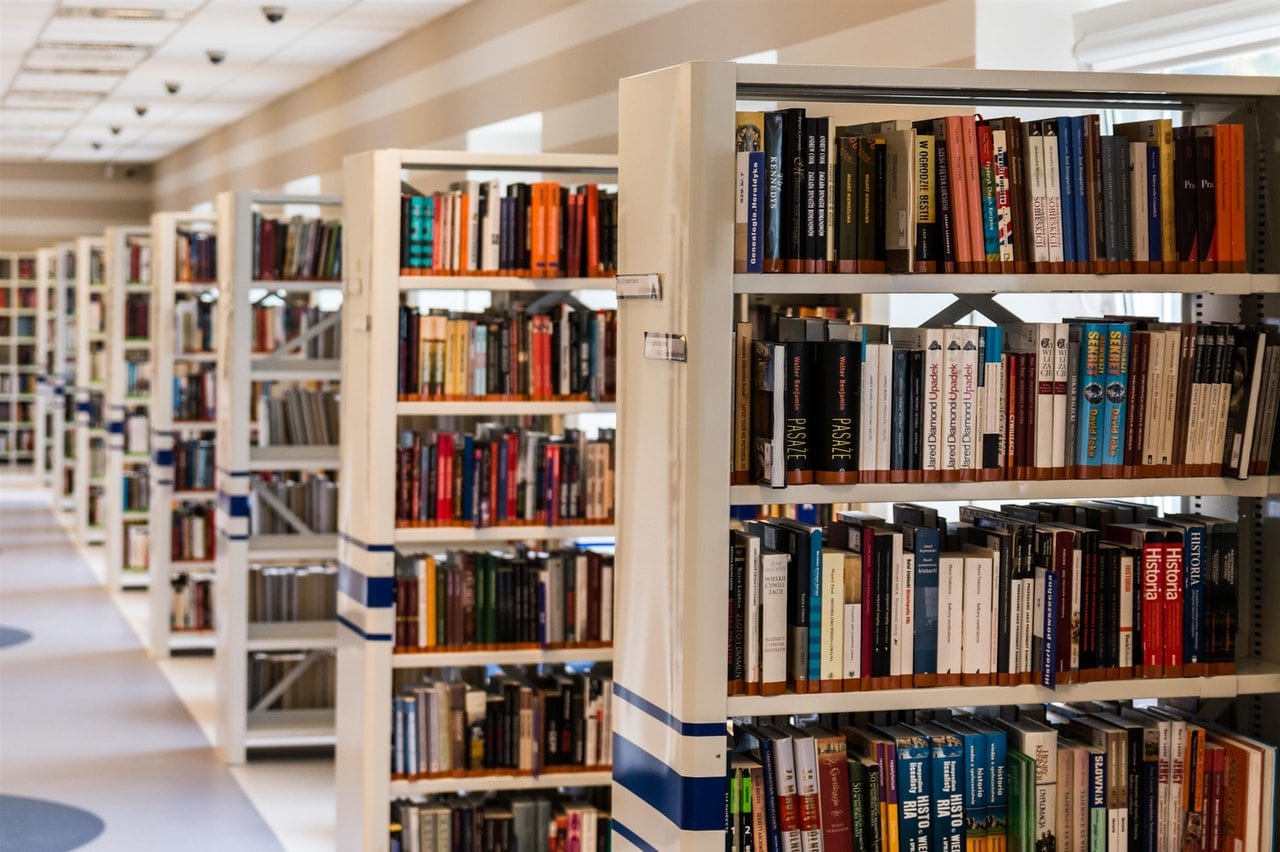 How to Send Your TOEFL Scores to Universities? Complete Guide
If you're thinking about studying abroad in the USA and you don't know how to send your TOEFL scores to USA universities, rest assured because the process is quite simple. We are going to explain it step-by-step.
You can have additional test reports sent to institutions within the limit of two years following your test date (period of validity). The request can be done on your ETS account, by mail, or fax. You will have to pay an extra fee of $20 per report.
Method #1
The "Send Additional Score Reports" tab is accessible via your ETS account online or the TOEFL official app. You can pay by credit/debit card, e-check, or PayPal.
The score reports will be sent withing 3-5 business days.
Method #2
If you prefer requesting your score report by mail, you will need to complete the TOEFL iBT Additional Score Report Request Form and send it by mail with your payment to the following address:
ETS-TOEFL iBT
P.O. Box 6153
Princeton, NJ 08541-6153 USA
The score reports will be sent withing 10 business days.
Method #3
The last option to have your score report sent to universities/institutions is by fax. You will have to fill out the same request form mentioned previously and fax it to +1-610-290-8972, with the following documents:
Credit/debit card information;
Your appointment number;
If you send the fax more than once, make sure you mention that it is a duplicate on the form so as not to be charged extra fees.
The score reports will be sent withing 10 business days.
If you're planning to live in the US, you might also want to look into the ACTFL proficiency scale.
How Can GlobalExam Help You Prepare For Your TOEFL Test?
The TOEFL iBT takes about two hours to complete and tests your English across Reading, Listening, Writing and Speaking. Preparation for the test is key and to ensure a good TOEFL score, you should focus your preparations on completing TOEFL-style exercises.
GlobalExam offers a whole package of TOEFL IBT training resources for your preparation designed to help you prepare for the TOEFL. On our learning platform, you can polish areas of English vocabulary and grammar across 390 different English grammar sheets and English vocabulary study sheets, before applying your knowledge to specific TOEFL training exercises.
As you begin your preparations, take our Assessment Test to evaluate your level in English. This is essential for targeting your training to specific areas of improvement. If you choose our Premium services, you can create custom Study Plans to help guide your preparations towards your goals and timeline.
You can get access to TOEFL practice tests and questions for all the sections and prepare to your heart's content!
As test day comes closer, you can look back on your progress on our Statistics and Corrections module and take up to three graded TOEFL mock exams.
Once you've cracked the code of the TOEFL scoring system, there's nothing stopping you from acing the test and earning a good TOEFL score.