Not only prestigious schools but every university in the US decides what TOEFL score they require for admission such as joining an MBA. They require you to send your TOEFL score or have it sent directly for the admission process to be complete.
It's actually a very easy process, and this article will explain the steps for sending your TOEFL report to universities in the USA. We will also discuss the costs and how long it takes for schools or universities to get them.
Follow these steps so you'll be well prepared to send your TOEFL score to the school of your dreams with a clear head and winning TOEFL score in hand!
How much does it cost to have your TOEFL scores sent?
Your TOEFL fee includes the option of having your scores sent to up to four schools. This is the only time you can send your TOEFL at no extra cost. Any other recipient beyond the four schools selected will incur a fee (see below), so take our advice: save money and take the TOEFL only once you decide which schools you want to apply to. Of course, you may have more than four schools in mind, but if you're still in the process of narrowing down your applications, wait until you have a shortlist of potential schools and you'll be saving yourself a considerable amount of money by not sending your scores needlessly!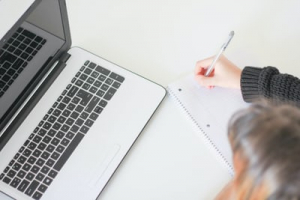 How to send TOEFL scores to schools
First thing first!
You can order your TOEFL results to be sent to your schools either before or after you actually take the test. First, here's how to request your TOEFL scores to be sent before the test:
Log into your TOEFL iBT account or create an account if you haven't already, or use the official TOEFL app.
Follow the prompts through "Order Score Reports." (You'll need to first register for a test date if you haven't done so already.)
Search for the school or schools you want to receive your score. Choose wisely which four schools will receive your TOEFL score for free!
Sending your TOEFL score
After you take the test, or if you want to send your TOEFL score to more than four schools, the process is almost the same as above, except you'll need to select "Send Additional Score Reports" in your TOEFL iBT account and pay for the fee. Additional score reports are available for US$20 per additional recipient.
You can also request additional score reports via fax. Fill in the same form as above and fax it along with your credit card information to +1-610-290-8972.
Finally, it is possible to request additional score reports via postal mail as well. Mail the completed form along with check or money order payment to:
ETS-TOEFL iBT
P.O. Box 6153
Princeton, NJ 08541-6153 USA
ETS Global allows you to change the list of recipients after you select them at the latest by 10 p.m. (local time) the day before the exam at no extra cost.
Important: There's one final thing to keep in mind when deciding when and if you want your scores sent. Once you select your TOEFL report to be sent, you may no longer request a rescore or review of the score you receive on the Writing and Speaking portions of the test!
Changes in the TOEFL score report – MyBest Scores
As you have probably heard, ETS Global has started offering a new way of reporting TOEFL scores called "MyBest Scores." This feature is designed for candidates who have taken the TOEFL several times and want to report only their best score on each of the four sections, limited to the past two years.
How long do TOEFL scores take to arrive at your selected schools?
You will receive your score in your ETS account or via email as soon as 6 days after the test, or via postal mail after 11 days plus mailing time.  However, if you choose to have your scores sent, delivery time will be different depending on how the receiving institution chooses to receive the scores. The ETS Data Manager and Scorelink Services take between 6-10 days after the test to arrive at their destination, while mailed scores take up to 9-11 days plus mailing time: allow an additional 7–10 days for mail delivery in the United States and 4–6 weeks for mail delivery to international locations.
Keep these dates in mind while taking into account your university's application deadlines. It's always better to plan and allow for plenty of time. Avoid the application deadline crunch so you can focus on achieving your TOEFL score!
Your TOEFL score is valid for 2 years from the day you take the exam. Beyond two years, you'll need to retake the test and have your updated scores re-sent to your selected schools.
Make sure you have your TOEFL score count by preparing for the test well in advance
As you can see, the process of having your TOEFL scores reported to the schools you select is an easy one, but there are still many deadlines and delivery times to keep in mind. It's enough to make your head spin! In order to focus on what counts, getting the best TOEFL score as possible, it is strongly recommended to prepare for your TOEFL well ahead of time.
GlobalExam offers a comprehensive online platform to train and practice for the TOEFL exam. With your GlobalExam subscription, you'll have access to lots of training modules specific to the TOEFL, in-depth grammar and vocabulary files to develop your English skills, not to mention several mock TOEFL tests that mirror the real test conditions exactly. That way, you'll have a perfect idea of what to expect from the TOEFL, the format and timing of the test, and you'll get lots of tips on how to manage your time effectively to get great results. You'll even get personalized statistics so you can set your objectives, measure your progress, and in no time, you'll be sure that the score your report is top-notch!
Next step after your studies abroad, start thinking to work abroad!