In this post, we are addressing the all-important TOEFL levels. We'll be diving into the following points:
The TOEFL levels across the four main sections;
The TOEFL score range percentiles;
Comparing TOEFL levels between the iBT and PBT;
How to check your TOEFL scores online;
Understanding TOEFL's MyBest Score feature;
How to prepare for the test with GlobalExam.
If you have to get ready for the TOEFL and need to understand the test scoring in fine detail, then this is the article for you. Let's get right into it!
Understanding the TOEFL Score Range Across All Sections
There are many English language proficiency levels, such as the ACTFL proficiency scale, and they all have different scoring systems. For the TOEFL, when you take it you will receive a Score Report composed of a total score and a four scaled section score. There are four sections in the TOEFL (Listening, Reading, Writing and Speaking), and each section has a score range of 0-30, to make a total of 120. Please note that there are no TOEFL passing scores therefore you cannot "fail" the exam.
Each section is divided into four of five proficiency levels, to indicate how your score for the section corresponds to your proficiency in that particular skill.
Now let's look at the TOEFL score and how the grading system works per section.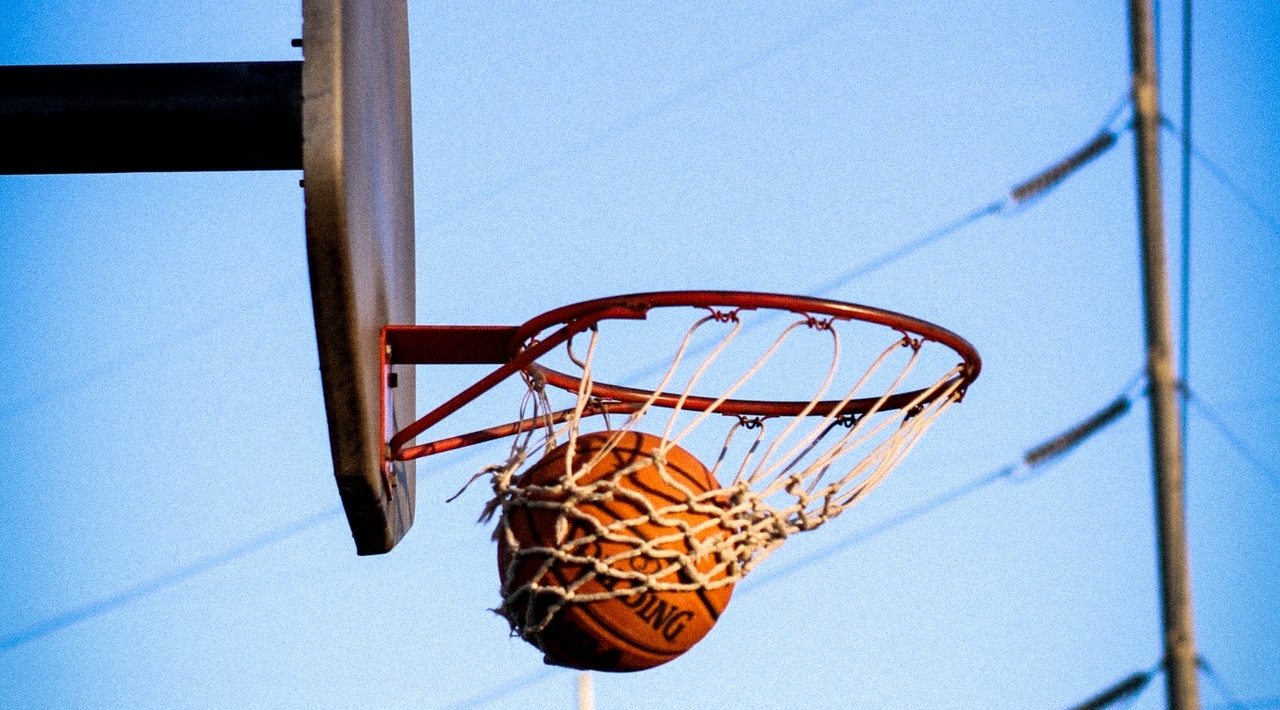 TOEFL IBT Listening Section
Your score for the Listening section will fall into one of the four following proficiency levels:
Advanced (scores between 22 and 30)
High intermediate (scores between 17 and 21)
Low intermediate (scores between 9 and 16)
Below low intermediate (scores between 0 and 8)
TOEFL IBT Reading Section
Your score for the Reading section will fall into one of the four following proficiency levels:
Advanced (scores between 24 and 30)
High intermediate (scores between 18 and 23)
Low intermediate (scores between 4 and 17)
Below low intermediate (scores between 0 and 3)
TOEFL IBT Writing Section
Your score for the Writing section will fall into one of the five following proficiency levels:
Advanced (scores between 24 and 30)
High intermediate (scores between 17 and 23)
Low intermediate (scores between 13 and 16)
Basic (scores between 7 and 12)
Below basic (scores between 0 and 6)
TOEFL IBT Speaking Section
Your score for the Speaking section will fall into one of the five following proficiency levels:
Advanced (scores between 25 and 30)
High intermediate (scores between 20 and 24)
Low intermediate (scores between 16 and 19)
Basic (scores between 10 and 15)
Below basic (scores between 0 and 9)
Once you know your TOEFL level for each section, you can match your score to each proficiency level to get an idea of how your score will be interpreted by school and university admissions teams.
Is The TOEFL Exam Scored Fairly?
All TOEFL tests are scored using a centralized scoring network, which means your test center is only responsible for administering the test. The Reading and Listening tests rely on multiple choice and one-word answers, so they are scored by a computer. This scoring method ensures total fairness.
As the Speaking and Writing sections ask for individual production, these sections are scored using both automated technology and people. The examiners who process these sections at the centralized network are highly trained to avoid bias and ensure consistency.
What Exactly Are the TOEFL Score Range Percentiles?
When we talk about score range percentiles, we're talking about how your test score compares to those of other test takers. When you receive your TOEFL score, there will be a composite score (your total score) and a breakdown into section scores, as well as your score percentiles.
The higher your score percentile, the more test takers you surpassed in your test performance. If you receive 50%, for example, that means you achieved the median score for the test.
The percentile system is a way to check how well you've done compared to the other candidates, and it helps you find out whether you've done well or not. It provides a reference as you can see how well the attendees have done on the same test.
The number you see on the percentile rank column represents the percentage of candidates that you have outperformed.
Here is a table that represents percentiles for TOEFL iBT test scores: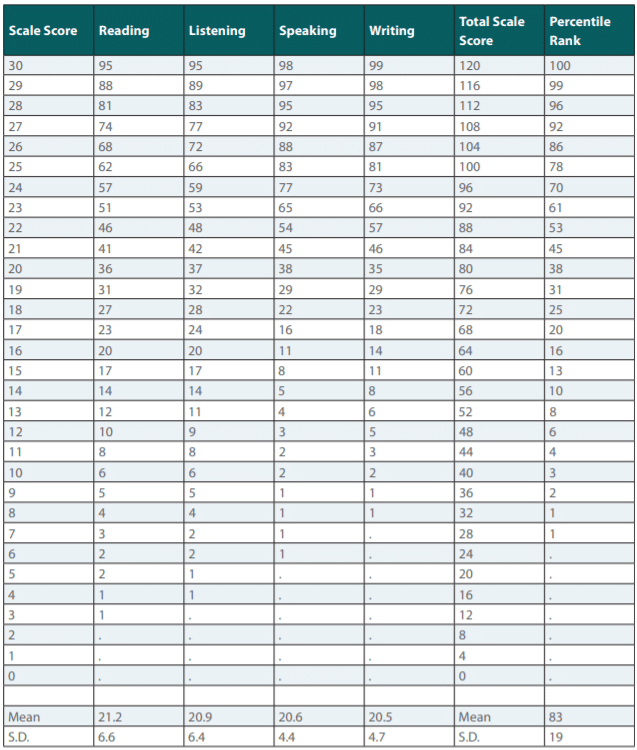 This table from the ETS website illustrates data from 2019 and gives detailed information about the total score as well as the score of each section of the test. It also provides the percentile rank and the scale score.
How Do Percentiles Work?
It's very simple! Your TOEFL score is calculated on a total of 120, that is to say if you score 30 in each section, you will get the best score you could obtain in the test. In this case, your scale score would be 30 and you would outperform 100 percent of the candidates.
Percentiles on the table also compare your performance with the others' in each section. Data shows that most candidates did a better job in the Reading and Listening sections.
The good news is that most schools and universities are only interested in your actual scores and not your score percentiles but it shows that you need to improve your score in order to get the best one possible.
TOEFL IBT vs TOEFL PBT Conversion: Understanding TOEFL Levels
To understand your TOEFL levels, it's also important to understand how the scores across the TOEFL test types compare. If you're taking the TOEFL iBT (internet-based test), for example, the total score is 120, whereas for the TOEFL PBT (paper-based test), it's 677.
Take a look at the table below to check TOEFL scores across between the iBT and the PBT:
| TOEFL iBT Score | TOEFL PBT Score |
| --- | --- |
| 120 | 677 |
| 120 | 673 |
| 119 | 670 |
| 118 | 667 |
| 117 | 660-663 |
| 116 | 657 |
| 114-115 | 650-653 |
| 113 | 647 |
| 111-112 | 640-643 |
| 110 | 637 |
| 109 | 630-633 |
| 106-108 | 623-627 |
| 105 | 617-620 |
| 103-104 | 613 |
| 101-102 | 607-610 |
| 100 | 600-603 |
| 98-99 | 597 |
| 96-97 | 590-593 |
| 94-95 | 587 |
| 92-93 | 580-583 |
| 90-91 | 577 |
| 88-89 | 570-573 |
| 86-87 | 567 |
| 84-85 | 563 |
| 83 | 557-560 |
| 81-82 | 553 |
| 79-80 | 550 |
| 77-78 | 547 |
| 76 | 540-543 |
| 74-75 | 537 |
TOEFL Results: When, How and Where Can You View Them?
Test takers can check TOEFL scores online through the ETS website, approximately six days after the test date. Check TOEFL scores by following these simple steps:
Step #1
Create an ETS account online or download the official TOEFL app. You can use the "Forgot Username" or "Forgot Password" functions if you've misplaced your account details.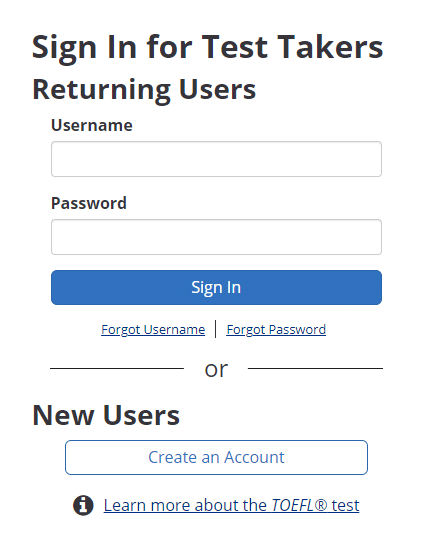 Step #2
Wait six days after your TOEFL test date
Step #3
Check your emails for a message from ETS alerting you that your scores are available
Step #4
Log in to your ETS account online or through the app
Step #5
Click on "View Scores" on the homepage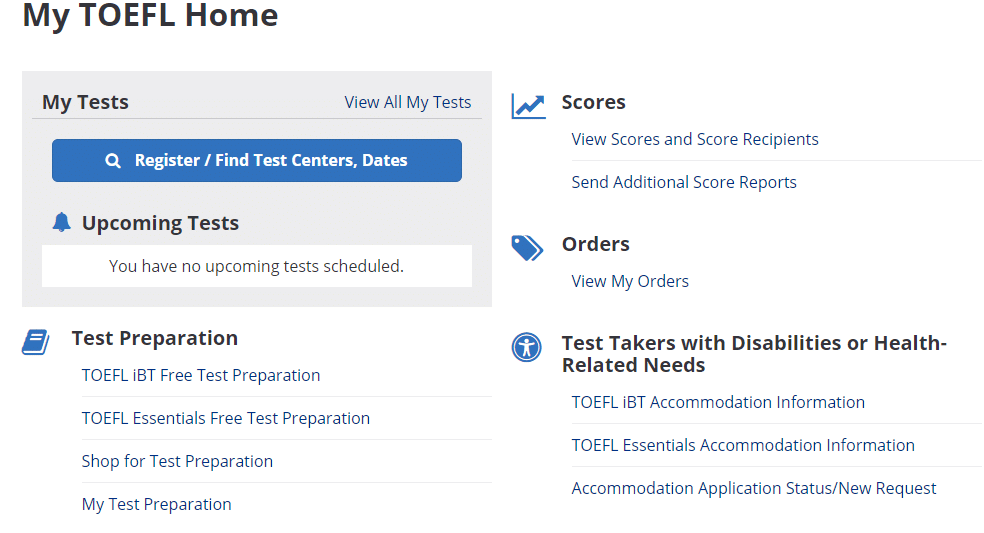 Step #6
Consult your Score Report online

Step #7
Download or print yourr Score Report for safekeeping.
In Europe, often TOEFL score are converted into CEFR levels.
What Exactly Is Your TOEFL MyBest Score (Superscore)?
ETS also offers a scoring option called MyBest Scores, otherwise known as superscores. This is a way of combining your best section scores from all your TOEFL tests of the last two years to create a total score that reflects your highest possible overall score.
If you request an ETS MyBest Scores transcript, it will list your best individual section score for Reading, Listening, Speaking and Writing, specifying the test date each score is taken from. It will also state the sum of these highest section scores.
Set Your TOEFL Score Goal For School/University Admission
If you're taking the TOEFL with admission to a higher education institution in mind, it's likely that they demand a minimum score to consider your application. The TOEFL is a challenging exam with a significant test fee, so it's important to measure your performance and know exactly what you're aiming for when you book a test and start your preparations.
Once you've understood the different TOEFL levels, find out which one you need to hit by consulting your desired school or university admission requirements. This information is usually stated clearly in their admissions literature, and you can probably find it online.
To find out the TOEFL levels required for your prospective school or university and if you wish to apply for a TOEFL scholarship, simply type the name of the institution and "TOEFL" in a search engine, and hey presto.
Once you're all ready, you can take a look at our article on "How to send TOEFL scores to USA universities" and follow the steps there in order to send your scores.
Achieve Your TOEFL Dream Score With the Aid of GlobalExam
Studying TOEFL levels is one thing, but there's only one surefire way to ensure a good one, and that's preparation, preparation, preparation!
If you've decided that the TOEFL is the exam for you, it's time to join us on GlobalExam. We've designed an e-learning platform especially to help test takers like yourself to prepare for language exams, such as the TOEFL.
If you're at the beginning of your TOEFL journey, we recommend beginning with an Assessment Test. This is a TOEFL-style test that will help you to identify your current proficiency levels across the four key communication skills, before embarking on your revision.
Once you know your TOEFL level, you can create your own study plan using our Custom Study Plan feature.
What Else Do We Offer?
We offer three types of TOEFL iBT study plans: the mini boost; the basic boost; and the maxi boost. Each plan is suited to test takers with different amounts of preparation time. Whether you've only got a few hours to spare or are prepared to devote significant chunks of time to your TOEFL preparations, you can take big strides with the right plan.
If you follow a GlobalExam study plan, we'll remind you to assess your TOEFL levels at regular intervals too, so you can keep track of your progress and check your TOEFL score.
If you really want to get into the nitty gritty of your TOEFL levels, you can take advantage of our Statistics and Corrections tool to see exactly how you're scoring across your completed exercises and practice tests.
Want to know another advantage of preparing for the TOEFL with GlobalExam? You can do it wherever and whenever you want! Our platform is 100% online, meaning that your studying is totally flexible. Whether you've got ten minutes to do a few quick fire rounds of grammar questions, or you've got an entire evening to delve into a TOEFL practice exam, no time is wasted on GlobalExam.