Understanding the different language proficiency levels in English or interpreting your latest TOEFL or IELTS score can be confusing.
In this article, we'll help you understand the different references/scales that exist, show you how to add them to your CV and how to interpret your test results.
To break it down for you, here's what we're going to discuss:
What language proficiency levels are and why we use them
The ILR scale (Interagency Language Roundtable)
The ACTFL scale (American Council on the Teaching of Foreign Languages)
The CEFR reference (The Common European Framework of Reference for Languages)
How to interpret your TOEFL/IELTS score on each scale
How we can help you reach the level you need
Read on and pass your TOEFL and your IELTS exams easily!
What Are Proficiency Levels and Why Do We Use Them?
The different references/scales of language proficiency levels (CEFR proficiency scale, ILR scale, ACTFL proficiency scale) are used to determine and describe abilities in a given language. These scales can be useful in a professional or academic setting.
Different skill sets can be tested (e.g. speaking & writing or listening & reading) depending on which test you choose and results can vary from one skill to another. For example, there is often a "gap" between a learner's fluency and proficiency.
What Are Proficiency Levels in a Foreign Language?
Let's explain what proficiency levels are in a foreign language.
Let's briefly compare Proficiency and Fluency:
Fluency refers to how well you are able to have a spontaneous conversation & cope in various situations whereas Proficiency refers to how well you master the language in terms of comprehension and production. The latter is generally what is required in professional and academic settings ; however, it is important to understand that these two skills go hand in hand.
Most of the time, learners achieve higher levels of fluency quicker than levels of proficiency but the opposite can happen too! Certain learners may have very good written English but find it difficult to engage in small talk.
So, what do you need to know?
There are three main scales/references for communicating language Proficiency & Fluency.
You may have heard of the CEFR reference, which organises language proficiency from A1 to C2, or perhaps you're more familiar with the ILR (0 to 5) or ACTFL (Novice to Distinguished) scales.
So, how can you determine your level, accurately assess your language skills and add them to your CV?
Let's take a closer look 👀🔍
Interagency Language Roundtable (ILR) Proficiency Levels
Created in the US in 1955, ILR is one of the oldest language proficiency scales and is divided into 6 levels (0-5), with "+" levels at the first three stages. Since 1955, the scale has been updated and seeks to accurately establish how language skills play out spontaneously in the real-world.
"+" levels are used when proficiency is higher than a base level but doesn't quite meet the criteria for the next level
Proficiency Level
Description
0 - No proficiency
Knowledge of the language is nonexistent or limited to very few words
1 (or 1+) - Elementary proficiency
At this level, you can :


Structure simple sentences & questions
Communicate basic needs
Understand simple phrases/questions
Make a limited amount of small talk & get around town as a tourist (tell time, say dates & numbers, understand & give directions)

2 (or 2+) - Limited working proficiency
At this level, using basic grammatical structures, you can :


Deal with simple tasks in the workplace
Talk about yourself & your job
Discuss current events
Use idiomatic expressions

3 (or 3+) - Professional working proficiency
By level 3, you can speak with structural accuracy and participate in most conversations (General & Business) without too much hesitation.
You can also use more advanced grammatical structures and be understood clearly by native speakers.
You should start feeling comfortable negotiating, dealing with clients/suppliers and giving presentations.
You might have also acquired more technical vocabulary related to your field of competence.
This is usually the minimum level required by Universities
4 - Full professional proficiency
Reaching a level 4 can open a lot of doors professionally speaking.
Most employers will seek employees with a level 4 or higher if speaking a foreign language is required for the job!
You can speak with an advanced level of fluency but still make the occasional mistake.
5 - Native / Bilingual proficiency
Congratulations!
You have reached complete fluency/proficiency.
You either grew up speaking the language or have been speaking it for long enough to be fluent and speak with little to no accent.
💡 Here's how you might present your ILR level on your CV:
English – Level 2+ (ILR) – Limited working proficiency
German – Level 3 (ILR) – Professional Working Proficiency
ACTFL Proficiency Levels & Guidelines: In-Depth Description
The ACTFL (American Council on the Teaching of Foreign Languages) scale was inspired from the ILR scale and put forward by the MLA (Modern Language Association) in 1967. It has provided us with similar guidelines for determining & describing levels of language proficiency & fluency. The ILR and ACTFL are often used closely together which makes comparing them easy.
The ACTFL Proficiency Scale
There are 5 main language levels in the ACTFL guidelines (the first three levels contain 3 subcategories/stages – similar to the ILR scale):
Novice Proficiency (low, mid, high)
Intermediate Proficiency (low, mid, high)
Advanced (low, mid, high)
Superior
Distinguished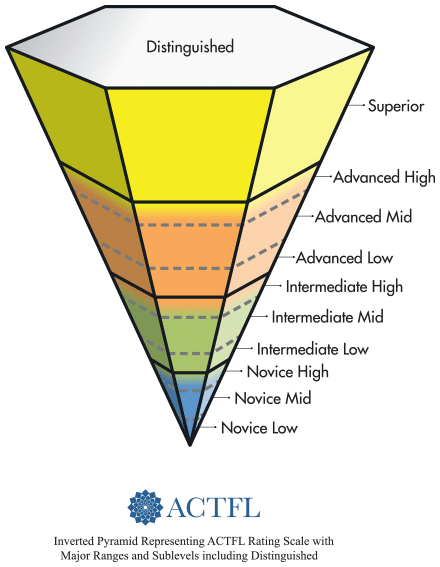 *Image source : Official ACTF website 
ACTFL to ILR Scales Conversion Chart
ILR
ACTFL
0-1

Novice Low
Novice Mid
Novice High

1+

Intermediate Low
Intermediate Mid
Intermediate High

2-2+
3-3+
4-5
THE CEFR Language Proficiency Levels Explained
The Common European Framework of Reference for Languages otherwise known as the CEFR or CEFRL was put into place by the council of Europe and is used internationally to describe language ability.
The CEFR reference is organised from level A1 to C2, is easy to interpret and is also used in professional or academic settings:
Proficiency Level
Description
A1- Beginner
At this stage, you should be able to introduce yourself and engage in simple interactions (understand and use very basic structures & expressions).
A2 - Elementary
You are starting to develop the ability to communicate using simple structures. You can discuss different topics related to simple and routine tasks
You can talk about personal background/job, hobbies, likes & dislikes.
B1 - Intermediate
You can deal with various situations (professional or otherwise).
You have developed the ability to communicate about your hopes, dreams, past experiences, current events and express/explain your opinions.
You can get by quite well as a tourist.
B2 - Upper-Intermediate
At this level, you should be able to communicate spontaneously with little hesitation.
You should be able to use more complex structures and idiomatic expressions.
You're comfortable with more technical vocabulary relating to your job/area of specialty.
C1 - Advanced
You can use the language with flexibility, ease & structure for different purposes (professional, academic, social).
Little to no hesitation or accent.
C2 - Proficient
By now, you can speak with fluency, precision and coherence.
You're fully fluent and proficient.
You're able to deal with any situation that arises!
Here is the CEFR system represented by a graph: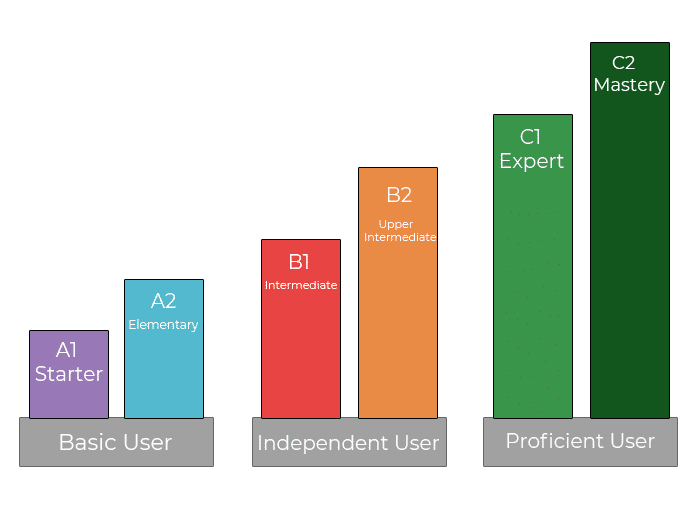 💡Including my CEFR level in my CV :
Language skills :

B1 level in English (Intermediate)
A2 level in Portuguese (Elementary)
This chart should help you translate your IELTS or TOEFL score into a CEFR, ILR or ACTFL language level:
Understanding your IELTS or TOEFL score
| CEFR | ILR | ACTFL | IELTS SCORE | TOEFL SCORE |
| --- | --- | --- | --- | --- |
| A1 | 0-1 | Novice | 0-2.5 | 0-30 |
| A2 | 1+ | Intermediate | 3 | 30-40 |
| B1 | 2-2+ | Advanced | 3.5-4.5 | 40-65 |
| B2 | 3-3+ | Superior | 5-6 | 65-95 |
| C1 | 4 | Distinguished | 6.5-7 | 95-110 |
| C2 | 5 | Distinguished | 7.5 + | 110-120 |
Didn't get the score you needed?
That's okay: At GlobalExam, we're committed to helping you reach your goals!
Understanding your TOEFL score:
We have compiled a list of articles that cover everything there is to know about the TOEFL score ! Feel free to check them out down below:
Understanding your IELTS score:
We have made a list of article covering everything there is to know about the IELTS score:
Get the English Level You Have Dreamed of With GlobalExam
Practice makes perfect: GlobalExam is a user-friendly e-learning platform created to help you prepare for certifying language tests such as the TOEIC, TOEFL, IELTS, Bright, Pipplex Flex and many more…
We offer tailor-made online training using exam-type questions adapted to your needs, level & goals. Our platform is designed to help you train in exam conditions and offers many different mock tests.
You will be able to access:
Your personal statistics
Vocabulary & Grammar worksheets
The answer keys with detailed explanations for each question
Your personalised study schedule: tailor-made to help you reach your goals in time for your exam!
Keep track of your strengths and weaknesses on a specific skill so you know what to work on next!
The different modules are designed to help you progress quickly. More than 30 000 questions have been created by language specialists. We offer training for 27 tests in 5 different languages (English, French, Spanish, German & Mandarin).
So…what are you waiting for? Become a Global Player today!