We're going to tell you about the scoring on IELTS (International English Testing Service) exams in this article. The scoring system may seem a little odd at first, but it is actually a good system once you know how it works. Also, we'll tell you what range of scores are typically needed for entrance to a well-regarded English speaking university and for employment.
Oh yes, we'll also let you know how we, at GlobalExam, can help you to get ready for your upcoming IELTS exam and improve your score, so you will achieve the result that you need.
IELTS scoring and bandwidths
IELTS uses a nine level bandwidth scoring system. Bandwidth 1 indicates that the person has virtually no English ability, while bandwidth 9 indicates a native-like level of English ability.
Both the IELTS Academic and General Training exam results use the same nine-band scale.
The Test Report Form (TRF) provides your Overall Band Score and band scores for each of the four exam sections: Listening, Reading, Writing and Speaking.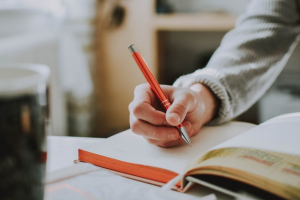 Overall Band Score
The Overall Band Score is the average of the four component scores; the score is rounded to the nearest whole or half band. The component scores are given equal weighting.
Here is an example.
| | Listening | Reading | Writing | Speaking | Average |
| --- | --- | --- | --- | --- | --- |
| Test Taker A | 6.5 | 6.5 | 5.5 | 7.5 | 6.5 |
| Test Taker B | 4.5 | 4.5 | 5.0 | 4.0 | 4.5 |
| Test Taker C | 5.0 | 5.0 | 6.0 | 6.0 | 5.6 |
When the average of the four components ends in .25, the Overall Band Score is rounded up to the next half band. When it ends in .75, the Overall Band Score is rounded up to the next whole band.
Component Band Scores
Listening
The IELTS Listening section has 40 questions. Each correct answer is given one mark. Scores out of 40 are converted to the IELTS nine-band scale.
Reading
The IELTS Reading section has 40 questions. Each correct answer is given one mark. Scores out of 40 are converted to the IELTS nine-band scale.
Below is an average number of marks that you would need to receive the indicated band score in Academic Reading.
| Band score | Raw score out of 40 |
| --- | --- |
| 5 | 15 |
| 6 | 23 |
| 7 | 30 |
| 8 | 35 |
Writing
IELTS examiners use a rubric with descriptors to assess a band score. Examiners are trained to follow the rubric carefully, and there is typically little variation between examiners. The criteria for assessment are
Task Achievement (for Task 1), Task Response (for Task 2): does the person answer the question and follow the instructions
Coherence and Cohesion: Is the writing well-organized and are appropriate signal devices used.
Lexical Resource: does the person use a wide range of vocabulary or only simple words.
Grammatical Range and Accuracy: you don't have to be error free, but you need to be able to use a variety of grammatical structures with minimal errors for a high score.
The 4 criteria are given equal weighting and your score on the task is the average.
Speaking
The IELTS examiners must use the given rubric to assess an exam candidate. Two people will listen to your responses to ensure reliability in scoring.
Fluency and Coherence
Lexical Resource
Grammatical Range and Accuracy
Pronunciation
The 4 criteria are given equal weighting, and your score on the task is the average.
NB: We have written more articles that could help you to get a good score such as IELTS – Strategies and How to convert the IELTS score to CLB levels?
Minimum levels required for companies
It really depends on the company and the type of work. For example, an engineer who needs excellent technical skills, but spends little time writing reports or speaking would be fine with an overall band score of 6. On the other hand, if you will be working with the public and need to communicate often in writing, then you will need an overall band score of 7-8.
Levels required for prestigious universities
Better universities will require an overall band score of 6.5-7.0 with a minimum score of 6 in each exam section. Harvard and MIT require a 7.0 score, for example. Departments at the same university may have different requirements.
Online with GlobalExam
There is a great online platform waiting for you at GlobalExam. We are language test preparation experts who constantly strive to improve our materials and services. Our IELTS materials are relevant, current and informative.
What do we provide for IELTS preparation?
We offer a great set of services and IELTS materials for you, allowing you to focus on the learning and preparation worry free:
Lots and lots of exercises, so you can get lots of practice
Mock exams that let you experience the real feel of an IELTS exam
Corrected exercises that will let you know what you did wrong and how to improve
Progress tracking with statistics that keep you informed of your progress and show you the areas that you need to work on
Choice of study paths that allow you to select a path which fits your needs; flexibility is one of our cornerstones
All of the above features are found on an easy to navigate, attractive platform that is run by great staff and it's all at an affordable price.
GlobalExam IELTS online preparation offers a free trial version as well, giving you an opportunity to try our website. There's no charge for a trail and you aren't required to sign up.
Everything is online, meaning that you can study at any time or any place that suits your schedule. Check us out and achieve the IELTS result you need.