In this post, you're going to learn exactly how to pass IELTS in Canadian universities.
This guide includes:
Why you should choose IELTS for Canada
The best universities
Required scores
Preparation and online training with GlobalExam
So if you want to know more about IELTS exam in Canada, you'll love this new guide.
So, let's dive right in!
Why you should choose IELTS in order to study in Canada
Canada has over 600,000 international students, and it is the fourth most popular destination in the world (according to the United Nations) for students wishing to continue their studies abroad. Furthermore, it is a bilingual country where the dominant language is English, except in Quebec. Canada is also one of the world's most developed nations, and thus  it's always an obvious advantage. Therefore, it is important that you know how to register for the IELTS, the price of the test and then take it.
Also, IELTS is one of the most well-known and most prestigious language exams on an international level, and it is required for all students in order to evaluate their language level. Passing the test opens doors around the world: indeed, a score of 7 is already considered to be a "good user". But Canada is an especially attractive option, because of its large gamut of universities as we will see just after.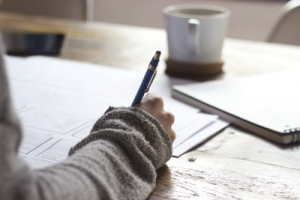 List of the best universities in Canada for the test:
Most of these universities demand scores of at least 6.5 to pass the test.
Three of these universities (Toronto, British Columbia and McGill) are ranked among the top 50 universities.
Each of these universities has its own set of specificities. For example, the University of Toronto is oriented around literary criticism, communication and theory, while the university of McMaster is more geared towards health and science studies, as is McGill University. The University of Toronto, the top university in Canada, is also a special case, in that the requirements are different whether for undergraduate programs or for post-graduate programs.
All the information about Canadian universities is summarized in the below table. There may also be additional requirements, depending on the university, specific programs and/or new additional rules set forth by universities.
| | | | |
| --- | --- | --- | --- |
| University | Requirement | Times Higher Education Park | Address |
| University of Toronto | 6,5 (for undergraduate programs) / 7.0 (for post-graduate programs) | 18 | 27 King's College Cir, Toronto, ON M5S, Canada |
| University of Montreal | Contact institution | 85 | 2900 Boulevard Edouard-Montpetit, Montréal, QC H3T 1J4, Canada |
| McGill University | 6.5 | 49 | 845 Rue Sherbrooke Ouest, Montréal, QC H3A 0G4, Canada |
| University of British Columbia | 6.5 | 30 | Vancouver, BC V6T 1Z4, Canada |
| University of Alberta | 6.5 | 136 | 116 St & 85 Ave, Edmonton, AB T6G 2R3, Canada |
| McMaster University | 6.5 | 126 | 1280 Main St W, Hamilton, ON L8S 4L8, Canada |
| University of Waterloo | 6.5 | 217 | 200 University Ave W, Waterloo, ON N2L 3G1, Canada |
Requirements for most Canadian universities entry
As you can see, each of these universities has its own separate set of requirements. However, for most of these universities, you will need a 6.0 in each component.
For most Canadian universities, the only score you will require is a 6.5. However, for the University of Toronto (post-graduate programs only) it will be a 7.0, and for the University of Montreal, you will need to contact the institution. As for IELTS Concordia scores, you will need an overall score of 7.0, with no component below 6.5, with test scores being valid for a period of two years. In addition, Concordia university may require of you an additional proficiency test.
Concordia University, located in Montreal, is a separate case, as they have individual graduate programs and are a very demanding university.
You might want to check as well other IELTS requirements when it comes to immigration in Canada or the minimum score expected to immigrate in Canada as a nurse.
Preparation with GlobalExam
We can provide you with training in the real conditions of the test, to make progress and gain points more quickly. More than 30,000 questions have been created by professionals of language accreditations, with their corrections, expanded every day.
In Training mode, you have several exercises corresponding to each section of the test, in order to train on a particular section.
The Exam mode allows you to take mock exams in the real conditions of the test.
In Corrections and statistics, each exercise and mock exam provides a detailed correction by question, with explanations, and a score is immediately displayed (which can be consulted at any time in the stats tab, with all scores being recorded).
In Statistics and required competencies, it is possible to see your weak or strong points on a specific competency (like past tenses or vocabulary). Exercises associated with each competency allow you to work on this specific competency.
Revision sheets are vocabulary and grammar sheets, associated with the test, that are available on our site.
Revision planning mode makes it possible to follow a revision course, in order to be guided on the exercises that must be done on a given period (there is a possibility to define an exam date and a starting level with a goal).