This article is all about how taking the IELTS test can support for Canadian visa and immigration purposes.
Here, we are going to cover:
Why the IELTS is essential for Canadian immigration
How to acquire citizenship in Canada
Immigration for refugees to Canada
How you can study for the IELTS test with GlobalExam
If you're looking for information on which English language test is best for your move to Canada and how the citizenship process works, you're in the right place!
Is the IELTS the right test for immigrating to Canada?
The two main exams for assessing English proficiency are the IELTS test and the TOEFL (Test of English as a Foreign Language). Both testing bodies provide an official certification that is widely recognized by universities, employers and governments to assess your language skills across reading, writing, speaking and listening.
Whereas the TOEFL is aimed at students applying to study in the US, the IELTS is specifically geared towards foreigners looking to live in the UK, work as a nurse or study in Canada, the UK and other Commonwealth countries (Australia and New Zealand, for example).
The IELTS (International English Language Testing System) offers two types of test: the IELTS Academic for university-level students, and the IELTS General Training, aimed towards immigrants more generally. If you're seeking to acquire an English language certificate with the goal of citizenship in Canada, the General Training test is for you.
The IELTS is well established, being recognized by over 10,000 organizations all over the world as a reliable certification of a person's English language abilities. All Canadian universities and colleges accept the IELTS test scores, and it can be an essential part of the immigration process.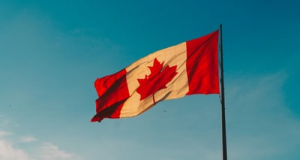 How to become Canadian
If you're considering acquiring citizenship in Canada, you'll need to be able to fulfil the following requirements:
You must be a permanent resident in Canada
You must have been lived in Canada for at least three of the last five years
You must be up to date on your taxes
You have to pass a citizenship test
You have to demonstrate proficiency in English and/or French 
If you are eligible to apply, you can begin the application process, which includes filling out an application form, providing all supporting documents, and paying a fee. If your application is successful, it can take approximately 12 months to receive the citizenship grant.
Proving your language skills for citizenship
Canada has two official languages – English and French – and the citizenship process, including the paperwork, test and interview, can be completed in either language.
The Canadian citizenship process requires that you pass the Canadian Language Benchmarks (CLB) with at least Level 4 in speaking and Level 4.5 in listening. The CLB is a scale that measures your language ability across 12 benchmarks, from basic to advanced.
What does CLB Level 4 mean? A person with this level in English would be expected to be able to participate in everyday conversations, understand directions and instructions, and ask and answer common questions.
If you didn't attend a post-secondary program in English or French, you will need to submit language test results as part of your application. For English speakers, the IELTS is the only international test accepted by the Canadian government and is therefore essential for your immigration to Canada.
What is the required IELTS score for citizenship?
The IELTS does not offer a pass or fail, but rather offers a score on a scale from one to nine. When you take the test, you will receive a score that falls into one of the following bands:
| Score | Language Proficiency | Explanation |
| --- | --- | --- |
| 9 | Expert User | Total mastery of the language. Understands perfectly and is at ease orally |
| 8 | Very good user | Very good operational mastery of the language. Some occasional faults. |
| 7 | Good user | Good general mastery of the language, despite some errors and misunderstandings |
| 6 | Competent user | Competent mastery of the language in unfamiliar situations. Good mastery of everyday situations. Multiple errors and misunderstandings |
| 5 | Modest User | Ability to understand the general meaning of a situation, despite numerous errors and misunderstandings |
| 4 | Limited user | Ability to deal with a few daily situations. The candidate does not use complex language |
| 3 | Extremely limited user | Can only deal with very familiar situations. Has difficulties communicating. |
| 2 | Intermittent user | Has great difficulties communicating and being understood |
| 1 | Non user | Does not know how to speak the language except for certain ideas |
| 0 | Did not sit the exam | Did not sit the exam |
You can use the following chart as a guide to understand how the CLB Level 4 (or higher) required for the Canadian citizenship maps onto these IELTS bands:
| | | | | |
| --- | --- | --- | --- | --- |
| | Listening | Reading | Writing | Speaking |
| CLB 1 | 1.0 | 1.0 | 1.0 | 1.0 |
| CLB 2 | 2.0 | 1.5 | 2.0 | 2.0 |
| CLB 3 | 3.5 | 2.5 | 3.0 | 3.0 |
| CLB 4 | 4.5 | 3.5 | 4.0 | 4.0 |
| CLB 5 | 5.0 | 4.0 | 5.0 | 5.0 |
| CLB 6 | 5.5 | 5.0 | 5.5 | 5.5 |
| CLB 7 | 6.0 | 6.0 | 6.0 | 6.0 |
| CLB 8 | 7.5 | 6.5 | 6.5 | 6.5 |
| CLB 9 | 8.0 | 7.0 | 7.0 | 7.0 |
| CLB 10 | 8.5 | 8.0 | 7.5 | 7.5 |
| CLB 11 | 9.0 | 8.5 | 8.0 | 8.0 |
| CLB 12 | 9.0 | 9.0 | 9.0 | 9.0 |
Your IELTS test certificate will include a specific score in each communication skill, which you must submit with your citizenship application documents. Remember to be well aware of your IELTS test validity before submitting your application.
Moving to Canada as a refugee
There are many reasons for people to move from one country to another, including seeking safety from persecution as a refugee. It's possible to gain entry to Canada with refugee status, but what exactly does that mean?
First, you have to qualify as a refugee rather than an immigrant. The Canadian government defines a refugee as someone who has been forced to flee their country due to persecution or fear and cannot return home, whereas an immigrant is someone who chooses to settle in another country for other reasons.
If you qualify as a refugee, you may be granted help by Canada's Refugee and Humanitarian Resettlement Program, which offers protection to those who have fled persecution from outside Canada and, in many cases, are living in refugee camps. Refugees eligible for resettlement are identified by the United Nations Refugee Agency (UNHRC), who partners with private sponsors across Canada to place refugees in communities.
Canada also provides integration services to refugees settled inside the country. This can include income support for up to a year, social assistance for buying essential needs, and help to adjust to life in Canada and finding a place to live. As part of these services, the government also offers training in English and French to equip newcomers with the necessary language skills for making a life in Canada.
Preparing for the IELTS with GlobalExam
Getting the right IELTS score is important when it comes to supporting an official application, but luckily you can do all the necessary preparation for the exam online with GlobalExam. What's more, we don't simply provide excellent e-learning materials: GlobalExam prepares you specifically for the IELTS and share with you all important information about the test such the cost of taking IELTS and how to register.
Whether you're starting out in English or simply polishing up your skills, there are a range of learning materials to help you progress to the next level on our e-learning platform.
In Training Mode, you can practice your communication skills with graded exercises. You can even work on your speaking skills by submitting recorded responses to questions against the clock and consulting model responses.
By upgrading to a Premium subscription, you can access learning features such as Custom Study Plans, tailored to preparing you for the IELTS test.
The IELTS is an essential piece of the puzzle for immigrating to Canada, so it's time to get studying!