If you're starting to prepare for the TOEFL iBT exam, it's time to think about how you can best structure your learning. Are you going to take a class, or will you be going it alone? Do you like learning online, or are you more of a traditionalist?
In this article, we're going to dig into the best TOEFL books on the market. For the book lovers out there, read on for:
Studying for the TOEFL iBT with books;
The top 5 TOEFL books available;
Preparing for the exam.
If your TOEFL test is around the corner, this article is packed full of useful information, so grab your pen!
Are TOEFL IBT Preparation Books Still a Good Resource?
If you're here researching the best TOEFL preparation resources, we can tell you that you're already on the right track for succeeding your TOEFL exam. Preparing diligently for the TOEFL is essential to ensuring a good score, so whether you choose to prepare with a TOEFL book or through other means is just the icing on the cake.
Even if times have moved on a little since books were the only learning resource available, there's no denying that TOEFL books can still provide a solid grounding for your exam preparation. Investing in one good preparation guide can be a far cheaper option than enrolling in a class, for example, or accessing private TOEFL tuition.
If you're considering buying a TOEFL book, do bear in mind the following factors:
Make sure your TOEFL book is up to date with the most recent test format;
You'll need a TOEFL book with a CD or online Listening exercises for the full experience;
An answer key is essential for making full use of your TOEFL book's practice tests.
If you wish to alternate your exam training routine with some online resources, we advise you to take a look at our top TOEFL preparation websites and choose the ones that interest you the most.
The Top 8 All-Time Best Books to Prepare for the TOEFL IBT
If you search "TOEFL book" online, there's a chance you'll find yourself overwhelmed with hundreds of results, including some preparation guides that are either outdated or not suited to your learning style.
We've done some of the hard work for you and narrowed down the selection of TOEFL books out there to our top 5. Let's go!
1: Official Guide to the TOEFL Test (ETS)
At number two on our list, it's The Official Guide to the TOEFL Test from ETS. As the title suggests, this book comes directly from the ETS, the makers of the TOEFL test itself. That makes this TOEFL book one of the most accurate and reliable preparation guide on the market. As well as detailed preparation exercises and learning plans, the guide includes hundreds of authentic TOEFL exam questions and four full mock tests. This TOEFL book also comes with a CD to enable you to practice for the Listening section too.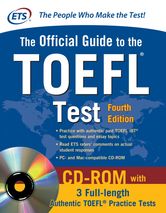 2: Official TOEFL iBT Tests (ETS)
Our TOEFL book at number three is not your typical TOEFL preparation guide. ETS' Official TOEFL iBT Tests is a test pack focusing on mock test practice, complete with ten full-length TOEFL past papers in addition to five practice tests. This is a very useful resource for focusing on the exam experience, and the pack even provides sample Speaking and Writing answers so you can self-assess.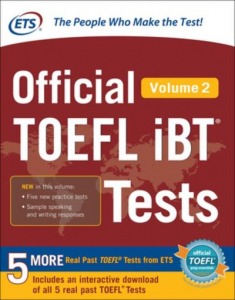 3. Cambridge Preparation for the TOEFL iBT Test (CUP)
Coming in at the number one spot as the best TOEFL book is the Cambridge Preparation for the TOEFL iBT Test, Cambridge's solution to preparing for the TOEFL exam. Here are a few of this fantastic TOEFL book's highlights:
Hundreds of exercises and strategies
Section tests in Reading, Listening, Writing and Speaking to track your progress
Seven mock TOEFL tests 
One of the highlights of this TOEFL book is that it allows for independent study as easily as it does classroom use, making it a highly adaptable learning resource.
4: TOEFL Preparation Course (Macmillan)
Another good TOEFL book option for your preparations is Macmillan's classic TOEFL Preparation Course. This guide is a little dated, but it remains a useful resource. It offers grammar exercises, practical exercises sorted by test section, a diagnostic test, and two mock tests. As with any good TOEFL book, you can also expect commented and corrected answer sheets, and access to listening materials.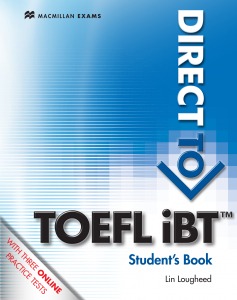 5: TOEFL iBT (Barron)
The first TOEFL book we'll mention is Barron's TOEFL iBT. This preparation guide is designed with the new test format in mind and has everything you might expect, such as grammar reviews and practice tests. The added extra with this guide is their online pronunciation guide that helps you to hone your speaking skills independently. Not bad!
6# TOEFL iBT Prep Plus (Kaplan)
Kaplan's TOEFL IBT Plus offers the most important English-language skills along with all the strategies you need to succeed on the test. You will be provided with all the guidance you need to excel, and to guarantee a great score, you should study this book and train through online resources, like GlobalExam.
7# The TOEFL iBT Test Prep Planner (ETS)
If you are just starting your test preparation journey, then we recommend you to get started with the free 8-week planner that will help you organize your preparation and build the skills you need to get a great score. You will be provided with an in-depth review of the test's four sections: Listening, Reading, Writing, and Speaking. Plus, a sample of TOEFL iBT test questions.
8 # Essential Words for the TOEFL (Barron's)
This book is carefully designed to provide all the updated vocabulary that is often seen on the TOEFL test. It offers phrases and purpose words that are used in the writing and speaking sections, like discuss, claim, define, etc.
It also offers new words and phrases because you will be frequently asked to explain the meaning of phrases. Detailed advice to help to boost your English skills, and more.
What Are the Advantages to Learning English With Books?
As you prepare for your TOEFL, you'll no doubt be thinking about the best way to revise and train for the exam. As with any language exam, the TOEFL requires lots of English practice and specific training for the TOEFL exam format and question style. One of the most typical methods for preparing is using a TOEFL book, and there are certainly a few advantages to consider:
There are many TOEFL books to choose from
The TOEFL has been around for some time, which means there are already many TOEFL books on the market to help different types of learners prepare for the test. A quick online search for "TOEFL books" will bring up a lot of results. This can feel a little overwhelming, but you probably won't go too far wrong with a bestseller.
It's a tried and tested method
Even if book learning feels a little dull, it's a tried and tested learning method that everyone is familiar with. If you're used to studying with books, it can be a comfort to stick to the method you know.
Study independently
When you learn with a book, one of the main advantages is that you can learn where and whenever suits you: all you need is your TOEFL book, a pen, and paper. This means you can fit a study session into a long train journey or an hour at your favourite cafe.
A cheap revision option
Buying a good TOEFL book for your exam preparations represents a one-time investment. Whether you buy a brand new, latest edition TOEFL book or get a secondhand find, you'll only need to pay once. This is certainly a cheaper option than joining a preparation class or paying for tuition, for example.
Learning English Through Books or Online? Which Is Better?
If you're considering whether using a TOEFL book is the best preparation method for you, let's consider the main advantages and disadvantages to this method of exam revision.
Advantages to using a TOEFL book

Disadvantages to using a TOEFL book

• It's a familiar learning method
• You can learn independently
• You can find a cheap, secondhand book online easily

• Older edition TOEFL books can become irrelevant when the test format changes
• The learning style can be unengaging and dull
• You will possibly need a CD and CD player to access the listening tracks
• You will need to self-correct your work
Making the choice between using a TOEFL book or learning online comes down to the type of learner you are, and whether you're prepared to step out of your comfort zone and adapt to a new learning style.
Why Learning English Online Could Be the Best Option for You
Whatever type of learner you are, there is no doubt that taking your TOEFL preparations online is a more up-to-date approach than studying with a textbook. Aside from being able to hold it in your hand, a good online learning platform can in fact match a TOEFL book in every way, from revising grammar and vocabulary, to exam exercises and corrections.
Let's consider some of the ways online learning could work for you:
Flexibility: connect to the platform when and wherever you like;
Up-to-date resources;
Get instant corrections and see statistics on your progress;
A modern interface that makes learning fun.
Learn Perfect English On GlobalExam's Online Platform
Of course, a TOEFL book isn't the only simple and affordable preparation option available to you. GlobalExam is an e-learning platform especially designed to help test takers prepare for language exams, such as the TOEFL. Our preparation platform offers all of the features we've described above, with the creases ironed out.
On GlobalExam, you can assess, track and improve your level seamlessly with instant corrections. What's more, you can study whenever and wherever you want.
What can GlobalExam specifically offer you?
Our platform has been specially designed to help learners like you prepare for every aspect of the TOEFL, including:
Study sheets: consult 390 grammar and vocabulary revision sheets with questions
Exercises: complete 14 training sessions focused on different parts of the TOEFL
Mock exams: test yourself with nine full TOEFL mock tests under timed conditions
Whether you're looking to brush up just before your TOEFL test, or you're starting your English training from scratch, you can find all the resources you could need on GlobalExam. Our materials are tailored to different proficiency levels, and designed to help you progress from one to another.
Another great advantage of preparing for the TOEFL with us is that we use authentic TOEFL-style exercises to help you prepare. This means that there are no surprises when it comes to test day, and you'll be fully prepared for TOEFL question types and the test conditions.