Which TOEFL IBT prep book is the best?
There are many course books that will help you prepare and train for the TOEFL IBT. Deciding which one is best for your needs will be your first challenge. I would recommend visiting a book shop and actually seeing what the content of the book looks like – layout, design, language etc. You can also go online later and see if you can get it at a better price. The first step in the TOEFL book hunt would be to shorten the list of books you are going to look at.
Here are some suggestions of books you might be interested in.
1. The Official Guide to the TOEFL test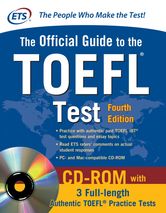 It had to be the first book to mention. This book will guide you through what the test is like, how the scoring works, exam skills, practice exercises for all four skill area, and also includes 4 full tests for you to complete with answers. If you are at the beginning of your test preparation and new to TOEFL IBT, this is a good book to start with.
It costs around $25.00 and is also available as an ebook.
2. ETS TOEFL IBT Tests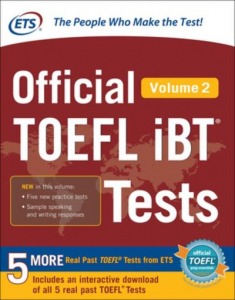 This book is worth a mention. This is written by the people who created the exam, so this will always help with your test preparation. This is just a test book. It contains five test papers and answers, nothing extra on skills strategy or language enhancement. It does include good examples of speaking and writing responses which can help you. Sometimes it is helpful to see how other test takers answer those questions. It comes with a DVD-Rom and is also available as an ebook. It's around $25.00.
3. Cambridge Preparation for the TOEFL IBT Test
Cambridge publishing produce a book that will help develop your exam skills for the TOEFL test. This is a packed book. It has exercises to develop your test taking skills, advice and practice of strategies, progress checks, and activities that help develop your language skills such as grammar and pronunciation. This books also gives you access to seven practice tests with answers. The audio CDs include examples of lectures and conversations for you to practice your listening skills.
4. TOEFL Preparation Course by Macmillan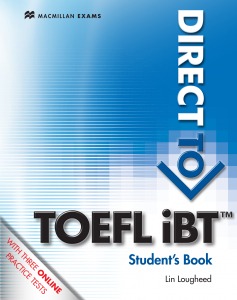 The TOEFL Preparation Course by Macmillan publishing is a self-study course that might be better suited to you study needs. It contains 2 full tests for you to practice with, a diagnostic test for you to do before you start (this is great at seeing where your skills currently are), score conversion tables, and 140 questions across all four sections of the test for you to study. It won't teach you English but it will focus your learning on TOEFL exam skills.
5. The GlobalExam Solution
One final option is not a book but online. Online solutions have TOEFL IBT practice tests, you can track your progress, areas to improve your English language ability, and guidance. Global Exam gives you all this. We provide online exam training for a range of exams and TOEFL IBT is one of them.  If you want something a bit more flexible to access on the go, this could be a good solution for you.
If you want more information on all the resources available to study TOEFL IBT, GlobalExam has made a selection for that as well.
You can try GlobalExam's free version by registering! Then you'll be able to access a free sample test.