Why choose an online solution?
TOEFL Books and CDs can be heavy to carry around with you and setting it all up can take time. This is a real challenge if you are busy and have responsibilities such as family and work. Having studying materials at your fingertips is a possible solution. A lot of publishers that create TOEFL study content have produced ebook versions and apps to make this process easier for you. GlobalExam made a selection just for you after trying them all.
TOEFL Go by ETS
ETS have produced an official app to help you study TOEFL IBT. It's called TOEFL Go. The app allows you to study the sections of the test you want to focus on as well as the whole exam.
It includes insider tips and advice on how to answer specific types of questions. You can purchase full tests in the app if you want to and scoring for these comes with 24-hours from ETS.
The ETS Website
ETS also have online resources that just focuses on the speaking part of the test. It's called TOEFL Practice Online Speaking series. This is a really useful tool as it will help you practice for the speaking section – not just your language and study skills but it will also gives you experience of how the test is conducted. It uses speech recognition software to assess your pronunciation, vocabulary, grammar, and fluency. ETS will also send back scores for your submissions in around 24 hours. If you are not sure what your proficiency level is, this could be a great place to start.  It costs around $24.
Online tutors
Signing up for an Online Tutor to help guide you through exam practice and help you in areas where you struggle is another option. There are many online tutoring companies that can put you in contact with an experienced TOEFL tutor. This level of personalised learning could help you advance faster than self-study or in a group class.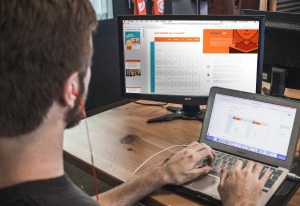 An online tutor also gives you the freedom to schedule classes in your lunch break or when you have a quieter period during the day or evening. The main thing to remember is not to pay anything in advance and to have a free trial with that tutor first to see if they are a good fit for you.
Training with GlobalExam
There are also different companies that provide online TOEFL exam resources and practice through software they have created. You just signup and login to their system from any internet-connected device. This is something worth considering as you might find a provider that has a platform you find easier to navigate through.
GlobalExam provides online training for a wide range of exams including IELTS and TOEFL IBT. Thanks to dozens of exercises following the real test format and question types, you access to areas that will help you to continue learning English, practice your TOEFL exam skills including the speaking section, access to full tests to take, and the ability to track your progress. You can also create a TOEFL IBT study plan.
You can try GlobalExam for free just by registering!