Being polite in a business environment is more than saying please and thank-you. There are a lot phrases or words we add to our speaking and writing for politeness. If you are perceived as being impolite, other staff, people from other firms and clients will avoid you and business and opportunity will pass you by. Politeness is a soft skill that can be learned and often what is needed is awareness of the usage of key phrases and words for politeness. It should also be used when writing a professional email in English.
In the paragraphs below, there are some common polite expressions commonly used in the workplace. These polite expressions will help you to sound more polite and diplomatic, which will lead to better work and business relationships for you.
The opening politeness formulas
A fundamental principle to remember is to not just directly say your message. We usually soften any message with an opening polite expression such as the ones below:
Saying no to a suggestion/idea:
I'm not sure that would work.

That might not be the best solution.

I don't know if that would work.

That might be a little ambitious

Would it be possible to (suggest change)
Pointing out a Mistake or Omission
It looks like (say what the mistake is)

It seems (say what the mistake is)

Didn't we agree on (say what you agreed on before)

I thought we had agreed to/on (say what you agreed on before)

I seem to remember that we (say what you planned on before)
By phrasing our thoughts as questions and using tentative language (seem, appear, thought, might, etc.) we can soften our message.
We rarely say things such as this is wrong /you are wrong/I don't agree. It's too direct. Some people such as Steve Jobs and Bill Gates were infamous for being very direct and rude with staff; most people don't speak that way.
Informing someone you can't help them:
I'd love to help, but right now I'm really busy with (explain the reason)

I wish I could, but right now I need to focus on (explain the reason)

Normally I'd be able to, but right now I have to (explain the reason)
It's important to provide a reason here. We often suggest the name of someone else who might be able to help; here is an example:
I'd love to help but I'm really busy with the monthly statistics. Have you asked Jenna? She might be able to help you.
Saying No to an Invitation
That sounds great, but (give a reason)

I'm sorry, but I really can't. I have to (give a reason)

I really appreciate the invite, but ( give a reason)
Only saying no or no thanks is too direct and could be perceived as rude.
Telephone greetings
Don't call another company and just say the name of the person that you want to talk to. It is abrupt and will appear a little rude to the other person. We tend to say: Hello/Hi first and then say one of these:
May I speak to (name of person) please?
I'd like to speak to (name of person) please.
At the end of our conversation, we don't just say goodbye and end the call. We can use one of these:
Thank-you

Thanks for calling

It's been nice talking to you.
The polite ways to write a letter
Don't just say you want something. You need to put one of the phrases below in front of what you want to make it more polite. Typically, we phrase a request as a question. You will get better results if you do.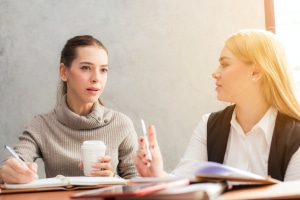 Requests
Could/can you (your request)?

Would you mind (your request)?
Opening salutation
Always include some form of salutation. Don't just start writing. You don't need to overdo it in English.
Dear Sir/Ma'am

Dear (person's name-the first name is fine if you know the person already)
If you know the person's name, that is great. If we don't know the person well, we can use:
Dear Mr. Smith

Dear Ms. Smith (in business, we tend to use Ms., not Mrs. for women)
Closing written greetings
When you need to end an email, it is a good idea to use one of the common endings to make your email more polite. We write these phrases at the end and then write our names. Two of the most used are:
Regards (a standard, polite formal ending)

Best Regards (a little friendlier and perhaps we have corresponded with the person before)
The words sincerely/truly sound a bit out of date nowadays. A word of caution: don't write things like: have a great day/cheers/ keep in touch. These endings are fine if you are writing to a friend or someone you know well.
Remember that all of the points mentioned above about requests, saying no etc. apply to written communication as well.
GlobalExam's Business English
Better communication enables better teamwork, and politeness is a key aspect of communication, albeit an often overlooked aspect. Improving your understanding of politeness in the English speaking business world will improve your soft skills. We, at GlobalExam, understand this well, so our Business English platform includes aspects such as politeness as a means to improve your communication.
GlobalExam's Business English?
It's a learning platform, offering training and courses at three levels: beginner, intermediate and expert. Before you start, you can take a level test so as to determine the best level for you to begin with.
What does Business English have to offer?
Business English give you choices. There are courses which are suited to each objective and there are different paths to follow, according to what your career demands. 
Boost my Skills

provides you with the know how to deal with meetings, telephone calls, project management, emails, receptions and events, business trips, recruitment, intercultural, sales and negotiation. It covers a wide range of business activities.

Boost my Career

enables you to improve your grasp of marketing, customer service, communication, HR, sales, purchasing, tourism, banking, logistics, and management. There are variety of story driven situations for practice.

Try our online business English course for the Sales sector.
Boost my Level

is the way to go if you would like to work on all of the skills that you need whether you are an expert, at the intermediate level or a beginner. We have different levels to match your existing skills and lead you to a higher level of competence.
GlobalExam's Business English platform provides the following as well:
Scripted content with coaching

25 scripted paths for an immersive experience

500 situations from the real business environment

Video coaching with our patient teachers 

Detailed corrections for each question that let you know what you did wrong and how to get it right 

Certification for each course after completion

Help with creating a professional English CV
Along with the above features, you will have access to an attractive, well-designed website and the great staff at GlobalExam.