You are going to apply for a job, you have already spent hours preparing your CV, and now you ask yourself if it is worth spending as much energy in your cover letter and how to do it. Well, to answer your first question, let us tell you something: usually the first document your prospective employers will see is your cover letter. If you catch their attention, they will review your CV in detail, consider you application and be persuaded that you can be the one for the position in question. You might even get an interview (in English). So, as you can see, it is essential to write a good cover letter if you want to put your CV in context and persuade the recruiter to grant you an interview. In this article, we are going to give you some guidelines and many useful tips to write a good cover letter in English. But remember: there is not a template you can copy and paste because every cover letter must be unique, it is a universe of its own. The job you are applying to, the profile sought by the company, your intention when writing, etc., will indicate what to include, the kind of format, and the style. 
Did you know that…
a cover letter tells a lot about you?

Yes, it does. It reflects your communication skills, reveals your capacity to organize information properly, and shows how professional you are. If you send a letter full of spelling mistakes, without punctuation and with lexical inaccuracies, your potential employer might think you are careless and unable to produce high quality work.

a cover letter also shows how motivated you are and how well you realize the job's nature?

Yes, it does. By reading your letter, your potential employer can notice if you have done some research about the company/organization and if you have thought about how you can do your part to help them achieve their goals.     
How do I write a cover letter in English?
First, read the job announcement with great care. Do you have the necessary qualifications and experience?  
Brainstorm the aspects of your background, education and skills that are relevant to the position you are applying to. Make a list and select the most relevant ones. 
When possible, address the letter to a specific person, and avoid "To Whom It May Concern" and "Dear Sir or Madam." Addressing the letter to the right person will demonstrate that you took the time to find out the recruiter's name and therefore, that you are interested in the position. 
Do some research about the organization/company/institution where you would like to work. Take notes about its mission, vision and values. If there is a website, check it and find its history, clients, or partners. Then, see how you can relate to the company, what you admire, how it can contribute to your personal development, and how you can fit in.  

Once you have gathered all this information, start writing your letter. Limit it to one page and organize its content in three to four paragraphs. 

Use a font size which is comfortable to read. The size should not be below 12 points. Depending on the content, play with the margins. It should not look stuffed with words, nor full of emptiness.

Spell out abbreviations and acronyms to make your letter clear and easy to read. 

It is certain that your cover letter should ideally reflect your personality and originality, so be creative, but do not be too wacky, avoid informal language, unnecessarily funny or subjective remarks, ALWAYS be professional.  
Divide the content into three basic parts: introduction, body and conclusion.
Expressions you need to know to write your letter:
Start your letter with the classical phrase: Dear + a title such as Mr. Mrs. Ms. Dr. + surname. You can also use: Dear + Name + Surname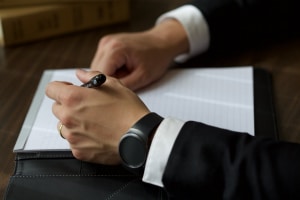 You could introduce your letter with the direct but overused sentence: "I am writing to apply for…" but, try harder to stand out from the crowd! 
How about:
I am writing to express my keen interest in…

I am excited to be applying for the … role at…

As a long-term admirer of… work being done by…, I am delighted to submit my application for… position posted on…

Please find enclosed my CV in application for the post advertised in…

Avoid just listing cliché adjectives like: "self-motivated," "think outside the box," "dynamic," etc. This kind of clichés drains life from a cover letter. Instead, write about concrete examples that provide evidence of what you have accomplished (and use numbers when possible and if pertinent. E.g. "I increased sales by 10%", "I helped 60% of students with deficit attention disorder", etc.).

To conclude, you can use: Thank you so much for your time and consideration. And then, use any of the following letter closings:

Sincerely, Respectfully, Kind regards, Best regards, Yours Faithfully, Yours sincerely.
Now, read the following sample cover letter in English and get some inspiration.
Sample cover letter in English
09/05/2020

Richard Corben

15 Chemin de Compostelle

Bordeaux 33000

+33 05 56 30 25 31

Dear Mr. Corben,

I am excited to be applying for the Lead Digital Marketing position at Aquitaine Media Strategies advertised in Indeed.com on 30 April. As a passionate email marketing specialist with three years of professional experience doing market research, and gathering A/B testing statistics in order to drive successful marketing campaigns, I am confident that I will be really able to contribute to your team's success at Aquitaine Media Strategies. 

Your advertisement mentions you need someone knowledgeable in campaign development and A/B testing, both of which happen to be areas I have experience in.  I am currently working at Electronic Arts, where I have led a digital promotion campaign for the company's new simulation game, BigCity 4, that has improved our sales by a 35% immediately upon its release. 

My proven track record in creating highly effective solutions to achieve e-commerce objectives and stimulating new customer acquisition across platforms such as websites and mobile applications makes me a valuable asset at Aquitaine Media Strategies.  

I look forward to discussing the Lead Digital Marketing position as well as my qualifications with you in more detail. You can contact me at your earliest convenience. I will contact you next Monday to make sure you have received my application.

Thank you very much for your time and consideration.

Respectfully,

Lauriane Roussillon
Would you like to get more useful tips about cover letters and other kinds of formal documents? Enroll to our Business English program! GlobalExam has created an online program especially tailored for you! Keep an overview of your progress and get a certification at the end of each course. For example, you can take the English online course on the Human Resources sector to get more tips, vocabulary and become more proficient.
Also learn how to congratulate teams in English.