Thousands across the world need to prove their French language level with the DALF tests every year. The Diplôme d'Etudes en Langue Française is one of the French proficiency tests required for immigration and visa purposes in Quebec, and there are a few testing centers throughout Quebec where you can take the test.
This post will list the DALF testing centers in Quebec and tell you how to register for the test, plus we'll give you our top tips on how to prepare to reach your target score with GlobalExam.
Let's dive into how you can take the DALF tests in Quebec as smoothly as possible!
The DALF testing centers in Quebec
The list below gives you lists of authorized DALF testing centers in Quebec. Be sure to consult the individual center websites for details about dates, prices, and procedures. The DALF testing centers are accredited by France Education International (FIE – formally known as the CIEP), where you'll find general information about the DALF as well.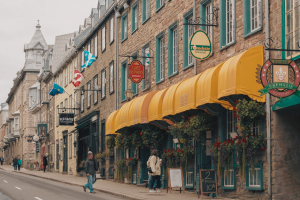 Centre DELF-DALF Com. Scolaire Lester B. Pearson
1925 avenue Brookdale, Dorval, Québec H9P 2Y7
Tel:+1 514-422-300 ex 32627
Email: [email protected]
Website: www.delf.lbpearson.ca
Kuper Academy High School
2975 rue Edmond
H9H 5K5 Kirkland, Québec
Tel: +1 514-426-3007
Email: [email protected]
Website: www.kuperacademy.ca
Once you choose the testing center nearest you, verify the updated testing dates, which may only occur a few times a month. Again, check for updated information with the testing centers directly, including special provisions for testing during Covid-19, handicapped access, directions to the site, etc. You can take the DALF exam in test centers located all around the world such as in Paris and in the UK for example.
Registering to take the DALF tests
Registration to take the DALF tests is done only with the testing centers directly; although the DALF tests are created and managed by FEI in France, you cannot register for the test with them. Start by contacting the testing centers above to find out more.
In Canada, the fee to take the DALF is defined by the Cultural Services of the French Embassy in Canada. Updated pricing information will be given on the website of the testing center when you register. Currently, the fee to take the DALF is C$ 275.
While this may appear to be an exorbitant price, remember that the DALF certification is valid for life, so consider it as an investment in your future. However, please note that Immigration Québec requires you to prove that you have passed the DALF test within the past two years only. Be sure to verify all date requirements with the body requesting your DALF certification.
Prepare for the DALF tests
Of course, the fact that you're attempting the DALF tests means that your level of French is already rather advanced. But this simply isn't enough to guarantee a good score on the test. Thorough preparation is a key step you shouldn't forget! Like any standardized test, it follows a strict format and is timed precisely, so it would be foolish to try to take the test without experiencing these constraints first-hand. You'll need to anticipate what sort of questions to expect, what the examiners are looking for in your answers, and how to manage your time efficiently. Good preparation will save you time and stress on your test day.
There are countless books and test questions from past archives available for purchase and/or download. These will include practice questions, audio recordings, and grammar and vocabulary exercises to fine-tune your French abilities as you prepare.
GlobalExam online offer
The online exam preparation platform GlobalExam provides all of these features and more! Once you sign up, you'll get access to targeted practice questions and revision exercises to work closer to your target score.
There are two preparation modes to choose from: Training, where you can focus on the individual language skills tested in the DALF, or Exam mode, which offers full-length DALF simulations so you can experience the time pressures and get a feel for the test under actual conditions. The type corrections are written by teachers specializing in the DALF format so you can identify your strong and weak areas.
One of the best features of the GlobalExam platform is a personal progress tracker: just enter your target score and exam date and you'll get a personalized revision schedule to remain motivated, track your progress in real-time, and watch your score rise!