This article is all about the DELF and where you can take the exam in Bern.
Here, we talk about the following:
What the DELF is and how to register for the test
Where to take the DELF Bern
How to prepare for the exam with GlobalExam
If you're thinking about registering for the DELF exam in Bern, this is the article for you!
If you wish instead to pass the exam, whether in Bern, Lausanne, or any other city, practicing DELF with GlobalExam is the best choice you can make!
Let's dive right in.
What is the DELF?
The DELF (Diplôme d'études en langue française) certifies a person's level in French. Issued by the French Ministry of Education, it is internationally recognized as an official certification of your comprehension and communication skills in French as a second language.
The DELF exam "tout public" is aimed at adults and is available from level A1 to B2, corresponding to the Common European Framework of Reference (CEFR) for language levels. Each candidate is free to choose the test level they register for, but please note that you will not be awarded a lower level certificate if you do not pass your selected level.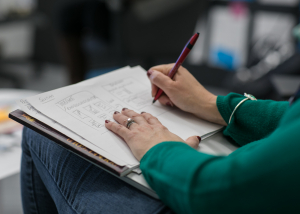 Where is this certification recognized?
The DELF certificate is recognized worldwide. With more and more students taking these exams every year, the certificate has increasing value with employers, administrators and educational institutions all around the world.
Once you take the exam and pass, your certificate is valid for life. Whether you have a specific goal in mind or not, an official certification of your French level can prove useful in many circumstances. For example, the minimum level for studying at a Francophone university is usually B2.
How to register
You can register for the DELF online using the DELF/DALF Switzerland registration platform. Once you've selected your language level, the type of DELF you wish to take, and the exam session, the platform will show you which examination centers have available places and their respective registration deadlines.
To complete your registration, you will need to input the following information:
Personal information
Address and contact details
University, language school or training program
If your university or language school is covering the costs of the test for you, you will receive an email with payment instructions that you must forward to your pedagogical supervisor.
Where to take the DELF in Bern
To find an examination center for the DELF in Bern, you can begin by searching on the DELF/DALF Switzerland website. We've simplified things and included the key information for the DELF in Bern right here:
DELF Bern examination center
Address
Contact
Centre d'examens DELF DALF Espace Mittelland
c/o WKS KV Bildung AG
Postfach 6936
CH-3001 Bern

+41 31 380 39 57
Although there is currently only one DELF examination center in Bern, make sure to check back on the website in case that changes.
Once you've identified the most convenient DELF exam center for you, you can consult the calendar of exam sessions and proceed with registration all on the same website.
How much does it cost?
Taking the DELF isn't free and involves paying a one-off registration cost to your chosen examination center. The registration fees are approximately the same across Switzerland according to the language level, however there can be some price variation between centers.
The registration fees for the DELF Bern are currently:
| | |
| --- | --- |
| A1 | CHF 200 |
| A2 | CHF 230 |
| B1 | CHF 290 |
| B2 | CHF 380 |
What about the C1 and C2 levels?
The DELF only offers certificates for A1, A2, B1 and B2 levels. If you're looking to obtain a certification for the highest levels, C1 and C2, you will have to take the DALF (Diplôme approfondi de langue française), which has been designed specifically for advanced language users.
The DALF is structured in the same way as the DELF and represents a natural evolution from B2 level, but it is administered slightly differently, and the test can have a slightly higher registration fee.
Designed to test more advanced French comprehension and communication skills, the DALF diplomas are highly respected by Francophone universities and employers. That being said, the DELF B2 diploma is still considered sufficient for enrolling in a French university.
On GlobalExam, we have learning resources to help you prepare for all levels of the DELF, as well as the DALF C1.
Preparing for the test with GlobalExam
If you've decided that the DELF is the right language exam for you, we're here to help you prepare. Whether you're starting out at A1 or looking to fine tune your skills for B2, there are learning resources and training exercises to suit every level on GlobalExam.
Use our free study sheets and revision materials to familiarize yourself with grammar concepts and vocabulary. Our handy search feature will help you to identify revision materials that focus on whichever skill you're looking to strengthen, whether it's articles, adverbs or adjectives…
Once you've consolidated your knowledge, you can switch to GlobalExam's Training Mode in order to test yourself in graded exercises.
What's included with a Premium account?
By upgrading to a Premium subscription, you can take your exam preparation to the next level. By upgrading to a Premium account, you can unlock more advanced learning tools, such as:
Custom Study Plans
Statistics and Corrections
Exam Mode (including five graded mock exams)
Each mock exam tests the four key communication skills (reading, listening, speaking and writing) using interactive exercises. The GlobalExam tests are designed to mirror the real DELF test in content and style, all so that you can feel fully prepared when test day arrives.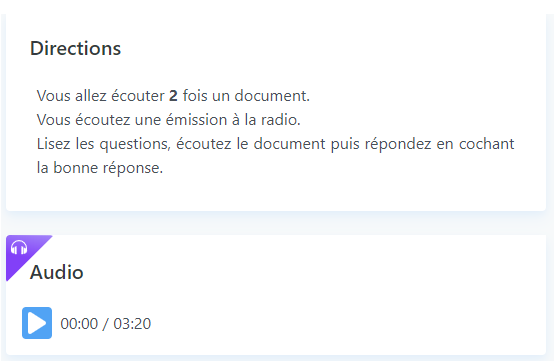 As you continue to study and test yourself, you can track your progress in detail with our Statistics and Corrections feature. Review your learning journey, identify your weak points, check the corrections, and never make the same mistake twice.
If you've decided that the DELF is the test for you, there's no time to waste!