For information on taking the DELF exam in Lausanne, look no further.
In this article, we go through the following points:
What the DELF is and how to register for the test
How to find a DELF Lausanne examination center and registration fees
How GlobalExam can help
If you wish to pass the exam, whether in Lausanne, Bern, or any other city, practicing DELF with GlobalExam is the best choice you can make!
Ready? Let's dive right in!
What is the DELF?
The DELF is a certification in French as a foreign language issued by the French Ministry of Education. It stands for Diplôme d'études en langue française and is internationally recognized as an official certification of your comprehension and communication skills in French as a second language.
The DELF "tout public" is an exam designed for adults and available from level A1 to B2, corresponding to the Common European Framework of Reference (CEFR) for language levels. Each candidate can choose the test level they register for, but prospective applicants to Francophone universities usually aim for B2, the minimum requirement for entry.
The DELF is designed to test your French level across four key skills: listening, reading, writing, and speaking.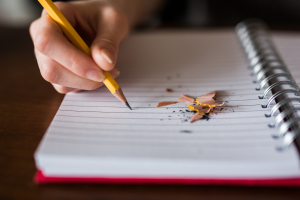 What are the advantages in taking the DELF?
If you're learning French as a second language, you might want to consider some of the following advantages to transforming your language skills into an official certification:
Gain international recognition of your proficiency in French
Enhance your CV
Open doors to further and higher education in French-speaking institutions
An official certification demonstrates to future employers what you can do in French in meaningful terms, and it can be a big plus for your professional advancement as well.
If it's postsecondary education you're considering, the DELF is internationally recognized as a valuable certificate demonstrating your proficiency in French. It can even open doors to higher education francophone institutes and universities around the world.
How is the test examined?
The DELF listening and reading tests are marked by trained examiners who work to a common grading system. The writing and speaking tests are graded by independent examiners, and each test score usually represents an average of the marks awarded by the two examiners.
The pass mark for all DELF tests is 50 out of a total of 100 marks, but you must score at least five out of 25 in each individual test to pass. Your grade and the breakdown are available one month after taking the test, although it can take several months to receive the official certificate.
How to register
You can register for the DELF online using the DELF/DALF Switzerland registration platform. Once you've selected your language level, the type of DELF you wish to take, and the exam session, the platform will show you which examination centers have available places and their respective registration deadlines.
To complete your registration, you will need to input the following information:
Personal information
Address and contact details
University, language school or training program
If your university or language school is covering the costs of the test for you, you will receive an email with payment instructions that you must forward to your pedagogical supervisor.
Where to take the DELF in Lausanne
To find an examination center for the DELF in Lausanne, you can begin by searching on the DELF/DALF Switzerland website. We've made life a little easier and laid out the key information for the DELF Lausanne below:
DELF Lausanne examination center
Address
Contact
Centre d'examens Lac Léman
c/o ifage - Fondation pour la formation des adultes
19, place des Augustins
CH-1205 Genève

Stéphanie Seidel ([email protected])
Although there is currently only one DELF examination center in the Lausanne region, make sure to check back on the website in case that changes.
Once you've identified the most convenient exam center for you, you can consult the calendar of exam sessions and proceed with registration, all on the same website.
How much does it cost to take the DELF?
Taking the DELF isn't free and involves paying a one-off registration cost to your chosen examination center. The registration fees are approximately the same across Switzerland according to the language level, however there can be some price variation between centers.
The registration fees for the DELF Lausanne are currently:
| | |
| --- | --- |
| A1 | CHF 205 |
| A2 | CHF 235 |
| B1 | CHF 285 |
| B2 | CHF 375 |
Preparing for the DELF with GlobalExam
Whether you're just starting out in French or you're an advanced user in the language, GlobalExam has a range of learning materials to help consolidate your skills and advance to the next level.
Our e-learning platform allows you to prepare for different exams in multiple languages. Once you've created a free account, all you have to do is tell us which language, exam and level you're studying for, and we'll show you a whole range of study materials and learning exercises to help you prepare.
We have over 200 study sheets covering the vocabulary, grammar and discussion topics required to pass the DELF. Identifying the revision resources that you need is easy with our search function, too.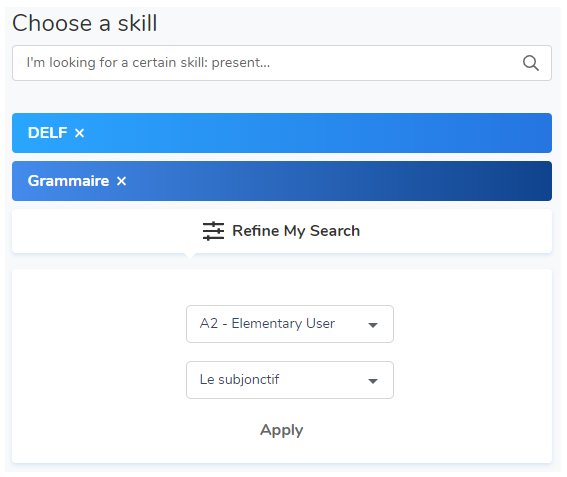 What's included with a paid subscription?
If you want to take advantage of our full range of learning resources, you may want to take consider a premium subscription. With a paid account, you can access your learning statistics and corrections, and a personalized learning plan, as well as the chance to take a DELF mock exam under real exam conditions.
Tell GlobalExam the language, exam and level you're preparing for, and we'll organize your learning for you. With a custom study plan, we break down our learning resources and test materials into bitesize sections for you to work through.
Plus, with the help of our progress tracker, you can see where you are and exactly how far you have to go before the test.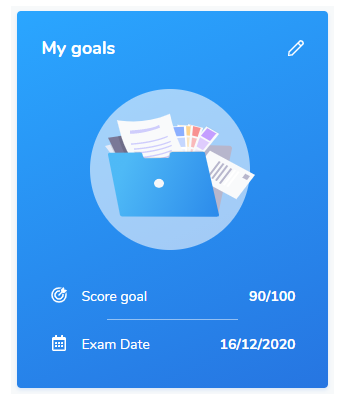 If you've decided that the DELF is the test for you, there's no time to waste!