While college students and adults have a wide range of English assessment tests available, the same could be said for young (even very young) learners as well! While the major players in English assessments are well known, you may not know the difference between the tests available for children.
This article will explain the differences between some of the English tests designed for young non-English speakers, our guide on which ones are the most accepted and useful, and some tips on how to prepare for the exam online.
We're sure you'll find out everything you need to know to choose the right English test for your young learner below!
Some of the major English tests for children
First of all, what are these language levels? In the CEFR scale, CEFR stands for the Common European Framework of Reference for Languages, which is a widely accepted scale of English proficiency in any foreign European language. The scale goes from A1, representing beginning learners, up to C2, which represents near-native fluency.
You have surely heard of the YLE, the KET, or the PET tests. These are all administered by Cambridge English and are designed to certify English proficiency for children, but they are designed for different age groups and to certify different language levels. In other words, if you pass these tests, depending on your age, you will certify that you have attained a certain level of English.
On the other hand, there is the TOEFL Junior test. Like the other tests for young learners, the TOEFL Junior will prove your level of English, but like its "big brother" TOEFL test for students and adults, it is administered by ETS Global. Unlike the other tests, the TOEFL Junior simply gives you a score, and this score corresponds to any of the CERL levels up to B2.
This table presents the main differences between the major English tests for children.
| | | |
| --- | --- | --- |
| Test name | Intended target age | CERL level assessed |
| YLE | 7-12 | Beginner to A2 |
| KET | 12-13 | Up to A2 |
| PET | 13-14 | Up to B1 |
| TOEFL Junior | 11-15 | A1 to B2 |
Why choosing TOEFL Junior is the right decision?
If your child is anywhere between the ages of 11 and 15 years old and you simply need to prove their English level up to level B2 (rather than attaining one level per test), we recommend taking the TEOFL Junior test.
Because the TOEFL name is so widely recognized, the TOEFL Junior is your best bet to prove your English level, no matter what it is!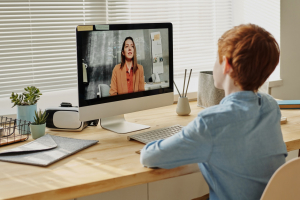 Do not wait and start registering now!
Format of the TOEFL Junior test
The TOEFL Junior mainly focuses on Language Form (multiple-choice), Listening Comprehension (multiple-choice), Reading Comprehension (multiple-choice), and Speaking (reading a text aloud).
Here's an example from the Language Form section, testing both vocabulary and grammar:
Dear students,
Next week we will be hosting the 15 TH _______(1). Our sports teams will be
competing _______(2) the best regional teams in their area. […]
Fill in the blank 1:         A. annual sports competition
B. sports annual competition
C. competition annual sports
D. sports' annual competition
(Correct answer: A)
Fill in the blank 2:        A. in front of
B. for
C. against
D. to
(Correct answer: C)
Most of the TOEFL Junior questions follow this multiple-choice format.
For the Speaking portion, you'll hear a scenario and be asked to play a role. For instance, you'll listen to an assignment about a group science project given by your teacher. Your speaking prompt may be:
You are having a meeting with a classmate. You decided to work with him for
the science project. You need to remind him what the teacher said. Be sure to
mention:
– The deadline to turn in the project
– The project elements (presentation, demonstration)
– The conditions that the teacher set
This should give you an idea of what sorts of questions are included in the TOEFL Junior.
Prepare online with GlobalExam
But how can you revise for these types of questions? At GlobalExam, we've got you covered! You'll get lots of simulated questions like these to practice along with sample answers.
We'll provide vocabulary and grammar files selected specifically for young learners so they can boost their English level overall.
Plus, you'll get full mock TOEFL Junior exams to practice at home and a personal statistics tracker to monitor your child's progress in real-time. The best thing about revising on GlobalExam is that it's 100% online, so you can fit in the revision schedule any time of day!