We can not stress this enough: the best way to become fully fluent in your target language is to go abroad! When you're fully immersed in the country of your target language it becomes a thousand times easier to learn. But especially a million times quicker to learn. So, where can you go to learn French? In today's new post, GlobalExam will take you to French speaking Cities to help you learn French!
Why is learning French abroad so efficient?
Learn in France, Québec, Belgium, Switzerland, Guadeloupe & Martinique
Study and improve your French with our General Français program!
Now without further ado, let's get into it!
Why learn French while abroad?
"How long does it take to learn French?", "How long does it take to speak fluently?" As you can imagine, it is not easy to answer these questions, but what we can do is provide you with one of the top tips to make your study easier which can be supplemented with online learning resources. Do you know which tip we're talking about? About going abroad, of course!
Whether you want to learn French as a child or as an adult, whether you want to learn the languageas a beginner or as an advanced learner, going abroad in a French speaking country is the most efficient and immersive way. When you're in a different country, you can not escape practicing your skills. And practice makes perfect! The more you talk, the more you improve your accent but also the way to produce sentences. Depending on which city you are, you will even pick up the local accent when talking. It is also easier for you to mimic and memorise vocabulary and structures: you hear them everyday and it is easier to learn this way.
In conclusion, whatever language you choose to study, whether French or Spanish or others, know that going abroad is the best choice you can make.
Learn French in France
Paris
If you have understood how it is important to study French and what are the main reasons to learn it, it is not possible not to go and practice it in Paris. With over two million people and a lot more visitors each year, Paris is one of Europe's most visited cities. The city has a lot of famous landmarks such as the Eiffel Tower, the Arc de Triomphe, Montmartre, the Louvre, Notre Dame… Paris has so many stunning sights it's impossible not to love wandering through its streets. If you're not that much into buildings, French food is another great reason to visit Paris. The city is filled with littled restaurants, cafés, brasseries that will serve you the best of the best of French cuisine.
Montpellier
Montpellier is the third largest city by the Mediterranean sea in France. It is perfect if you want a taste of southern French culture. The city is well worth exploring but weirdly doesn' have the same attractiveness than other great French cities. Much like other cities from this coast, Montpellier has a long history that dates back to medieval times (and some others even date back to Roman times like Nîme and Narbonne) so if you like strolling in medieval looking streets, the old town is just perfect.
Nice
Nice is another great southern city, that is directly to the coast. Yes, it means that you have access to the beach! Take a stroll along the Promenade des Anglais, one of the most famous places you can go in Nice. It is a huge boulevard by the beach that is filled with bars and restaurants as well as beach clubs. Just like we mentioned Nîmes and Narbonne, Nice has also a very long history that dates back to the Roman Empire. If you like history, there are paths to follow to visit the old city as well as an archeology museum.
Bordeaux
More and more visitors are choosing Bordeaux as their destinations and rightly so! Bordeaux, unlike a lot of other huge cities, is bike Friendly! If you don't have a bike dont' worry, renting a bike is super easy and really cheap and it's a great and unusual way to explore the city. Bordeaux is also home of the famous wines Grand-Crus from the region. Make sure you get a taste of these in bars and also visit the museum dedicated to Bordeaux Wines: La Cité du Vin.
You can't go to Bordeaux without going to La place de la Bourse and miss the Miroir d'Eau. Le Miroir d'Eau is the world's largest reflective pool and it is amazing to see.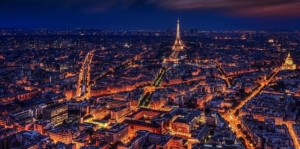 Learn French in Quebec
Quebec City
If you like history and old cities, you should start by going to the Old Quebec City which is also a UNESCO World Heritage Site. A great thing to not miss is the Ice Hotel, which is a very important tourist attraction from Quebec City. Only 10 minutes from the city center, it is an awesome and odd place to visit. Quebec city is also famous for the magnificence of its surroundings; if you're visiting Quebec City, you will have easy access to huge green valleys, wide lakes but to Montmorency Falls and local sugar shacks as well.
Montréal
Just like Quebec City and its old town, you can not go to Montreal and miss the Old Montreal. Renowned for its architecture and landmarks the Old city is a must see. If you're more into music, parties etc, Montreal is the place to be? With more than hundreds of multi day events per year, Montreal is the city of Festivals. You should always check out which event takes place when you're visiting, there's always something to do. Monreal is also filled with interesting modern museums and great shops, depending on what you like to do. If you don't really like the cold, Montreal has an underground city filled with shops, cafés and so much more to explore.
Learn French in Belgium
Brussels
Food is naturally what comes to mind when we talk about Brussels, the capital city of Belgium. Waffles, French Fries, Chocolates, Beer… all the good things are from Belgium! And you will find the best of these tastes in Brussels. You should definitely give Belgian Waffles a try, they're well worth it and you can find them all around the city. If Waffles are too sweet for you, then Belgian Chocolate will convince you for sure! The city is the capital of Art Nouveau so if you like Architecture Brussels will surprise you for sure. Brussels is also home to some famous comics such as the smurfs, Marsupilami or Tintin and its streets are filled with street art representing each iconic character.
Liège
Waffles are so important in Belgium that you also have Liège Waffles. They're a must-taste and it is definitely worth it to order a takeaway and visit the city while eating this delicious treat. Liège also has great must see landmarks such as La Place du Marché, Collégiale Saint-Barthélemy or le Cours Saint-Antoine . But the most challenging one is la Montagne de Bueren. With 374 steps but a 30° slope, the Mountain is one t=of the most extreme of the world and is hosting a lot of cultural and sportive events.
Learn French in Switzerland
Geneva
Geneva is an important diplomatic hub and the expression "cultural melting pot" is especially true to Geneva. The city hosts the headquarters of the United Nations as well as many other international diplomatic organisations. The city's streets are highly internationalized with people speaking many different languages and shops or restaurants proposing many different international options. Geneva is also home to the CERN and a lot of research centers so if you're fond of science this is a great place to be. It's location is also a great asset: situated in the mountains le Jura and les Alpes, near a great lake (Lac Léman) this setting is wonderful for those who are looking for a bit of nature.
Lausanne
Situated near Geneva, on the northern side of the Lac Léman, Lausanne is another swiss gem to discover. And just like Geneva's, the setting surrounding the city is incredible. The view you can get of the lake with the towering Alps is absolutely stunning and will please any nature outdoor lover. If you want to take a good look of the lake and its mountains and admire an old medieval landmark at the same time, you can go to la Cathédrale de Notre Dame de Lausanne. You will be able to admire the lake right in front of the Cathedral and then go inside to visit the 9 centuries old monument.
Learn French in Guadeloupe and Martinique
Guadeloupe
If you're dreaming about blue lagoons and pure white sand beaches then you should definitely go to Guadeloupe. There are so many beaches and smaller hidden beaches that they're not overflowed by tourists and you can easily enjoy a peaceful time by the shore. Guadeloupe is also home of some of the Creole Cuisine and is definitely worth a taste. Plus, the Island is rich in culture and history so there are a lot of landmarks and museums to go to: the Island was an important sugarcane and coffee farming point. Don't forget to go to the markets where you will certainly find treasures from the Island.
Martinique
Martinique is also situated in the Carribean, which means plenty of white sand beaches and crystal clear blue water. The Island also provides with Creole cuisine but also proposes with African-Indian and African-French cuisine. Martinique is also known for being the Island of Flowers so you will find marvellous gardens and floral decorations. And if you're into hiking on a volcano, you can always go to the Mont Pelée, which is a 1397 m high live volcano.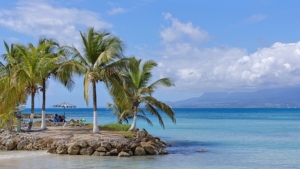 Train your French speaking skills with our online solution Global General.
We sure hope all of these beautiful cities situated in various French speaking countries helped you decide where you will go next to learn French!
There are so many things to discover abroad, but if you're not ready to go on vacation (or move there) just yet, you can always find online solutions such as the one that GlobalExam created for you: Global General.
Global General is a training platform meant for beginners as well as intermediate levels and will help you improve your French speaking skills.
It provides you with fun and engaging activities, detailed corrections and a personal trainer. All of this to ensure that you stay motivated while you learn, that you progress safely and at your own rhythm.
There is everything you need to learn and speak fluent French in no time.
What are you waiting for? Hop on with us and let's learn French together!