If you want to help your kid to learn French then this is the post for you! There are so many positive reasons to learn a new language, especially as a kid. It can develop their curiosity, open mindedness, communication skills as well as increase their understanding of culture. In today's new post, GlobalExam will guide you through how your kid can learn French quick and easy:
Why it is important to learn French as a kid;
Learn French through best videos, games, cartoons, audio books and songs;
Learn the basics of French online with General Français!
Now without further ado, let's get into it!
Why is it important to learn French as a kid?
Now that you know why to study French and the main reasons to learn it, it's time you let your child learn it. Allowing him to learn a language from a young age will benefit him greatly. Want to know why? We'll tell you all the reasons right now!
The main reason being: kids are just better at it. A lot of studies have shown that bilingualism can be a real advantage for kids. Even if it is difficult to say how long it takes to learn French, it is certain that a child will do it faster. A child's brain will be better at memorizing new concepts so they will naturally learn a lot quicker than adults do. Kids are also less self-conscious: this will prevent them from being afraid of mistakes! They won't worry about being wrong, using the wrong tense, mispronouncing etc. Something that adults tend to fear a lot. Teaching your kid French from an early age will help them get a better understanding of cultures: theirs, but French culture as well. It will develop their creativity, communication skills as well as their empathy.
Knowing French can also help them be better at learning other languages and Romance languages especially: French has a very interesting grammar that will surely help develop understanding mechanics in your kid's brain. This will help them learn other languages faster. French is also closely related to Romance languages so it will be so much easier to learn them too. In the future, knowing a second language (and especially French or Spanish) can really help kids get interesting job opportunities, get them to study abroad, travel to one of the French-speaking countries or the whole world…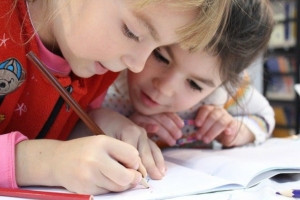 How to learn French through YouTube videos, for kids
Among the best online resources for studying a language are YouTube videos. Here are five YouTube channels that you can explore with your kids to learn French.
Monde des Titounis
This channel is meant for toddlers and is filled with lullabies and nursery rhymes. They all use very simple vocabulary as well as visual support and sometimes gestures so your kids can understand (and associate) what they see and what they hear!
Frenchpod101
Frenchpod101 is meant for older children and is very thorough. It proposes tons of videos on various subjects: nouns, numbers, vocabulary as well as listening activities and trivia videos about French culture.
Oh la la I speak French
This is a great channel to learn French for beginners, and is very easy to navigate and find what you need: videos are divided between vocabulary, grammar, French slang, verbs…
Learn French with Pascal
This channel is very visual and is great for kids who have a visual memory (meaning they will memorize best when they see). For each concept or word, a short video is made with animated characters or drawings.
Easy French
This channel is meant for older kids. Although videos are focused on cultural aspects of the French language, there is a lot of vocabulary and useful information to pick from their videos. Plus, it will train their ear to the French language!
The best games to learn French for Kids
Here are five online and real life games that you can play with your kids to learn French.
French games.net
This website is a goldmine to find games. If you're a beginner this website is perfect. Choose a theme, learn the associated lesson then play games related to what you've learned in order to make sure you've understood everything perfectly. Simple as that!
Hello World
This website contains more than 700 mini games you can play. You can either choose to play games you already know (such as crosswords, puzzle, memory etc) or choose mini games meant to make you learn new things.
Le pendu (the hanged man)
This is a classic vocabulary game to play with friends. Choose a word and the other players have to guess what it is, one letter at the time. If the letter is not in the word, start to draw a hanged man ("le pendu") piece by piece. If they guess the word, you lose, if they're hanged, you win!
Jacques a dit (simon says)
Just like the hanged man, there is one kid against the others. When the "game master" says an order preceded by "Jacques a dit" the other kids have to do it.
For example: "Jacques a dit toucher vos mains!" ("Simon says touch you hands!")
If they don't, they're eliminated. If the game master says an order without "jacques a dit" first, the other kids don't do it. Last one in the game wins!
Ni oui ni non
This classic French game is really funny and you can play it with 2 or more players. A game master asks questions to the others (generally 10 questions) and they absolutely have to avoid answering these questions by "oui" or "non". This is a great way to practice formulating questions as well as making sentences.
The best cartoons to learn French
Here are five cartoons and animated TV show that you can watch with your kids: one of the best tips for learning French easier.
Trotro
Aimed at young children, this animated TV show is about a little donkey named Trotro. The episodes are short (3 to 4 minutes) and the vocabulary is super simple. It explores easy and simple themes such as being nice, playing hide and seek, going to bed, playing with friends etc.
Petit Ours Brun
Just like Trotro, Petit Ours Brun is a great show for kids. It depicts the life of a little bear, Petit Ours Brun and his family/friends through various easy and accessible situations.
Zinzins de l'espace
Aimed at older children, Les Zinzins de l'espace is very funny and easy to understand. In this show, five aliens crash on earth and hide in the attic of a house. In the episodes, they try whatever they can to get back on their home planet but fail every time.
Les Monsieur Madame
The Mr Men series are a must see for kids who want to enlarge their vocabulary. The animation is simple yet very pleasant and the dialogues are clear and very easy to understand. Parents will enjoy this one too!
Il était une fois
This older TV show is meant for older children (and adults!) but it is a must watch. It covers a lot of human history and is a very interesting way to get how the world works. The dialogues are fairly simple to understand, everything is greatly explained and it will improve your kid's vocabulary for sure.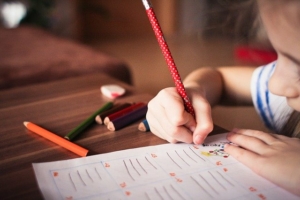 The best audio books to learn French for kids
Here are four audio books that you can listen to with your kids to let them become fluent in speaking French.
Le Petit Prince
While this audio book is not meant for complete beginners, Le Petit Prince is a must read (or a must listen, if you will) for all ages. The story follows a young Prince who travels from planet to planet and meets various characters.
This story is filled with elements of friendship, loneliness, loss and love. It is very poetic and kids as well as parents will enjoy it.
T'choupi
Just like other TV shows such as Petit Ours brun and Trotro, T'choupi is another great cartoon for toddlers. The audio books are very easy to follow with simple and basic vocabulary. The themes are very accessible : the alphabet, friends, school…
If your kid likes T'choupi, there are books and short animated series available too as well as smartphone applications with fun activities.
Oui-Oui
Just like T'choupi, Oui-Oui is a great classic which proposes tons of activities and things to do alongside their audiobooks.
If you don't know about Oui-Oui, it depicts the story of a wooden doll named Oui-Oui who lives in Minivelle, a town filled with living toys.
There's even a series focused on learning languages (Apprends l'anglais avec Oui-oui) if you want to help your kid learn vocabulary from Spanish, Russian and Mandarin too!
Le petit Nicolas
This series of illustrated French books is another great classic in which we follow the childhood of a little boy named Nicolas, set in the 1950s.
There are a lot of audiobooks available and it is best if you can read/see the book while listening to the audio book.
The best songs to learn French as a kid
Here are four children songs to teach French to your kids.
Frère Jacques
The melody is very easy to remember as well as the lyrics: this song talks about a monk, Frère Jacques, who overslept and forgot to ring the morning prayers. There are a lot of repetitions and it is a great song to practice the interrogative and the imperative forms.
Au clair de la lune
This very famous lullaby is known all over France. It tells the story of a boy who needs something to see in the dark and asks his friend Pierrot. It is fairly easy and short, and will help your kid practice the first and third person in the present tense.
Une souris verte
This weird and funny song is known by all French kids. It is about catching a green mouse and dipping it in oil which will turn it into a hot snail.
A perfect song to teach simple vocabulary as well as simple sentence structures such as the present and the imperative.
Un éléphant qui se balançait
This famous nursery rhyme tells the story of elephants who are swinging on spider webs. As the song goes, there are more and more elephants on the spider swing and it eventually cracks under their weight. The lyrics are the same on all verses except for the number of elephants: a great song to teach your kids about numbers!
Learn French online with Global General
If you've decided to teach French to your kids then you've come to the right place.
Our Global General online solution will help you get on track with learning French to your kid. Meant for beginners as well as intermediate levels, you will have access to:
Fun and engaging academic training that will help your kid stay focused
Detailed corrections as well as available coaches, in order to make your kid's progress more personalised
Revision sheets, flashcards and a lot of other features accessible through your account anytime, anywhere
So, what are you waiting for? Hop on with us and let's learn French together!