In this article, we're going to outline the IELTS exam for you and answer the most common questions that people ask about IELTS. We'll take a quick look at the format and what things are on the exam. Also, we'll go over how to register, times, dates and get the results. We'll quickly examine the different levels and scoring systems of IELTS, too. We'll tell you how GlobalExam can prepare you for the IELTS exam as well.
What is IELTS?
IELTS is the International English Language Testing System; it's a widely recognized and well- regarded English exam that assesses a non-native speaker's ability to use English in four areas: listening, reading, writing and speaking.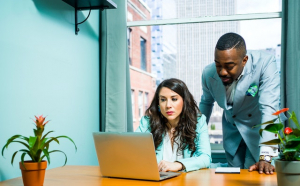 Find out more articles about the IELTS test:
Who should take an IELTS exam?
If you plan on attending an English language university, or work for an international firm or immigrate to an English speaking country, then IELTS is a good choice for you.
IELTS Format
The IELTS exam will assess a candidate's abilities in listening, reading, writing and speaking. The exam is 2 hours and 45 minutes. There are two main types of IELTS (Academic and General Training). Both versions of IELTS assess the four major language domains.
Listening section has 40 questions in the form of multiple choice.
Reading section has 40 questions, relating to three different texts.
Writing section contains two writing tasks-short task and essay task.
Speaking section is a face-to-face interview with an IELTS examiner. There are three parts, and it lasts 11-15 minutes.
The sections are on the same day, except that the speaking section may be a week before or after the other sections.
The IELTS Levels and Focus
The Academic and GeneralTraining versions of IELTS use nine bandwidths to describe your score. Below are descriptions:
| Bandwidth | Bandwidth Ranking of Ability | Description |
| --- | --- | --- |
| 9 | Expert User | Mastery of English language use. |
| 8 | Very good user | Very good operational command of English with only minor problems. |
| 7 | Good user | Good general command of English despite some errors and misunderstandings. |
| 6 | Competent user | Competent command of English in unfamiliar situations. Good ability with everyday situations. |
| 5 | Modest User | Ability to understand the general meaning of a situation in English although there are numerous misunderstandings. |
| 4 | Limited user | Ability to deal with a few daily situations. |
| 3 | Extremely limited user | A person is only able to deal with very familiar situations. |
| 2 | 2 Intermittent user | The person experiences great difficulties communicating and being understood. |
| 1 | Non user | Does not know how to speak English, except for the ability to use a few basic phrases. |
| 0 | Did not sit the exam | The person did not show up for the exam. |
Times, Dates, Registration and Results
Step one – Go to the registration page and find your nearest IELTS test location. You can follow these links to do so:
ielts.org/book-a-test/find-a-test-location
Step two – Register for your IELTS test.
You can register online, or it's possible to download an application form, and submit it to your local exam center. You will need an official government ID. The same ID is needed for identification on your exam day and to pick-up your results.
Step three – Your IELTS test is booked. You should receive notification that your exam has been booked.
Your Scores
You will receive a TRF (Test Report Form); you can have it mailed to you if you wish. Your scores will be available as shown below:
Paper-based test: 13 days after your IELTS test.
Computer-delivered IELTS: 5 and 7 days after your IELTS test.
Scores are valid for two years. You can sit the IELTS exam as many times as you like. The fee is at least 175£, and will vary somewhat, according to your location.
Preparing for IELTS with GlobalExam Online
It requires a lot to prepare for IELTS. Time and effort is up to you. GlobalExam can help with the organizing and the materials to become familiar with the IELTS exam's format and question types. GlobalExam has an excellent platform to prepare with.
What do we have for you?
GlobalExam's online IELTS exam preparation has the following:
Exercises, exercise and more exercises, so you will get the practice you need for IELTS tasks, and question types
Mock exams with timing. It's a great way to practice for an actual exam
Corrected materials – so you can fix the errors
Progress tracking metrics that show you your progress and how to improve
Feedback to keep you motivated
Multiple study paths; choose a path that suits you
Knowledgeable staff who want to see you excel
Great platform to enhance your IELTS preparation
Our online IELTS preparation is a premium service. We provide a free version of our IELTS materials, giving you the chance to try things.
We believe that you're going to like our website and want to sign up. Our IELTS preparation is affordable, effective and flexible. Why not give us a try?