The PET English Test is known today as the B1 Preliminary test, because it certifies you as a B1 level student in English. This exam tests your level in writing, reading, speaking and listening, and shows you have mastered the basics.
You want to prepare for the PET but you don't know where to start? You are on the right page!
In this article you will learn:
How are

scores

evaluated

How to

interpret

your score

Some pieces of

advice

to get a great score

How can we help you get

prepared
Let's begin!
Evaluation of the PET score
After taking the PET, you will receive a Statement of Results, and if you are successful in the exam, you will also receive a certificate. 
To be able to receive the certificate qualifying you as a B1 English learner, you will need to get between 140 and 170. If you get between 102 and 119, your score will be reported in your Statement of Results but you won't receive the certificate. 
Depending on your score, you will get three different grades: A, B or C.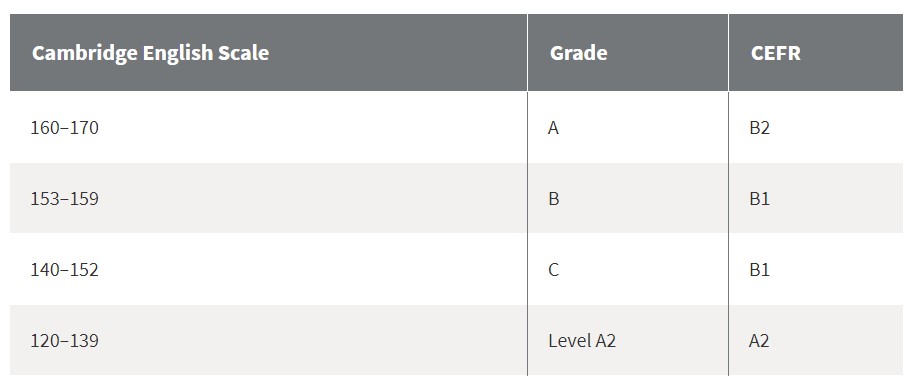 Source: cambridgeenglish.org
Interpretation of the score
The PET lasts about two hours and a half. It is made up of four papers, each representing 25% of the final grade.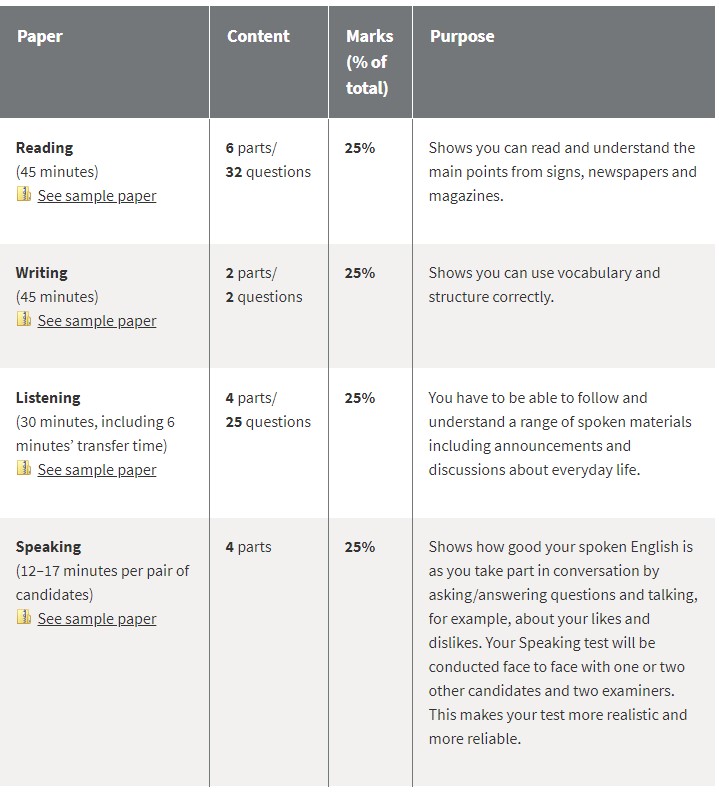 Source: cambridgeenglish.org
Advice to get a great score
There are four things you need to do to prepare for the exam:
Practice your English in all four of the language skills – reading, writing, listening and speaking.
Improve your grammar and vocabulary.
Make sure you know what to expect in the exam.
Make sure you know the practical arrangements for the exam.
The most important of these is to practice communicating clearly. For example, in the Speaking test, the examiner will be interested in how you ask your partner questions, and how you answer their questions.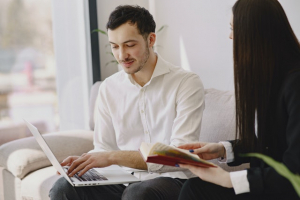 Get prepared with GlobalExam
Before taking the PET, it is important to know what are your strengths or weaknesses when it comes to language learning. Indeed, it is difficult to study everything at the same time, it can seem a bit overwhelming. 
GlobalExam allows you to evaluate your level for free before taking the exam. This way, you will know exactly what you need to work on if you want a great score at the PET. Once you know the areas you need to improve, you can try to do some related exercises and mock exams, all available on the GlobalExam platform. You will also have access for free to Vocabulary and Grammar study sheets, to give you a push in the right direction.
If you would like to go further, you can sign up for our Premium Plans that give you access to individualized study plans, statistics and progress tracking. All of these sections have been designed to help you prepare for the PET in the best conditions as possible.