class="addtoany_share_save_container
addtoany_content
addtoany_content_top">

class="addtoany_header">Share on
class="fusion-fullwidth
fullwidth-box
fusion-builder-row-1
fusion-flex-container
nonhundred-percent-fullwidth
non-hundred-percent-height-scrolling"
style="background-color:
rgba(255,255,255,0);background-position:
center
center;background-repeat:
no-repeat;border-width:
0px
0px
0px
0px;border-color:#eae9e9;border-style:solid;"
>

class="fusion-builder-row fusion-row fusion-flex-align-items-flex-start" style="max-width:calc( 1400px + 0px );margin-left: calc(-0px / 2 );margin-right: calc(-0px / 2 );">

class="fusion-layout-column fusion_builder_column fusion-builder-column-0 fusion_builder_column_1_1 1_1 fusion-flex-column">

class="fusion-column-wrapper fusion-flex-justify-content-flex-start fusion-content-layout-column" style="background-position:left top;background-repeat:no-repeat;-webkit-background-size:cover;-moz-background-size:cover;-o-background-size:cover;background-size:cover;padding: 0px 0px 0px 0px;">
What does TOEIC mean?
First things first: TOEIC stands for Test Of English for International Communication. It is a globally accredited standard for your English language ability on a score level between 0 and 990. Institutes of higher education require a minimum score in order to enroll. Obviously, the closer you are to 990, the more chance you will have to join your favorite university. For example at UQAM the minimum requirement for a Master's Degree in International Management is 750 points.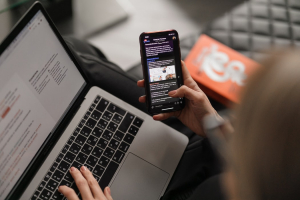 Why take the test?
On your CV a good TOEIC score is more telling than your own indication of 'reasonable' or 'average' user of English. Any employer or HR manager is familiar with the TOEIC and will instantly recognize its added value.
As the job market is increasingly competitive, you would want to stand out and get through to the interview stage. TOEIC will be an eye-catcher on your resume.
Nowadays it is essential to have a good level of English and TOEIC is a widely recognized measurement. The test has been elaborated by language specialists. It is an international guarantee of your English language skills.
Now you've got your high school diploma in your pocket and wish to join an MBA or you would like to do a Master's degree and the University of Quebec in Montreal or any US universities that has caught your attention. When you scroll down the requirements there is the TOEIC. Depending on the program you will need a minimum score in order to be considered for a place. One point below the required level and you won't get in. Obviously, you don't want that to happen. You double-check deadlines and look for the nearest TOEIC test center.
Let's say you've got two months to prepare. Our training platform is your best friend during that time. We will ensure plenty of exercises, reviews, and mock exams to help you get not just one point above the minimum requirement but a lot more: a comfortable score. UQAM is just one step away!
Be ready for your test day
What to expect on D-Day? The entire TOEIC test lasts exactly 2 hours. There are 200 questions and they are all multiple choice. The exam is divided in two sections: listening and vocabulary/grammar/reading comprehension. Each section consists of 100 questions and in the listening part you will hear each recording only once! Is it a difficult test? Of course we say that the TOEIC is peanuts, provided that you have sufficient training and practice.
Exam centers are usually vast and could feel quite intimidating. Allow enough arrival time: once the test starts nobody will be authorized in. Make sure to bring a valid ID and your official TOEIC invitation form. You will be seated by an invigilator and required to switch off your smartphone. It's probably wise to bring in a bottle of water – and a lot of concentration! Each section will be introduced by an example. Listen carefully, keep a sharp eye on the clock, and give your best shot for the next 2 hours!
Train online with GlobalExam
At GlobalExam we offer online training that makes the TOEIC preparation fun, challenging, and rewarding. As the saying goes "no pain, no gain." A one-off session won't do the trick. Compare it to your driving license: you need regular practice – unless your name is Lewis Hamilton!
You can practice when you want, how often you want, and wherever you can: the platform is available both online and on your smartphone. For example with the interactive interface you can set a date for your actual TOEIC test and the platform will adapt its timetable to your deadline.
The platform offers real time statistics and instant feedback. If you have trouble with a particular section, extra revision and additional exercises are generated. Multiple mock exams highlight your progress and possible pitfalls. Answers are explained in detail. If you are struggling with a grammar concept, then there are multiple documents that get to the nitty-gritty of the second conditional for example.
Who told you that learning English is tiring and stressful? At our company a team of language specialists update, add, and revise materials on a daily basis to make learning as enjoyable as possible.