Comment se déroule l'exercice 2 du Speaking ?
La partie 2 du Speaking porte sur des images. L'examinateur vous demandera de parler pendant 1 minute sur 2 photos puis demandera aux autres candidats de parler 30 secondes sur celles-ci. Et ainsi de suite pour chaque candidat. L'objectif de cette partie est de tester votre capacité à structurer votre discours et à exprimer votre opinion. Cet exercice dure 4 minutes.
Exercice 2 Speaking B2 First – Tips
Nous vous recommandons d'effectuer une bonne préparation au Cambridge First afin de maximiser vos chances d'avoir un bon score.
Veillez à prendre votre temps et de parler sans interruption. Vous devez à la fois répondre à la question et les comparer.
Avant de vous présenter à l'examen, entraînez-vous à commenter une photo en 1 minute. Cela peut paraître long comme très court si vous avez beaucoup de choses à dire.
Si vous faites une erreur durant votre temps de parole, vous pouvez vous reprendre il n'y a pas de mal à ça. Cependant vous devez vite revenir à l'essentiel après vous être autocorrigé.
Exemple
Exemple d'un extrait d'exercice de la base d'entrainement du B2 First de GlobalExam.
Vous voyez :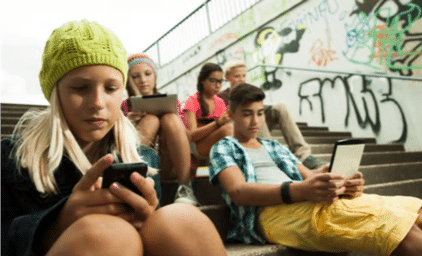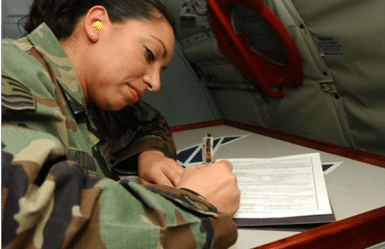 L'examinateur vous pose une question : Compare the two photos and talk about the benefits of communicating in these ways.
Vous répondez :
Both pictures show different methods of communication. In the first picture we can see a group of young teenagers sitting outside and using electronic devices whereas in the second picture we can see a soldier sitting alone writing. I think the young people might be texting or playing games with each other, though they also could be communicating with people that are not in the picture. This is similar to the soldier, whoever she is writing to is not in the picture. The soldier could be writing a report or a letter to a friend or relative.
There are benefits of communicating in both ways. Using devices like mobile phones or tablets means you can talk to people instantly almost anywhere in
the world. Writing a letter takes longer to travel between people, but in my opinion it feels more personal. It's more special to receive a letter from someone you love than a text message or email.
Pour en savoir plus sur les autres parties de la section Speaking du B2 First :