Writing in another language can be an arduous task for lots of people, especially people who don't write on a regular basis in their own language, as well as practicing spoken English. Writing doesn't have to be so painful though and anyone can improve their writing skills with some dedication and willingness to improve.
Before thinking about improving the creativity of your writing, it's important to learn the basics first. You'll need to develop an intermediate understanding of the basic principles of writing before taking things to another level. It is also the case to learn to speak English without an accent, you first need a good basis. This means that will need to know a reasonably wide range of vocabulary and an understanding of the basics of grammar and spelling. This will require spending time studying for an extended period of time. Once you've done this and mastered the basics of writing, it will be time to raise your level of written English even further.
Tips for progressing in written English
Like most things, if you want to get better at something, you have to spend a lot of time practicing. Writing in English is the same and it's the first and most important tip to progressing in your writing abilities. 
It's very unlikely that you'll become an incredible English writer in one day and so you should aim to improve over a period of months and even years rather than days. If you want to improve your writing skills, writing on a regular basis will keep your creativity flowing and help you develop your own style. So, at the end of this article, pick up a pen and get started! As the old saying goes – practice makes perfect.
Make sure you read too
Many people might not consider it at first but it's true to say that reading is one of the best ways to improve your written English. Looking at authentic texts will help you become familiar with the way English is written and help you to form an intuition about how a text should look and get a feeling for when you are making mistakes.
You can start with fairly simple texts first and then move onto more complex articles or business reports. It's best to choose texts that are related to topics that you have an interest in or that you work with in your job, to keep you motivated. You could focus on business texts, reports, emails and memos if you need to improve your business writing skills.
If you really aren't particularly a bookworm then you might want to consider audiobooks or podcasts that have accompanying texts for you to follow along with. It doesn't matter how you do it, the main thing is to build up ideas about how texts are written and start to notice common grammatical structures whilst reading.
Checking and editing
Once you've started writing your own texts make sure you regularly proofread your writing for any mistakes that might be there. Finding mistakes doesn't have to be a negative thing, it can help you to improve. Even professional writers have to edit and correct their writing before producing an article. The important thing about mistakes is to be able to learn from them.
It can be very useful to have a list of things to look for when you're checking your texts. Make sure you check your spelling for starters. This is much easier these days as it can be checked electronically but be sure to pay attention to any corrections as they happen as this will help you to stop repeating the same errors in the future.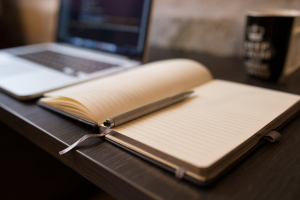 These days there are even online grammar checkers too. They can point you in the right direction if you've made some small grammatical errors but really you need to be able to verify grammar errors yourself too as grammar checkers are not always 100% accurate. 
Punctuation is important too and that's something that you should have picked up from the regular reading you've done in the past. Knowing where full stops, commas and capital letters go will be second nature if you've read English texts regularly before.
Get online and write
Most writing these days is done online. The virtual world of the internet is a good practise ground for improving writing skills. Starting a blog can be one good way to practise and improve writing in English. An online forum or personal blog will give you a platform to use new vocabulary and phrases that you have learned and you will be able to express your thoughts and opinions on topics that you find interesting. Don't worry about making mistakes. If anyone points them out, don't be upset as they are doing you a favour!
You could also try taking part in chat room discussions. Chat rooms force you to write faster in English because other writers may be responding quickly and expect you to do the same. This fast-moving environment will give you the motivation to improve your writing skills at a faster pace!
Keep a vocabulary notebook
It's important that you keep a notebook of any new vocabulary and phrases you come across. Write down phrasal verbs, idioms, adjectives and any other new words you discover and try to use them on a regular basis. Don't just cut and paste them into an online document or take photos of text as it's been proven that people who physically write down words, remember them much better. That means there's no excuse to be lazy! Read our 10 tips to learn English vocabulary.
Whether you want to improve how you write essays or if you want to write business emails, reports or letters, there's plenty of personal learning you can do.  A good online course will help to improve your English skills on a daily basis and in a structured way too. If you want to improve writing related to work then Global Exam's online Business English course can help you achieve your aims!
How can the GlobalExam Business English course help me improve?
Our Business English course is an online course that helps people learn the English language required in a business or workplace setting. It's a well-structured course that covers a variety of business areas such as writing emails, reports and other professional documents along with the English language required for meetings, telephone calls and management interactions. Our goal is for you to make real progress and stay motivated while learning English online.
To improve your business writing skills, you'll need to know the vocabulary, phrases specific to particular career paths such as marketing, customer services, communication, Human Resources, sales and purchasing.  These areas all looked at on the course as well as language related to tourism, banking and logistics.
GlobalExam's Business English course includes videos featuring our team of native English speaking professionals. There is a lot of useful advice and the opportunity to create a professional English CV too. 
The Business Course is available at 3 different levels: beginner, intermediate and advanced. Level tests can be conducted to find out which is most suitable for each candidate. All participants get a certificate of completion at the end of each course. If you really want to improve your English skills, sign up for our Business English course today!