Surely many aspects of your career and your current job entail having excellent oral skills in English. Daily routine at work includes presentations, networking events, countless face to face meetings, video conferences, lots of telephone conversations… and the list is long!
Therefore, improving your spoken href="https://global-exam.com/en/business-english">Business English is not just something good you should do, but it is a priority. To accomplish this goal, take into account that the oral skill is composed of four micro-skills: comprehension, fluency, vocabulary, grammar and pronunciation, which includes tonal distinctions. These elements must be effectively improved if we want to express our thoughts and feelings in a passionate, convincing, assertive manner, and without being misunderstood.
If you continue reading this article, you will discover five fun and helpful tips you can easily try at home and that will enhance your speaking skills and micro skills! Are you ready? 
Our top tips on how to learn English oral communication
Good oral communication in English is an essential business English skill. When you enter the business world in any capacity, it's almost inevitable that you'll find yourself speaking in English on a regular basis, whether it's with colleagues or clients. Strong English oral communication is essential to:
Dealing with international companies
Organizing international travel
Collaborating with international teams
Attending networking events and conferences
Fostering a sense of inclusivity in a workplace
Taking phone calls
Confronting logistical and organizational problems
Whatever the context is, it's important as a business industry professional that you are able and feel comfortable to express yourself in English clearly, fluently, and professionally.
So, if you're a business professional with English as a second language, the question is: how to improve spoken English? A good place to start is honing the level you already have. Here are our top three tips to improve or learn English oral communication:
Work on clear pronunciation (make the effort to learn English phonetics)
Try to mimic natural intonation (adapting your speech to English stress patterns is important)
Practice pacing (learn to control the speed at which you speak)
If you spend some time on what might seem like minor changes to your communication style, it can make all the difference to your listeners' engagement. There are also some small tweaks you can consider making to your wider speaking style, such as:
Don't be shy: speak clearly and directly to make yourself heard
Vary your tone when speaking for any length of time: no English speaker likes monotony
Adjust your speaking style to your listener when it comes to vocabulary choices and speed
Practical techniques to improve spoken English
If you're wondering how to improve spoken English, you're in the right place. Let's break down a few practical techniques you can incorporate into your daily life to learn English and improve your oral communication.
Practical techniques #1: Record yourself speaking
This might seem like strange advice but recording yourself speaking (whether it's on the phone, reading aloud, or practicing a presentation) is a fantastic way to step outside of yourself and get an accurate picture of your oral expression level when it comes to fluidity, pronunciation and grammar. It's only when we listen to ourselves that we can really hear our mistakes, identify our weak points, and appreciate our strengths.
Practical techniques #2: Target expressions rather than isolated vocabulary
Vocabulary is incredibly important to developing your communication skills in a foreign language, but it can be easy to lose our way when we're confronted with endless lists of new words and no way to use them. Instead of over facing yourself with one-off terms that you may or may not need to survive an interaction, our top tip on how to improve spoken English is to refocus your efforts on learning set expressions and phrases. If you're looking to improve spoken English for a business setting for example, take some time to learn expressions for opening a presentation, greeting a coworker, or making a complaint, for example. This will give you added confidence the next time you find yourself in a situation that calls for quick English speaking skills.
Practical techniques #3: Throw yourself in the deep end
How to improve spoken English? By speaking, of course! This might seem like the most obvious piece of advice, but it's definitely worth stating. Your spoken English will come on leaps and bounds if you actually have to practice speaking in real-life situations. We understand that not everybody can spend time abroad in an English-speaking country, but that doesn't mean it's a lost cause. Connect with a fellow English learner online, attend a language networking event, or simply try to incorporate international friends into your daily life. Every time you speak in English, you'll inch closer to your goal of fluid oral communication.
Practical techniques #4: Don't forget pronunciation
Focusing on what you're saying is very important, but that's not to say that how you say it isn't. You could have the most impressive presentation of all the office, but if it gets lost in between an incomprehensible accent, a lackluster speaking style, and an unnatural tone, it's wasted.
Pronunciation might feel like the cherry on the cake, but it's actually an essential ingredient to improve spoken English. Just as it can make or break a top-level speaker, it can take a beginner from basic to impressive. We recommend giving some of your time to English phonetics and stress patterns in order to soften your own accent and move towards a lighter style. Here are a few things you can do:
Listen to native speakers and mimic their spoken style as closely as possible
Practice phonetics with tongue twisters
Practice reading your favorite book aloud
How to improve spoken English at home
If you're embarking on a mission to improve spoken English by yourself in a non-English-speaking country, learning how to improve spoken English might feel like a lost cause. We're here to tell you that it's not the case!
There are several methods to improve spoken English by yourself, from listening to podcasts and writing vocabulary lists, to recording yourself and speaking aloud, but perhaps the easiest way to improve spoken English from the comfort of your own home is to learn English online.
Learning English online comes in a variety of shapes and sizes, from online games and apps to e-learning platforms like ours and online tuition, but if you want to know how to improve spoken English, we recommend choosing a method that puts a large focus on listening comprehension and spoken expression.
When you learn English online with an e-learning platform that prioritizes oral communication, you can incorporate learning into your home environment easily with video learning, comprehension exercises, specific oral communication vocabulary, recorded speaking exercises, and pronunciation work.
That's not to mention by far the easiest way to improve spoken English at home: speaking and studying virtually with an online teacher. If you choose to improve spoken English with a virtual tutor, you'll get the benefit of practicing your oral communication with a native speaker without having to leave your own country, your apartment, or even your sofa! This way, you can also work on your English accent!
GlobalExam: learn English online with us!
If you take the plunge and learn English online with GlobalExam, you'll be able to access our especially designed Business English platform. Our learning resources combine grammar, vocabulary, and communication skills together into "situations" that allow you to experience using English across different business-related contexts, and allow you to improve your professional English. Our learning modules are divided under four main categories:
Improving industry skills
Boosting career
Boosting skills
Boosting level
Know your level
When you learn English online with us, you can personalize your learning experience from beginning to end. We recommend starting your journey with a placement test to ascertain your current level in English. Our business English platform is adapted to three different levels: beginner; intermediate; and advanced. By starting things off with the level placement test, you can identify your strengths and weaknesses in order to better shape your learning goals.
What's more, when you learn English online with GlobalExam according to your level, you can choose to follow different learning pathways that better suit your current skills and desired objectives. When you commit to a learning pathway, you can also take advantage of our learning tracking tools. Every time you complete an exercise, you'll move one step further towards your objective, which helps to keep you motivated to stay on track.
The placement test only takes about 10 minutes to complete and it's a perfect way to kick start your mission to learn English online. The test is similar to the style of learning you'll encounter on the platform: we present you with a video and ask you some questions in grammar and vocabulary, ranging from the easy to the difficult. At the end of the test, you'll be placed into one of three level bands, giving you the best idea of which of our resources best suit your learner profile.
Learn English online with a GlobalExam grammar course find
Grammar is the bread and butter of any language, and that remains true even if your guiding mission is how to improve spoken English. Without a solid foundation in the basics of English grammar, even the most gifted oral communicator would be lost.
One of the courses you can complete when you learn English online with us is a level-specific grammar course. We've devised three grammar modules to take you from beginner to advanced level.
The beginner grammar module is composed of 21 learning situations based around the character Raphael, who is overseeing the launch of a new project with a large hotel chain as the manager of a hospitality company. Each situation introduces you to new vocabulary and grammar concepts in the context of a workplace scenario. Once you've successfully completed the beginner course, you can move onto the intermediate level (12 learning situations) and finally the advanced level (10 learning situations).
The whole grammar course represents about 12 hours of learning, progressing from easy to difficult, then culminating in the end-of-course challenge. If you successfully pass it, you'll earn yourself a GlobalExam certification.
About GlobalExam certifications
Our business English platform allows you to consolidate your learning into certifications. At the end of each learning pathway, you can take a test to confirm your knowledge of the topic. The end-of-course challenge lasts approximately 30 minutes, with 30 questions. Here's an example question: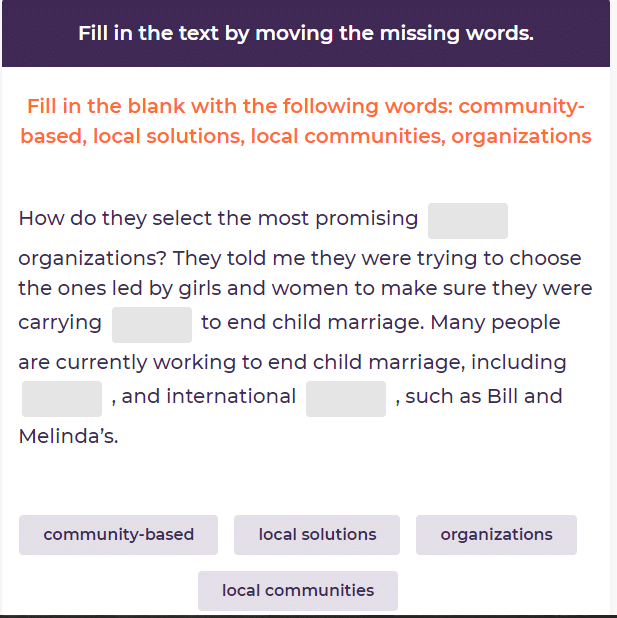 To respond to the above task correctly, you'll need to be familiar with certain grammar concepts and vocabulary areas. Brushing up your grammar and vocabulary skills in business-related contexts is a fantastic way to strengthen your English, that feeds directly into your oral communication skills. Take a challenge today!
The easiest way to improve spoken English is with our virtual lessons
If you're still wondering how to improve spoken English at home with limited options, we've got some good news: GlobalExam is offering virtual lessons with our English teachers! The easiest way to improve spoken English is through practice with native speakers, and we're offering just that from the comfort of your computer screen.
When you learn English online with us, you have the possibility to book two types of lesson, both of which give you the perfect opportunity to improve spoken English:
A private 30-minute lesson with one-on-one tuition
A one-hour lesson with up to five other learners
If learning how to improve spoken English is your number one goal, it's fully achievable through a virtual lesson with one of our TESOL-qualified teachers. Our group lessons take place at various times in the week, targeting the following specific themes:
Making phone calls
Planning meetings
Giving presentations
Participating in video and conference calls
The benefits of virtual classes:
Each of these themes ties in with methods for how to improve spoken English as well as professional English. Alternatively, a private lesson gives you the opportunity to determine exactly how you learn English, and to have a qualified teacher dedicate a half-an-hour session to your specific goals. Improve spoken English with your GlobalExam teacher with a series of sessions on pronunciation, English phonetics, intonation, and communication style. Anything is possible with the right guide! You can also learn written English, on our platform, if that is something lacking for you!
Online tuition will make your mission to learn English at home a great deal easier, and ease isn't the only benefit. Our virtual lessons tie into our wider methodology for language learning, by encouraging you to learn grammar and vocabulary and to improve spoken English all in the context of real-life situations. This means that time on our platform and sessions with our teachers is much more than just theory: learn English with us and prepare to channel your English skills into the real world.
Are you ready to join us in your mission to learn English and take your oral communication skills to the next level? We're waiting for you!