What is your English level? Did you take a test recently to find out? How old is that result? How reliable was the test? These are all questions you might ask yourself or will be asked when you want to enquire or enroll on a language course.
Many people learning English don't really know what their level is, people tend to guess. Especially as levels can change over time, that include a decrease in language ability. GlobalExam is offering a unique opportunity to find out your level – beginner, intermediate, or advanced – based on the new Business English Course we have recently developed.
Take a Business English course online! Start with our free version, find out in this article what you'll have access to.
How is having a good level of English an advantage in a professional context?
Increasing your language ability or even if you are just starting is a huge advantage in life and in work. Adding it to your resume will show employers that you are interested in other countries/ cultures and driven in acquiring new skills. It can be nothing but positive! Learning English also shows that you understand that most international business is conducted in English and you aspire to be part of that world, driven to succeed. It also shows confidence when you are having a discussion or giving a presentation in a language that isn't your mother tongue. There really are no negatives to it!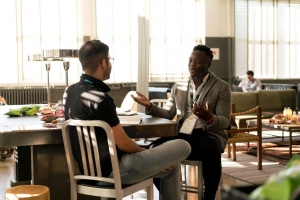 Working for a company that deals with international suppliers and clients is a daily common experience in today's world. Many companies outsource work to suppliers etc in other countries. Being able to communicate in English will make this process a lot smoother and limit any misunderstandings that may cause offense or a costly mistake to the company. You can start by learning the most frequently used expressions in business or the most common English acronyms.
Taking a course to study Business English is a positive approach to achieving more success in the business world. 
What is GlobalExam Business English?
Our Business English Course is a new product. At GlobalExam we mainly offer language preparation courses for individuals wanting to take formal language exams. We offer support courses for exams such as TOEFL, IELTS, Cambridge Suite exams, and for Spanish, Chinese, and French language proficiency exams. Now we have branched out. We are offering professional English courses to assist people in the workplace to further develop their English language skills, specifically for using English in a business context. 
Our new Business English platform is designed to help you develop professional skills in English. The type of language used and in what context is best. We offer three different pathways to suit your needs. 
They are :
| Pathway | Examples of content covered |
| --- | --- |
| Competency | Meetings, project management, email writing, business trips etc |
| Career | Marketing, HR, customer service etc |
| Industrial | Tourism, banking etc |
Enquire through our website to find out more. 
These courses are designed to immerse the learner into the office environment. Over 500 real-life working situations are used to help this process. We contextualize learning for the maximum benefit of the learner. 
Other advantages are that we will help you create your professional CV, each question asked during the course (tasks) has a detailed answer and corrections. You will also gain certification (not formal) for each course completed. These are great benefits! 
Our course is available in three levels – beginner, intermediate, and advanced. This means you don't have to start with content you already know, making the learning even more valuable. 
Do I need to know my English level? Is it important?
Some people know what their level of English is and others usually guess. Knowing what level your language skills are at is important. It means that you are placed in the right level in courses but also when you are improving or not. 
Students are usually levelled in two ways – 
Beginner, intermediate, advanced

A1-C2 (using the CEFR framework)
In truth, many courses from the first type are still benchmarked against the CEFR. The level is just open to a wider scope of learners. 
You can find out your level in a few ways – taking a placement test online or at a language school etc or taking a formal English test e.g. IELTS. 
Can GlobalExam help me find out my level for the Business Course?
The simple answer is yes! We offer the chance to take a level test before you start the business English course with us. We offer this to make sure you are placed in the correct level based on your language skills and to get the most out of the learning experience. 
When you sign up for a free account with us you will also have access to the first scenario for each course in our Business English Course. It is a fantastic opportunity for you to see how the course works and try out some of the professionally made content we have. At GlobalExam we are here to help you achieve your goals! We also came up with our 10 tips to stay motivated when learning English online, so you improve quickly and efficiently!