Do you like watching movies? Do you want to improve your English? Well, you can easily combine the two in order to learn English in a fun and engaging way! A lot of researchers confirmed that learning English through movies was efficient, but why? And how do you choose a good movie? Keep reading and we will tell you everything!
→ Our top 10 of the best movies to learn English
→ 5 cartoons for kids to watch to learn English
→ Why does it work?
→ Which movie to choose depending on your level
→ Our tips to learn English with movies!
→ Learn basic English with our General English course.
Now without further ado, let's get into it!
Our top 10 best movies to learn English
In this first section, you will find our top 10 of the best movies to learn English. A lot of these movies are available in a book version so you can either read them before or after seeing the movie for extra help on mastering the English language.
Harry Potter
Harry Potter is one of the most famous characters there is. In this series of films we follow him and his friends on many adventures in the wizarding world. They all go to Hogwarts, a famous school for wizards. These movies are a must-see for any English learners. The language is basic and easy to understand, but there are sometimes magical words that were invented by the author, J.K. Rowling. There are eight Harry Potter movies and seven books so you have a lot to explore!
The King's Speech
The King's Speech is an amazing film that everyone should see at least once. It follows King George VI and his attempt to overcome his stutter before an important radio broadcast. This movie will help you with your British accent and pronunciation. Because George VI sees a speech therapist, you will learn a lot about how to speak English properly.
It also takes you through a very important period of British history.
Forrest Gump
In this movie, we follow Forrest's life. He is very kind but not very intelligent. Without realising it, he appears in some great moments in history and this is why this movie is so funny and entertaining. Forrest talks really slowly and uses simple words, which makes it a great movie to learn English. The movie is really easy to follow and the dialogs easy to understand. It is a great movie classic!
Big Fish
If you like fantasy, comedy and drama, this film is for you. Big Fish tells the story of a man who tries to distinguish facts from fiction in his father's life. His father's life is full of bright colours, odd events and funny characters which makes his allegedly true stories almost like fairy tales. It is very visual and really easy to understand. The fairy-tale-like tone makes the plot of the little stories really simple. Definitely a must watch.
Lord of the rings
Lord of the Rings is a huge classic. Although full of magical creatures the plot is simple to follow. It takes place in Middle Earth, and we follow a small group of fighters that tries to rebel against Sauron, a dangerous evil being. The language is great, the vocabulary is rich and you will never be bored.
The nightmare before christmas
The nightmare before christmas is a Tim Burton's classic. It's very easy plot is easy to understand and follow: Jack Skellington, the pumpkin king, wants to reinvent halloween and sends minions to christmas land in order to kidnap "Sandy claws". The vocabulary is simple, it explores the halloween and christmas themes and is an entertaining movie for all ages. Plus, the songs are very catchy! Try to listen to "This is Halloween" and let us know what you think.
The Hunger Games
This movie is a great pick if you like dystopian worlds and action movies. In a nation composed of 12 districts, a girl and a boy from each one of them are selected and forced to compete in the "Hunger Games". The Hunger Games are a televised fight to death between the selected "tributes" and at some point, Katniss, the main character, volunteers to participate as soon as she hears that her little sister was selected. It is highly entertaining and the plot is very easy to follow.
Rise of the Guardians
This animated movie is great for all ages. It tells the story of great figures of various holidays, the "guardians" such as: santa claus, the easter bunny, the tooth fairy and the sandman as they team up with Jack Frost, another great character of English folklore in order to save the world.
The story is very easy to follow, the vocabulary simple enough for any age. The vocabulary is great if you want to learn about different holidays and traditions. The movie even features some little mice to show that they're the tooth fairy equivalent in France!
The theory of everything
This movie is a biopic, which means that it depicts someone's life. In this case, it tells the life story of Stephen Hawking, one of the greatest minds of the 20th century. He is a worldwide renown scientist who had a serious illness that left him paralysed. The British accent of the characters is very clear and easy to understand.  If you want a more scientific take on English vocabulary then this is a film you should definitely watch.
The imitation game
If you like historical fiction (meaning a story that is based on true historical events but depicts them in a romanced way) then the imitation game is a really good pick. It talks about Alan Turing, a British cryptanalyst and great scientist who decrypted german encoded messages for the british government during world war II, thanks to the enigma machine.
The English accents are very clear and easy enough to understand and the plot is very easy to follow. A very good movie.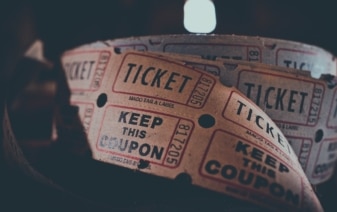 The 5 best cartoons to watch to learn English
If you prefer to watch cartoons, then here are five more cartoons you should definitely watch if you want improve your English:
Finding Nemo
Finding Nemo is a huge Disney-Pixar classic. It is an animated film about a clownfish who loses his son, Nemo and decides to swim all the way up to Australia in order to find him. It's highly entertaining and very easy to understand. Plus, you will learn a lot of vocabulary words related to the ocean and its inhabitants.
Adventure time
Adventure time is a great cartoon if you want vocabulary about tales and epic stories. It follows the adventures of a 12 year old boy and his best friend, a wise dog with magical powers. The stories are short and easy to understand, very visual and depictive. It is also very funny.
Avatar: the last airbender
Avatar is a cartoon masterpiece that uses Eastern legends in their various stories. The cartoon is a great watch if you love good story telling, it will surely keep you entertained for hours and you will be exposed to a neat English language which will make you internalize it without even realizing it. You will also learn a lot about martial arts and Eastern legends.
Scooby-Doo, where are you?
This cartoon might be the most famous on this list and it's been running for decades now. It follows a group of friends that try to solve mysteries. It's a great cartoon for kids and is very interesting if you like whodunnit plots (stories about characters trying to investigate and solve a mystery). You will definitely be tempted to solve the mysteries along with the characters each time!
Toy Story
Toy Story is another great Pixar classic and a really good movie to watch if you want to improve your English. The vocabulary is very simple and the plot easy to follow. It depicts the adventures of Andy's toys that come to life each time he is not here to see them.
Why does learning through movies and cartoons work
In movies, and especially in cartoons (which are designed for kids) the words are pronounced at a slow pace and are very clear. This is really helpful to understand the plot but to also train your ear and your hearing skills. The language is relatively simple too. There might be some complicated words sometimes but the visual support that the cartoon or the movie provides helps you understand what is going on anyway.
Cartoons are generally short so they're best aimed at beginner levels and films towards intermediate learners.  Watching films is way funnier than studying from a grammar book. It helps you with your hearing skills, helps you get tons of vocabulary words as well as improve your fluency. TV Shows and serials produce the same result, so do not hesitate to watch those as well. Here are more reasons why:
It's real, spoken English. Books are good for grammar rules and exercises but they don't teach you how to speak everyday English. By listening to actors in the original version of English movies (therefore listening to native speakers) you will improve your fluency and your accent. Listening to native speakers is the best way to learn natural, modern English. Therefore, you can also listen to your favourite podcasts or songs to improve more.
It helps you learn in context. When you come across a new vocabulary word, the best way to memorize it is to learn it in context. This usually means you have to write it in a sentence to see and memorize how/where it can be used. This is even better and even easier when watching a movie: the word is put in a visual context as part of a story and it will help you memorize it ten times faster. Alternatively, reading stories or novels and other types of books in English will help you develop this aspect as well.
A display for native accents. We've mentioned it: through cartoons and movies you will be able to listen to native speakers. But you will also be able to listen to a wide range of English accents! The most commonly used are the standard British and American accents, but there are also many more different accents from many different English speaking regions that are used. It is a great exercise to train your ear and hearing skills. Playing video games is also a great way to get accustomed to different accents.
A great insight on to the English culture. Not only do you learn about a country's culture through its language, but you can also learn a lot through its movies and cartoons. Improving your English with movies will make you see how close language and culture are.
Finally, do not forget to use some more traditional tools for learning English, such as language learning websites or applications.
How to efficiently choose a movie according to your level
If you're not sure how to pick a movie that will not be either too easy or too hard, here are 3 easy steps to follow:
Maybe the most obvious one, but try to pick something you already know. Watching a movie or a cartoon you've seen already but in a different language is the best way to stay focused on the language and not on the plot. Because you already know the story, your brain will be less likely to be focused on understanding the plot and what's going on. This leaves a lot of room to focus on pronunciation and vocabulary words.
Watch the first minutes or the first episode in your own language first. This will ensure the plot is not too hard to understand even in your own language and it will give you some key points to understand the story if you decide to continue in English.
If you really like it but it's a tiny bit too difficult for you, put on subtitles. Avoid subtitles in your native language at all costs!
It is very important that you put English subtitles on. It will help you associate what you hear with what you read, as well as improve your spelling and pronunciation.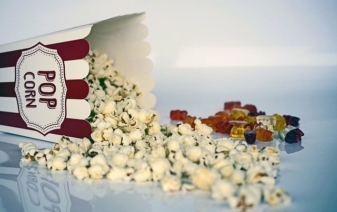 4 Tips to help you learn English through movies
Now that you've picked the perfect movie to learn English, let's dive into tips that will help you make the most of your learning through movies.
Tip#1 → Choose interesting films
Do not force yourself to watch a movie you know you will not like or a movie that you don't want to watch. This is the worst way to watch something: you will neither be focused on the language nor the plot. So try to pick something you know you will actually enjoy watching.
Tip#2 → Pick something according to your level
We've been through this point already but picking something that is adapted to you is very important.
Tip#3 → Use subtitles and repeat your favourite lines
This will improve your pronunciation skills too. Focus on the stresses and the accents. Look at the written form through subtitles, this will ensure that you put a correct visual on the word you hear and vice versa.
Tip#4 → Write down new words and idioms.
Take a notebook with you and keep track of new words you hear in order to build up vocabulary easily.
General English: The best way to learn English Online by GlobalExam
If you're looking for something that will help you in your English learning journey then GlobalExam is the perfect place for you. Our General English program is tailored to your needs as a beginner or intermediate level learner and will provide you with a wide range of lessons, activities and exercises. Training on General English will allow you to have access to academic training, in depth corrections as well as revision sheets that you can access anytime. Our program is designed to help you get confident and keep you motivated throughout your learning journey.
What are you waiting for? Hop on with us and let's learn English together!