Do you know you can learn English through any device? Whether it be your phone, your tablet, even your computer.. there are tons of different apps to help you learn the best of the English language! In this new post, GlobalExam will take you through the best english learning apps:
→ You will find our top 8 best applications to learn English.
→ The pros and cons of learning through an app.
→ Four ways you can learn English online!
→ Our General English program: the best way to learn English!
Now without further ado, let's get into it!
Our top eight best applications to learn English
There are so many different applications it is often hard to know which ones are worth it. But don't worry, GlobalExam got you covered ! Here are 8 of the best apps to learn English:
FluentU
Fluent U allows you to learn English through authentic videos. This means that you will have access to resources that will show you how English is spoken on a daily basis. This is a great app to immerse yourself in the authentic, real life English language but also in the English culture, from a lot of different countries. There are songs, trailers, news… so many interesting things to watch!
British Council Grammar
This app is the best one if you want to improve your grammar. The British Council LearnEnglish app provides a lot of lessons and mini games on a lot of different topics. Once you've practiced your new lesson and feel confident enough, you can test yourself and see what you've learned for far!
6000Words
We saw an app for grammar, now let's see one that focuses on vocabulary. 6000 words is a great app if you want to focus on vocab and learn tons of new words. Through different themes and images, this app will extend your vocabulary knowledge in no time!
Beelinguapp
Do you like to read? Then Beelingu is made just for you! This app helps you improve your reading skills with short stories. There are a lot of themes available so you will find something you like for sure! Plus, when you read, there is a side by side view in English AND in your native language so if you struggle to understand something, you can have a peek at what it means in your native language!
Rosetta Stone
Rosetta stone can be challenging for beginners but it takes on one of the best rules to learn a new language: be completely immersed. You won't find any translation or any sign of your native language on this app! Only English. The only way to understand what is going on is to learn by yourself and they know it! But don't be afraid, you will be guided on your first steps.
BBC Learning English
Do you like to read news? Then look up BBC Learning English! You will find vocabulary and grammar lessons based on the news. Subtitles are also available on every video. Keep yourself updated while learning english!
Memrise
Memrise is one of the most basic apps to learn English. It covers a lot of levels, has a lot of themes and lessons. It displays grammar, vocabulary, idioms but also speaking exercises so you can train your pronunciation too. All-round and intuitive, this is a great app that covers all of the essentials you need to know!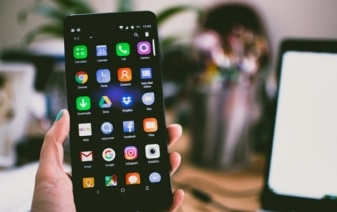 HelloTalk
HelloTalk is a great app if you want to practice your oral skills. If you can't find a conversation group of friends to practice English with, just hop on HelloTalk and search for native speakers. The cool thing with this app is that you can learn from a native speaker as well as teach them your own language!
The pros and cons of learning English via an application
Pros of learning English through apps:
→ learning through various apps can be an intuitive way of learning a language, and especially English. It allows every learner to have access to a lot of different and engaging supports.
→ Applications often look like mini games to complete in order to progress, so they make learning easy and entertaining.
→ They are also very often made by native speakers so the audio recordings and idioms are top notch.
→ Every app you get will also be easy to access: just pick it from your pocket! Or just pick your device anywhere: on the toilets, before an appointment, on the bus, the metro, on your couch, to the beach… Well, anywhere! You feel like you're bored? Open your app and learn while playing!
→ The same goes with the "hours" too: when learning via an application, there's no closing hours! You can play for as long as you would like to, whenever you want to.
Cons of learning English through apps:
→ even though the audios are from native speakers, lessons and grammar points are not always from trained, certified teachers. As a result, sometimes the level of the course can be a little too hard or too easy, and the topics are not really relevant. Just pay attention to what you're learning and don't take everything you see as a gilded truth.
→ There are a thousand ways to learn English. This is where having a few different apps is better for you to check what you're learning and make sure you won't miss anything important.
→ Learn about each app first: they're often focused on one aspect of the language (and most of the time it is in the name like "6,000 words" for vocabulary and "BritishCouncil Grammar" for.. well, grammar) don't overwhelm yourself with 20 different app but just pick 2 or 3 that you can switch depending on what you want to learn, to train or to improve. Or just what you feel like doing!
→ Remember that finding motivation and an itch for learning is always the key!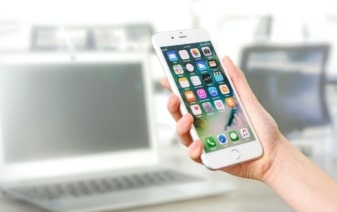 Four useful and efficient ways to learn English online
If you decide to study through websites, you will find a lot of information and resources available.
#1: Find what you love
Do you love music and songs? Go to Youtube or any other music streaming software. Do you love reading? Pick a book,a novel or even a short story in English to read. Do you not love reading and prefer listening? Pick an audio book or a podcast. It is as simple as that! There are a lot of websites that deal with so many topics it is impossible to not find what you're looking for. A few examples: look up interviews (written or video) from your favourite actor/actress, singer! Watch a game of your favourite sports in English. Find your favourite newspaper and read some articles.
#2: Search for ESL resources (English as a Second Language)
These ressources (videos, lessons, exercises, vocabulary sheets and many more) are especially made for foreign English learners, just like you! Just type in your research bar what you need followed by ESL (food vocabulary ESL, for example) and there you go! Worksheets, vocabulary, flashcards, exercises… just pick what you want from there.
#3: Have fun!
There are a lot of websites such as Quizlet, Kahoot or even LyricsTraining that are basically games designed to make you learn English. You can find tons of fun quizzes on Kahoot, revise vocabulary through games on Quizlet. If you're into karaoke, then go to LyricsTraining! This is an awesome website where you pick any song you like and the website generates karaoke-like games with the song you chose (find the missing Lyrics, singing along etc.) You an also learn English while playing games!
Lastly, even watching movies and cartoons as well as TV shows and serials can help you improve your English.
#4: Learning English online is also a great way to connect with people from all over the world
Find penpals or other English learners to practice your English with! There are a lot of websites dedicated to penpal exchanges and oral practice of English. What's the point of learning a new language if you can't practice it with others? Plus, this is a great way to make new friends! Don't be afraid, most of these websites allow you to choose from writing or speaking if you don't feel comfortable talking in English just yet. This is a major way to improve your writing and speaking skills!
Train with GlobalExam and our General English program!
If none of these apps suit you, or if you want to find something more complete to start with, hop on with us at GlobalExam and follow our General English course! You can discover all the interesting ways to learn English as well as train for them on our online platform. We provide a wide variety of different training, vocabulary sheets, grammar tips, tips and tricks to help you improve. Every training is highly customized to YOUR progress: this way you can truly focus on your weakest scoring and improve efficiently! Whenever you feel confident enough, you can prepare and successfully pass certifications such as the TOEIC, TOEFL, Bulats, HSK, Bright and many more. What are you waiting for? Hop on with us and let's practice English together!