So you want to speak English? What a great idea! English is an easy, international language that is used everywhere. But learning a new language can be sometimes difficult to do, especially on your own. In this new post, GlobalExam will show you how you can learn English in the most efficient ways:
→ First, we will give you five steps to take while learning a new language.
→ Then, we will show you the best tips and strategies to help you take these steps.
→ We will explain to you how to choose YOUR method.
→ Our best tips to learn quickly, even by yourself.
→ Finally, we will tell you how our General English course is the best way for you to learn English.
Now without further ado, let's get into it!
Five steps to learning English that will take you a long way
Step #1: Know what you want
This may sound obvious but you should want to learn english. You shouldn't be forced to do so. Being forced to learn anything is the worst way to learn something. One easy way to enjoy learning something new is to find a purpose and/or a goal: why do you want to learn English? What do you want to achieve ? Whether it be to have better conversations with English friends or because you want to travel to Australia someday, setting a purpose is always the first thing to do. But beware: choose something easy and small. Easily obtainable goals feel more rewarding as you achieve them, rather than harder goals that will leave you feeling like you'll never be able to do it.
Step #2: Challenge yourself, make mistakes
The best way to learn is to make mistakes and to learn from them. Being afraid to make mistakes or to mispronounce words is one of the major setbacks of language learning. Pick harder podcasts and audios to listen to, focus on the points you did not understand or misheard. If you can, talk to native speakers. They will always be happy to help you speak English and to correct you. This is also why improving your pronunciation is very useful ! But remember: they will not correct you because they think you're bad, they will correct you to help you improve. Don't be scared, most people don't speak a second language: be proud of yourself. So be confident and remember: practice makes perfect!
Step #3: Find good resources adapted to YOU
This might be the easiest thing to do: English is so present in our everyday lives, you can't even imagine how it's everywhere. Pick ressources such as newspapers, English books and novels, podcasts etc.) accessible to your level. If you choose something way too hard for you, it will only discourage you in your learning journey. If you pick something way too simple you will never be able to progress.The challenge is key here: you should be able to understand 80% of the document on your own. The 20% left are words, idioms or sentences you don't or barely know. Basically: it should be easy enough for you to understand the general meaning but hard enough to have to search for words and pieces of information.
Step #4: Learn new vocabulary words regularly.
Learning vocabulary is essential to any new learner. You can't be fluent if you only know 5 words, right? Learn a new word every day. There are accounts on Instagram, Reddit or even Facebook dedicated to this (look up: "word of the day.).
Not really into social media? Vocabulary books, vocabulary videos, vocabulary podcasts are all accessible. Learn a new word per day if you're a beginner, 5 if you're intermediate. Throw in some synonyms (e.g. words that have the same meaning. for example: afraid = scared. Gentle = tender. like = enjoy. etc.) Synonyms are the ultimate way to extend your vocabulary and avoid being stuck repeating these 5 same words. The English language is the richest in vocabulary, so just dive right in!
You should also work on your grammar a lot!
Step #5: Don't give up
Be consistent in your learning. Don't give up when you feel low. Remember step#1? This is where it becomes important. Keep in mind why you're doing this and take time to rest (this is very important too.) before going in again. Learning a new language takes time and effort but it is well worth it in the end.
Keep looking forward to the future, in 3, 6 months from now and how well you will be able to communicate in English.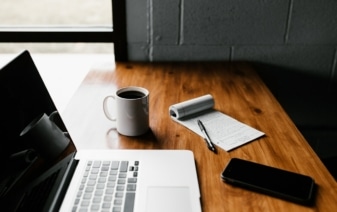 How to learn English : Our top 5 strategies and tips
Learning English is so important for countless reasons. Below you will find our top 5 strategies and tips to do it!
#1: Online resources are your best friends
You can find tons of applications for learning English, useful websites or even social media accounts to learn English from.
So, find something you're passionate about, something you really enjoy doing. Is it reading newspapers? listening to music? watching films? sports? even gaming? There surely is something in English related to it. Watch your favourite TV show or films in English with (or without) english subtitles on (this is very important… don't pick subtitles in your native language or your brain will only focus on reading these lines in YOUR language.), listen to a podcast about something you like, read a book, read a piece of news, a newspaper… the possibilities are endless. Always remember the internet is the best place to find what you're looking for.
#2: Don't focus on just one aspect of the language
We saw that learning vocabulary was very important, but that doesn't mean you should leave out the rest. Learn grammar but also how to pronounce words and how to stress sentences. You will be able to practice all of these aspects with all of the resources we mentioned above.
#3: Keep track of your new words and grammar points
Keep a notebook near your learning space and note down any new vocabulary word. Build up this list as you go by adding synonyms, antonyms, idioms, new words etc.. you will master english vocabulary in no time. You can also keep track of essential grammar points to remember, just sum it up in a short sentence with examples and keep this notebook somewhere handy. It will be your emergency tool kit.
#4: Be consistent
Learning any new thing takes practice but also regularity. It is way better to learn 10 minutes a day rather than 2 hours every 3 weeks. The more regular you are, the more you will learn efficiently.
#5: Talk to native speakers
Talking to native speakers is probably the one thing you should keep in mind if you really want to take a step further. This is the best and ultimate way to improve your English.
Find online friends, penpal exchanges… even a club? There are always conversation clubs near you, especially if you leave close to a university. Don't be afraid to speak to them and keep in mind what we said in our #2 step: native speakers will always be happy to help you.
Ways to learn English: How to choose the best one for you?
Now that you've seen how to learn English efficiently, it is also important that you know different ways to learn a language. Every learner is different: some may learn something quickly if they listen to it, some by reading it, visualizing it, saying it… Reflect on yourself and how you learn: do you need to write? Hear? Speak? Visualize it?
Once you've identified these, you can find and adapt resources to maximise your learning:
If you need to hear something to memorize it, listen to podcasts, youtube videos or even audio books.
If you need to write or speak, find penpals or look up English clubs nearby.
If you need to visualize, look at videos, images (like flashcards) etc.
Our tips and advice to learn quickly even by yourself
Now that you have identified your own method, let's find ways to learn english around you. The quicker you find books to read in English, listen to podcasts, watch TV and movies the quicker you will improve.
We already mentioned it but this is very important: try to find a group in your town that practices conversation skills. Maybe you can even suggest a group of friends to learn english with them? Write a blog! This is also a great way to improve. You can write a blog about your learning journey (your thoughts, what you've learned so far, about your goals etc..) or even write a blog about something you're passionate about. It will be a nice way to look back on how far you've come since the beginning of your journey.
If you're alone on this journey, do not worry. Listening to music and different types of English songs as well as audio books and podcasts will help you when you're alone. If you're bored, if you're cleaning your place up, waiting for the bus, just pop in your earphones!
Applications are also a great way to learn on your own, and they're also accessible everywhere. Again, if you're waiting for an appointment, in the subway etc.. just pick up your phone and play a few minutes with an English learning app. 
Video games, as well as movies and cartoons are all awesome ways to learn English without even realizing it. Give it a try!
Train on GlobalExam and improve your English with our General English course
Still not sure about where to begin? GlobalExam got you covered. Our General English program is a platform in which you will be able to learn english through engaging and fun activities. It is also meant for those who want to improve their English skills.Every exercise and activity is corrected in-depth so you can make sure that you've understood everything perfectly. We also provide revision sheets for you to access whenever you feel like.
Learning with General English will hopefully make you more confident in your learnings and motivate you to actively learn English without the stress of being at school. What are you waiting for? Hop on with us and let's practice English together!