Today we'll be talking about the importance of properly preparing for your IELTS test with a mock exam.
We'll give you an overview of what the IELTS is, the different versions of IELTS, and why you should prepare for your test, where you can find mock exams conveniently online.
This is a great first step to getting the score you want on your IELTS, so let's get to it!
Two types of IELTS tests – Which one is right for you?
IELTS stands for The International English Language System. It is available in over 1,600 testing locations all over the world in two different versions: Academic – for those applying to study in higher education in English – and General Training, for those intending to move to a major English-speaking country, applying for secondary education, or training or work programs in English.
The IELTS Academic test will tell you if you are ready to pursue higher education in an English-speaking environment. It tests all four language skills: listening, reading, writing, and speaking – focusing on subjects likely to be encountered in an academic setting.
The IELTS General Training test is required if you intend to move to Australia, Canada, New Zealand, or the UK. The test material is a wide variety of social and professional situations in all four language skills.
The goal of both versions is to offer a complete assessment of your level of English. The contents of the test use a variety of different English accents and dialects, so it is fair to all test-takers.
After you take the test, you will receive a score from 1-9, and is valid for two years, depending on your organization. Be sure to verify with your organization or sponsor that your score hasn't expired yet! Test centers are free to set their own price to administer the IELTS, but the average price is around $225.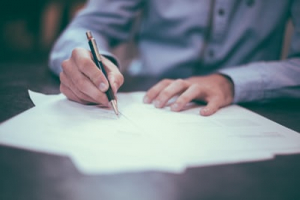 Why you should prepare for the IELTS
Once you register to take the IELTS, it is strongly recommended to prepare for the test thoroughly. Preparing will allow you to know where your English level is currently so you know in which areas you should focus on training.
Once you have an idea of your current level of English and which section or sections you need to improve on, preparing to take the IELTS will help you to gain time on the day of the test. Remember, the test is standardized, which means it has a time limit. If you find you are taking too long on a particular section, try to complete that section quicker each time. Practice makes perfect!
Also, training for the test will, of course, result in a better score overall. If you have a good idea of what the IELTS will entail, you'll be on track to gain confidence in yourself, fine-tune your test-taking strategies, and eventually earn as high a score as you can. You can then for example send your score to US universities mandatory for your application.
Where to find IELTS mock tests
When you learn to drive a car, you must practice driving extensively in a real car before your exam date. Similarly, your best bet is to practice taking IELTS mock exams before your actual date. There are IELTS preparation courses offered in many language schools and testing centers all over the world that offer in-person or distance learning programs. The official IELTS website offers a list of testing centers in the USA.
GlobalExam offers a free, complete IELTS mock test that includes a built-in timer to simulate an actual test. Track your progress using GlobalExam's personal statistics feature where your answers are saved. In addition, we also provide handy study guides to boost your English vocabulary and grammar. We've got everything you need to practice taking the IELTS and earn your dream score!
Alternatively, the official IELTS website also offers a practice test you can access free of charge here. It is organized into the listening section (remember, this is the same for the Academic and General Training test), and both Academic and General Training reading, with answer correction. The Academic and General Training writing and speaking let you practice writing and speaking with sample questions, and provide sample answers for self-correction.
Practice online with GlobalExam
The IELTS practice materials and tips for listening, reading and writing sections available to you on GlobalExam are everything you need to help you achieve your IELTS goal. We have areas for language development, learning and practicing correct exam skills, the ability to track your progress, and work on areas that need more development, and you can take a full IELTS exam under exam conditions! You can also take a look at our blog which is full of articles on exam techniques, vocabulary and grammar practice, testimonies, and general tips to help you study and succeed!