The newly designed TOEIC Bridge (Test of English for International Communication) test has a speaking section. For the interview, test takers may be asked to read a text aloud, ask for and give everyday information, describe and narrate common events, or give an opinion. The interview takes about 12-15 minutes, and there are 8 questions, which are grouped into six types of tasks. GlobalExam can help you prepare for the TOEIC Bridge and all of its sections, including the speaking one.
The tasks are the following:
Read a short text out loud – 2 questions
You get 30 seconds to read each text and 25 seconds to prepare. The paragraphs are on a wide variety of topics. 
Describe a photograph – 2 questions
You get 30 seconds to describe each photo with 30 seconds to prepare. The photo of an everyday situation appears on a computer screen, and you describe what you see.
Listen and retell -1 question
You get 30 seconds to speak and 15 seconds to prepare. You hear a talk on an everyday social or workplace situation and then the test taker has to communicate the main idea and any important details of the talk to another person.
Short interaction – 1 question
You get 30 seconds to talk with 30 seconds to prepare. You have to read a short text and ask for information and/ or make requests, offers, or suggestions, based on the content of the text.
Tell a story – 1 question
You get 60 seconds to speak with 45 seconds to prepare. You narrate a story that is based on a sequence of pictures that you see. You can make-up any story as long as it relates to the pictures and makes sense.
Make a recommendation and give a reason why – 1 question
You get 60 seconds to speak with 60 seconds to prepare.
You read a brief, simple piece of information that shows options or choices that you need to compare and contrast and use the information to give an opinion, make a recommendation or give advice. You need to support what you say with reasons.
Tips
One good way to practice for a speaking test is to have a study buddy to practice with. Don't just choose any friend; you need someone who understands what you are doing and will listen carefully and make comments. If you are studying in a course, then see if you can find a friend in the class to practice with and he can enlighten you about the structure of the test if needed.
Write an answer and say it aloud
Look at the question and write an answer, and then say it aloud. It gets you to think about what you would like to say and organize your response on paper before you actually speak. Saying the answer aloud gives you practice with pronunciation, rhythm and using key organizing words such as because, then, first, since, although, for example.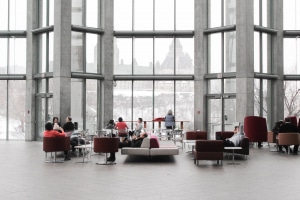 You can find model answers in books and online. Listen to online answers and notice how and what the person is saying. Pay attention to the rhythm and any body language being used. Then say the answer out loud and try to duplicate how it was done.
Detailed feedback by someone with experience is critical for success. A tutor will sit with you for an hour and can go through an entire practice test with you, give you feedback and then you can do it again to improve. A friend may not be able to provide good feedback; whereas, a tutor can hear your errors and will know what things you need to do to score well during the interview. Be ready to speak and listen to the tutor's comments; otherwise, you will waste your time and money.
It's important to use time management to ensure regular study sessions and be ready for your test day. Many people end up studying erratically. Regular days and times keep you on track and lead to continuous improvement.
Training with GlobalExam
We will get you ready for TOEIC Bridge flexibly, effectively and affordably. Test preparation is our specialty. Finding materials online for TOEIC Bridge can be challenging, but we have got you covered with an excellent selection of materials.
We have materials and tests that are based on actual TOEIC Bridge questions that you will face on your exam day. Relax and feel your confidence grow as you improve, knowing that what you are doing will lead to success. 
At GlobalExam, we don't just take your money and let you download a bunch of materials. We create a study plan that is designed with your test date in mind; additionally, we have personalized feedback and tracking metrics that are accompanied by motivational messages for encouragement. You won't find yourself muddled and floundering since we will organize things for you. Sure, you still need to put in the time and effort, but you will feel good because you know that your time and effort are being well spent.
Schools are great, but with online studies, you enjoy flexibility and the ability to study whenever and wherever you prefer, especially with our multi-device option (computer, tablet, smart phone); we enable you to do this.
If you would like to try out our materials, we provide some sample worksheets for free: two sample exercises and vocabulary and grammar study materials. Once you have made up your mind, try one of our premium plans. Each plan comes with the following:
60 sample exercises and access to 15 hours of training and 1500 questions with answers. 
3 practice tests, which are timed in order to replicate real-life exam conditions. 

A study plan tailored to you.

Study sheets, grammar and vocabulary study materials, removing the problem of what to study.

Any device that you choose to use. Use your laptop, your tablet or your phone at any time of day, anyplace.
Learn more about the others sections: