Listening question types and themes
For the listening section, you respond to descriptions, questions, conversations and short talks. The test time is about 25 minutes and there is a total of 50 questions. The questions are grouped into four parts, according to type: 
Part 1 Four Pictures– pictures of interactions such as buying tickets, ordering food, etc.
Part 2 Question-Response- asking for arrival/departure times, locations, personal information, food, etc.
Part 3 Conversations- relate to topics such as the weather, sports, personal states (illness, marriage, tired, etc.)
Part 4 Talks-the themes cover a wide variety of common topics that do not require any specialized knowledge or vocabulary; you may listen to a short talk on travel or planting flowers, for example.
Reading question types and themes
You complete sentences in written English and answer questions about short texts. This section is about 35 minutes and there 50 questions that are arranged into 3 parts, according to question type: 
Part 1: Sentence Completion – there is a single sentence with a gap, and you must choose the best answer from four choices. Verb tenses, word forms and prepositions are examples of things that are presented.
Part 2: Text Completion (15 questions) – you need to fill-in three gaps in a multi-sentence text: a word, a phrase and a sentence. You need to consider vocabulary and grammar for the single word or phrase, but you must think about the meaning of the text when choosing the best sentence. You have choices for each of the gaps.
Part 3: Reading Comprehension (20 questions) – the texts that you need to read will range from a simple notice of 10 -15 words up to an email of 100-125 words. You need to answer comprehension questions about the given text. For instance, you may have to read an email about a meeting and then answer questions, regarding the time, place and topic of the meeting.
Writing question types and themes
In the writing section of TOEIC Bridge, test takers complete and write sentences, ask for and provide information, describe events and give opinions. The test takes a little over 35 minutes There are 9 questions, which are grouped into five types of tasks: 
Build a Sentence – 3 items (60 seconds) – you see a sentence or question on the computer screen that has words or phrases in the wrong order. You drag and drop the words or phrases to form a grammatical sentence. 
Write a Sentence – 3 items (90 seconds) – you see a photograph with two key words or phrases that are below it. You use both key words or phrases and write one correct sentence, describing the picture. You are allowed to change the forms of the words and put them in any order that makes sense. 
Respond to a Brief Message -1 item (8 minutes) – you read a short message such as a text message from a friend. Then you write a response that meets the two goals; for example, providing of basic information, asking for basic information, or making simple requests.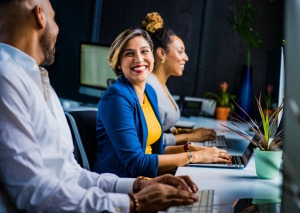 Write a Narrative – 1 item (10 minutes) – you see a prompt on the computer, and you need to write a short story, which is based on the prompt. For example, you might have to write a blog on a trip that you had and describe the people and places.
Respond to an Extended Message – 1 item (10 minutes) – you read a longer message such as an e-mail from a person or company, and then you write a response to the questions or information.
Speaking question types and themes
The speaking section test takes around 12-15 minutes; there are 8 questions, which are arranged into six 6 types of tasks:
Read a short text out loud – 2 questions
30 seconds to read each text and 25 seconds to prepare. The paragraphs are about a variety of topics.
Describe a photograph – 2 questions
30 seconds to describe each photo with 30 seconds to prepare. A common situation appears on a computer screen; you describe it.
Listen and retell -1 question
30 seconds to speak and 15 seconds to prepare. You hear a talk on a common situation, and then communicate the main idea and important details to another person.
Short interaction – 1 question
30 seconds to talk with 30 seconds to prepare. You read a short text and ask for information and/ or make requests, or suggestions, related to the text's content.
Tell a story – 1 question
60 seconds to speak with 45 seconds to prepare. You narrate a story, based on a series of pictures. Use any story as long as it relates to the pictures.
Make a recommendation and give a reason why – 1 question
60 seconds to speak with 60 seconds to prepare. You read a brief piece of information that has choices; you compare and contrast, using the information to give an opinion, recommend, etc. You must give reasons.
Train with GlobalExam
GlobalExam is a test preparation website. That's all we do, and we're good at it. 
We have materials and practice tests that represent the actual questions that you will see on the TOEIC Bridge. Also, we provide personalized progress metrics and targeted feedback so that you can get better. When you study alone, it can be difficult to know what you are doing wrong. We solve that problem with our feedback.
There are classes that you can take, but they are at set times that may not match your schedule. With GlobalExam, you can choose the plan that fits your needs.
Each of our TOEIC Bridge premium plans has 60 sample exercises and access to a total of 15 training hours with 1500 answered questions. 
There are three practice tests that are timed to duplicate genuine testing conditions. 

We create a study plan for you that fits with your scheduled test day.

Targeted study sheets and grammar and vocabulary study materials give you the opportunity to review important exam topics.

Any device at any time! You can study with us on your device of choice: a laptop, a tablet or a smartphone. Multi-device training allows you to practice in your home, while at school or on the bus in traffic.