In the reading section of the TOEIC Bridge (Test of English for International Communication), a test taker has to read sentences and short texts. There are 50 questions in the reading section. Test takers will read single or multiple sentences, as well as texts, and then answer questions, based on what they read. The reading section of TOEIC Bridge has three parts:
Sentence Completion (15 questions)
Text Completion (15 questions)
Reading Comprehension (20 questions)
If you wish to prepare for the TOEIC Bridge effectively, read on!
Sentence completion-15 questions
Sentence completion consists of choosing the correct word/words to fill-in a blank in a sentence. There will be four words or phrases under each sentence. You need to select the word or words that best completes the sentence. Let's look at an example.
I'm ____ tired. I'm going to have a nap.
The correct answer would be 'very.'
Questions that use more than one word look like this:
Emma wants ____ make dinner tonight.
The correct answer would be 'me to.'
As you can see, these questions are not very difficult and intended for someone with a low-intermediate or lower level of English.
Text Completion- 15 questions
In this section, the test taker reads a short text that has three missing pieces: a word, a phrase or a sentence. You need to choose the best answer from four choices for each missing piece. You must consider all of the text so that your answer fits with the information. Let's look at an example.
Professor Nathan Boson's (1) __________ on physics will now be at Philosopher's Hall on Saturday, March 12th. The lecture (2) _________ promptly at 8p.m. Admission is free. (3) ________________________________________.
1.
lecture

lecturing

lectures

lectured
The answer that fits the best is 'lecture.' The second sentence refers to one lecture only.
2.
will begin

will beginning

will open

will opening
The best answer is 'will begin.' We need a simple future tense and we normally don't use the verb 'open' for lectures or the start of things.
Please show your student I.D. for admission at the front door.

Please bring your wallet.

Please bring cash only to pay.

Please pay with credit card or debit card only.
The sentence that best fits is the first one since the text mentions that the lecture is free and at a university.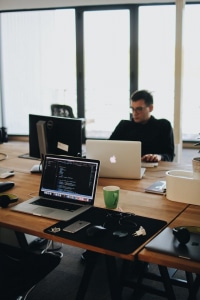 Reading Comprehesion- 20 questions
Basically, you read a short text such as a notice and answer multiple choice questions about the text. There is more than one short text.
Let's take a look at an example reading.
"No smoking on university grounds".
The notice means
Do not smoke at the university.

Do not smoke on the grass.

Do not smoke on the playing field.

Do not smoke on the football field.
The correct answer is 'Do not smoke at the university.' University grounds means any part of the university. You would see a number of other readings that are notices, emails or announcements about everyday events and things. No special knowledge or vocabulary is needed. The texts are normally less than 125 words long.
Tips
There is an abundance of test taking tips on the internet, and it can be confusing. Three basic ideas will help you to succeed:
Practice a lot and for a while.
Language is a skill, not something that you can cram for two days prior to the test. You don't learn to become a great piano player by practicing for a couple for days or a week. It takes time, so make sure you give yourself enough time. A good knowledge of the structure of the test is also an advantage.
Practice with suitable test questions
Sure it is good to watch a movie in English or your favorite TV show, but it won't help you with the reading questions. Find reading questions (online or from an official text) from TOEIC Bridge to practice with. You need to get used to the types of questions that you will be reading. Make sure that the practice materials are at your level and represent what is on TOEIC Bridge; don't use your older sister's IELTS reading questions, for instance, as they will be too difficult and not represent what you will experience on TOEIC Bridge.
Time flies is a short and apt description of what happens when you prepare for something important. Successful students and successful people in general, manage their time effectively. They schedule regular study sessions and stick to the schedule. That means you turn off your social media and eliminate other distractions when you are in a study session. Watching a YouTube video on test taking skills is helpful, but then going to watch the football highlights is not.
Training with GlobalExam
GlobalExam is a test preparation website. That's all we do, and we're good at it. Our materials are authentic and up-to-date.
We have materials and practice tests that represent the actual questions that you will see on the TOEIC Bridge, so you will be practicing the things that you need to do. Also, we provide personalized progress metrics and targeted feedback so that you can get better. When you study alone, it can be difficult to know what you are doing wrong. We solve that problem with our feedback.
Sure there are many classes that you can take, but they are often at set times that may not match your busy schedule, and you might have to pay for things that you don't need or want. With GlobalExam, you can choose the plan that fits your needs and create a study plan that fits your schedule.
Each of our TOEIC Bridge premium plans has 60 sample exercises and access to a total of 15 training hours with 1500 questions with answers. 
There are three practice tests that are timed to duplicate real-life test conditions. 

We create a study plan for you that fits with your upcoming test date.

Targeted study sheets and grammar and vocabulary study materials give you the opportunity to review important exam topics and remove the need for you to figure out what to study.

Any device at any time! You can study with us on your device of choice: a laptop, a tablet or a smartphone. Multi-device training allows you to practice at home, at school or on the bus.
What are our plans?
There are a selection of free services that are intended to give you an idea of what we offer at GlobalExam. They include two sample exercises and vocabulary and grammar study materials. They are free of charge to use.
Our Premium plans offer all that was mentioned above. The only variation is the length of time that you would like to prepare for.
Every week:

29.90

Every month:

59.90

Every quarter:

99.90

Every year:

199.90
Choose to study with us for as long or as short a period as you like; you never spend money on extra study time-flexibility is a central feature of our services.
Learn more about the other sections of the test: