Everything you need to know about DELF A1
You're going to read about the DELF, or Diplôme d'Etudes en Langue Française; it is an official language certification from the Ministry of Education in France. It's a great way to certify what your level of French is.
If you want to learn what the DELF A1 exam is, then read this article.
If you need to know what to expect on the DELF A1 exam, then read this article.
If you want to find out what GlobalExam can do to help you prepare, then read this article.
You get the picture. Read on and learn.
Take some time and check out the category Get A Good Score At The DELF Exam On All Levels we have written for you.
What is the DELF A1 Exam?
First of all, the test diploma is for candidates who come from non-French speaking countries or don't have a secondary or higher French diploma. There are over 1000 certified test centers in over 170 nations where you can sit for the DELF exam.
The DELF A1 is an exam for French at the CEFR A1 level. To begin, let's find out what CEFR and A1 mean. The CEFR stands for Common European Framework for Reference of Languages; it's a very detailed description and guide of what a person can do, say, read and write in a language at given levels. There are six levels: A1, B1,A2, B2, C1, C2. Many schools, textbooks and programs use the CEFR levels as guidelines. The DELF A1 exam is intended to assess if a test candidate is at the A1 level of the CEFR.
A1 Beginner: At this level, a person has the ability to communicate and exchange information in a simple way. For example, you are able to give your name, say times, read a timetable, etc.
Be aware that the DELF A1 exam is not a placement test. DELF exams won't tell you what your level of French is. You take the exam to see if you can pass it and certify and validate your French at the CEFR A1 level.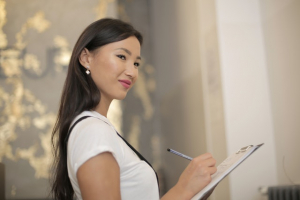 Structure of DELF A1
This level of the DELF exams recognizes basic knowledge of a language. At this stage, the person can interact in a simple way with French speakers. There are parts to the exam that each candidate must take.
Listening
Comprehension questionnaires dealing with three or four very short recordings on everyday life. The candidate hears the recordings two times. The maximum duration of the recordings is 3 minutes. The whole section lasts about 20 minutes.
Reading
There are comprehension questionnaires that deal with four or five written documents about everyday life. This section lasts about 30 minutes.
Writing
There are two parts to the writing section:
Filling in a form of some sort: your name, address, telephone number, etc.
Writing simple phrases in the context of a postcard, messages, or simple story, etc. on everyday topics.
This section of the exam lasts about 30 minutes. Exam candidates are not expected to write anything clever or brilliant, just clear and grammatically correct.
Speaking
There are three parts to this section.
Guided conversation
Exchange of information
Role-play
DELF examiners guide the conversations, information exchanges and role play for the candidates, so candidates will know what is expected.
This section lasts approximately 5-7 minutes and more than one candidate will take part at one time. There is a 10 minute preparation time period as well.
The total time for the four sections should be 1 hour and 20 minutes
Scoring
The overall score is out of 100 with each section having an equal value of 25 points. To be successful, a candidate must score more than 50 overall with a score of at least 5 points in each section.
Be sure of which exam you plan on sitting for as the different DELF exams have different lengths of time and somewhat different tasks to complete.
GlobalExam and the DELF A1 Exam
There's no need to get on a crowded subway to attend a class five kilometers away. We can help you prepare for the A1 DELF exam at GlobalExam. We have plenty of useful blogs detailing how to prepare, what materials to use and tips on exam taking. You're not just an exam candidate to us; you're a person with their own schedule, needs and goals, so we remain flexible. We want to give you the opportunity to improve your score at the DELF.
Here's what we can provide you at GlobalExam free of charge: 5 typical exercises and 200 Study sheets. It lets you know what materials are like.
If you want your exam preparation for DELF to really fly, then try our premium package from €29.90. 11 Mock exams-really useful to get the feel of the DELF exam under simulated test conditions. There are 2200 Corrected questions and 60 Training hours. Also, we offer 3 personalized study paths- choose the path that fits your needs.
Then there are 200 Study sheets that are really useful to practice with and see what types of things you will encounter on the DELF A1 exam.
A special feature which we offer is the ability to access statistics. You can track your progress, know where you are now and be able to set doable goals for the future,
Come on and prepare for the DALF A1 with us at GlobalExam.